Wondering about the latest ideas, discoveries and innovation taking place in Wisconsin? Look no further than Happening.InWisconsin. The newly launched website, which is an extension of InWisconsin.com, offers an interactive overview of the state's culture of innovation and growing entrepreneurial community.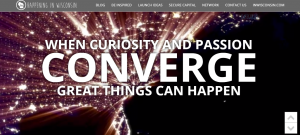 Happening.InWisconsin takes a deeper look into the innovation occurring in a variety of the state's industries, including water technology, bioscience, health care technology, information technology, and energy, power and control. Each industry section features snapshots of the startups, technologies and entrepreneurs that are fueling the sector's growth throughout the state.
Happening.InWisconsin also showcases the latest entrepreneurship news and resources, including sections for those who are looking to secure capital or network with the state's business leaders and fellow entrepreneurs. In addition, the new website features videos of innovative new companies in Wisconsin such as Murfie, Healthfinch and Whole Trees.