Export FYI: Expand Your Global Reach
Whether you're looking for customers or distributors to help you expand your global reach (or both), WEDC's targeted trade ventures will help you build the relationships necessary for increased international sales. At each trade venture location, attendees participate in pre-arranged, customized meetings with companies whose needs or capabilities align with their export objectives. With each trade venture, WEDC provides both financial and market intelligence support to participating exporting businesses.
Here are some of the ventures we have planned for the upcoming months (dates tentative, subject to change):
Governor's Trade Mission to Europe (Hannover, Weisbaden, Montpelier, Bilbao)
When: April 12-21
Market details: The European Union and the United States started negotiations on an ambitious and comprehensive free trade agreement with the goal of expanding already massive trade and investment flows in 2013. Germany, France and Spain stand out as three EU countries that provide a significant amount of opportunity for companies in the U.S., and specifically for Wisconsin businesses. Companies that are interested in expanding their global reach to these countries should consider joining the tour, which includes one-on-one meetings with potential partners in Hannover and Wiesbaden, Germany, Montpelier, France and Bilbao, Spain.
Global Trade Venture to East Africa (Kenya and Tanzania)
When: May 11-16
Market details: Kenya and Tanzania are the two largest economies in the East Africa Community (EAC). Nairobi and Dar es Salaam serve as important regional logistics centers for reaching other EAC countries and beyond. Both countries have a strong rule of law, improving democratic traditions, positive business cultures and a wide diversity of resource-based and manufacturing sectors that are growing to meet the needs of a young, growing population.
Highlights of Governor's Investment Mission to the United Kingdom

From Feb. 9 to 13, Governor Walker and WEDC led a trade mission of economic development officials to London as part of the state's efforts to encourage companies in the United Kingdom to invest in Wisconsin. During the trip, key leaders from Wisconsin had face-to-face meetings with high-level business leaders from the United Kingdom.  Here are some highlights from the trip:
The Wisconsin delegation met with staff from Milwaukee-based Manpower Group while in London.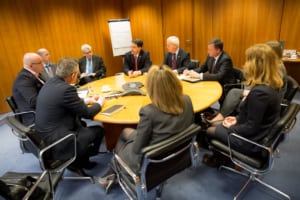 UK business leaders discuss opportunities for business in Wisconsin.