Gamber-Johnson
Solutions for Mounting Computers in Cars
Over the years, Gamber-Johnson LLC, a leading supplier of rugged computer mounting systems and vehicle mounting components, has built a reputation for providing quality, innovative products. The company was founded in Stevens Point in 1954, and at the time, manufactured wooden stereo cabinets. Along with advancements in technology came Gamber-Johnson's transition to supplying vehicle mounting components and computer mounting systems. The company has continued to evolve, designing and manufacturing hardware to safely hold electronic devices in vehicles. In the early 2000s, the company recognized the need for mounting equipment in overseas markets. The company had already begun receiving orders from overseas.
Expansion Outside U.S. Borders
While Gamber-Johnson began to notice a global trend in mobile and connected workforces in 2011, the company had not yet developed an in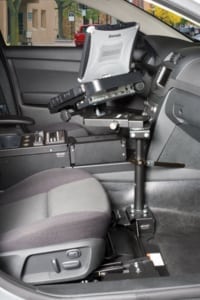 ternational growth strategy to address this market. In 2012, the company attended ExporTech™, a three-session training program that helps small and midsize manufacturers rapidly develop and execute a successful export strategy. Gamber-Johnson conducted market research and developed a business plan, then utilized resources from the Wisconsin Economic Development Corporation including International Market Access Grants, State Trade and Export Promotion funding and overseas market intelligence. The company's exports grew 650 percent between 2011 and 2014. Gamber-Johnson continues to expand its export strategy, adding more international markets every year.
(May 2014)
View more exporting success stories