When Curiosity And Passion
Converge
Great Things Can Happen
In Wisconsin, our hearts beat louder. We're inspired by curiosity and driven by passion. Built on a culture of innovation—where ideas are nurtured, cultivated, and brought to life—we combine hard work with original thinking to make the impossible possible. Just think. The next success story happening here could be yours.
Blog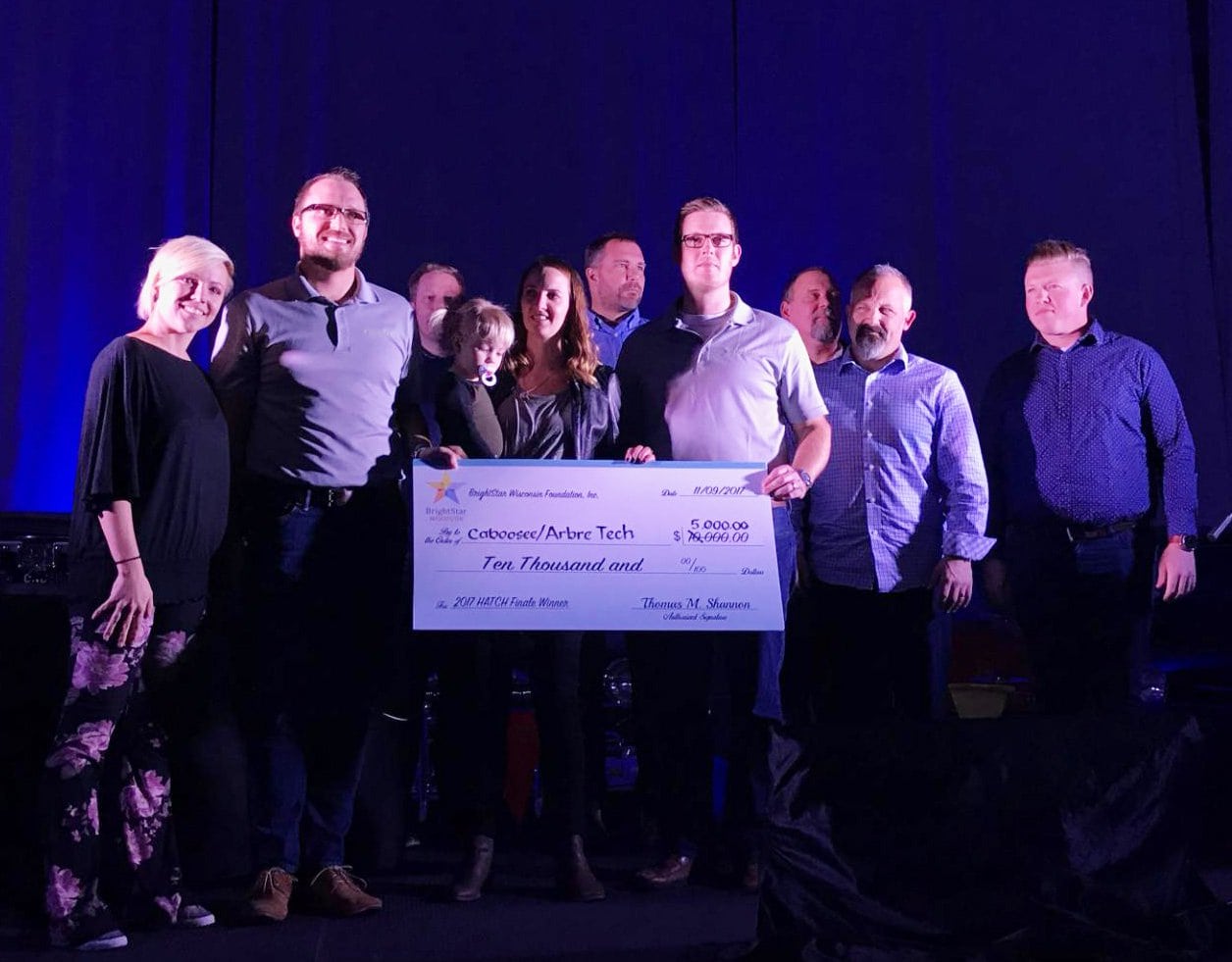 November 13, 2017
A crowd full of entrepreneurs, creatives, business professionals, organizers and investors gathered for the HATCH final on Thursday night in Stevens Point as part of Wisconsin Startup Week. The startup competition run by NEWaukee and BrightStar Found...
BE INSPIRED
Whole Trees
Whole Trees received $170,000 from WEDC through a Technology Development Loan, which is being used to help the company continue its expansion into the commercial market. Whole Trees plans to launch a new line of engineered building products using round timber, an effort that could create up to 76 new jobs over the next four years. They have also relied on assistance from the Small Business Development Centers located regionally throughout the state, as well as the Wisconsin Entrepreneurs' Network (known as the Center for Technology Commercialization).
Amelia Baxter
Co-Founder, Whole Trees
"As we grow, and every time I realized we needed a new building block, I would get the resources I needed from these organizations. These groups were always there to assist, and helped me learn everything from pitching angel investors to writing effective grant applications."
HealthFinch
To help continue commercialization of Healthfinch's RefillWizard, WEDC provided the Madison-based healthcare IT startup with Qualified New Business Venture (QNBV) tax credits. QNBV status makes investors in the company eligible for a 25 percent tax credit on the amount they invest in the business. RefillWizard is a physician-facing tool that automates prescription renewals and interfaces with electronic medical records (EMR). The product allows prescription renewal requests to be safely delegated from provider to staff, reducing the workload on the physician. In addition to RefillWizard, Healthfinch plans to launch LabWizard, which will increase efficiency of the test result process by improving detection of abnormalities and automating communications between patient, staff and doctor.
Jonathan Baran
CEO, Healthfinch
"Madison, and to a greater extent, Wisconsin, is a young community that we need to nurture. There are a lot of folks in the community that have put a lot of time and energy toward building that up for everyone."
Murfie
Murfie received a $500,000 Technology Development Loan from WEDC to support continued development of its web-based digital media sharing network. The loan helped Murfie scale up their technical and operational infrastructure as well as focus their marketing initiatives. Murfie's services allow individuals to store and stream their personal collection of music. The company also lets users convert and store compact discs as digital files.
"If you're here in Wisconsin, and if you have a great idea, there is infrastructure here to help you turn that idea into a business and make that idea into a reality."
WATER TECHNOLOGY
When Ideas Meet Ambition,
They Make Waves
Early brewers made Wisconsin famous with determination and a thirst for higher quality. Now at the heart of water research and industry—and with the same guiding principles—Wisconsin's freshwater experts are creating commercial activity and improving the quality of life for people around the world. Big things are happening for water technology startups and companies across the state.
The Water Council's mentor-driven seed accelerator is the first of its kind in the world. With a focus on global freshwater challenges, the BREW aims to unleash unique water technology startups.
BIOSCIENCE
Turn Ideas Into Discoveries
That Save Lives
In 1923, UW-Madison developed a way to increase vitamin D in food. The discovery, which virtually eliminated rickets, a crippling bone disease, was groundbreaking in another way: it was patented, marketed and commercialized within the university. Today, Wisconsin does the same with breakthrough discoveries in everything from influenza vaccines and clean energy to high-tech manufacturing of life science tools, as well as stem cell and genetics research. As a matter of fact, our proven expertise in commercialization is helping bioscience startups make discoveries, globalize new technologies and save lives around the world.
UW-Milwaukee Innovation Accelerator
UWM is training the next generation of innovators and taking discoveries to the marketplace. And it's all happening at the new Innovation Campus where research labs, engineers and medical technology clusters come together in one place.
University Research Park – Madison
A world-class research and technology park that supports early-stage and growth-oriented businesses in a range of sectors, including engineering, computational and life sciences.
Life sciences, therapeutics and diagnostics companies making it happen in Wisconsin:
•
Exact Sciences
– a medical manufacturing company and developer of an at-home colon cancer test
•
Stratatech
– innovator of unique, proprietary skin regeneration and repair products for therapeutic use
•
Lucigen
– provides life scientists with RNA/DNA amplification, cloning, next gen sequencing, and protein expression
HEALTH CARE TECHNOLOGY
A Simple Idea
Can Have An
Extraordinary Effect
Wisconsin companies—who lead the nation in health care IT, radioactive technology and medical device innovations—are reshaping the health care industry with statewide collaboration between hospitals, researchers and businesses. Take Epic, for example. The electronic medical records company—one of the most rapidly growing tech companies in the country—has spawned an entire industry of consulting firms to support its medical software ecosystem.
Advancing technology that improves global health, startups and companies are finding success in Wisconsin:
HealthFinch - creator of RefillWizard, a software tool that simplifies the prescription refill process
NeuWave Medical - develops and commercializes energy-based minimally invasive medical devices
Shine Medical - a startup in the race to become the first domestic producer of medical isotopes
Wisconsin Institutes for Discovery
A transdisciplinary research institute at UW–Madison where education, research and business intersect. WID considers the full range of phenomena, from cells to societies, searching for solutions where others are unlikely to look.
INFORMATION TECHNOLOGY
Technology
That Transforms The Everyday
It takes passion to turn a great idea into a high-growth startup. And that's why Wisconsin is home to one of the fastest-growing information sectors in the nation. Our entrepreneurs have access to enormous research capabilities, a first-rate talent pool and a unique and vibrant startup community. From gaming to ordering takeout to refilling prescriptions, Wisconsin is a hotbed for app development and an emerging center of information technology innovation.
Creating technology that makes life simpler and more enjoyable, Wisconsin innovators have transformed their ideas into rapidly growing companies:
DealerFire - a custom automotive web design and internet marketing firm that caters specifically to the automotive industry
EatStreet - an online food ordering platform that's already expanded to more than 75 markets nationwide
Murfie - an online marketplace and community where you can buy, sell, trade, download, and stream music
An inter-disciplinary research and education organization that provides world-class technical computing, storage, and communications, the Milwaukee Institute brings scientists and engineers together in a collaborative space.
ENERGY, POWER & CONTROL
Powerful Ideas
Have the Capacity
To Change the World
Milk, cheese and butter aren't the only products that come from Wisconsin—or from cows. In fact, we're using cow byproducts to produce clean energy. But that's not the only way we're leveraging market-leading industrial capabilities and advancing academic research. Our companies, researchers and entrepreneurs are constantly working together to generate new ideas, new advanced applications and new energy efficiency technologies. That means your startup has the power to make things happen in Wisconsin.
Energy Innovation Center
A collaborative space designed to bring together industry and academic scientists, engineers and business leaders to conduct joint research, jump-start innovation technologies, transition prototype products to the commercial stage, and nurture startup companies.
Energy, power and control startups in Wisconsin are finding new ways to power the world:
ZBB Corporation (SEP Loan) - providing energy, solar and wind storage solutions that support renewable energy sources
Virent Energy - replacing crude oil with a patented technology that quickly converts plant-based sugars into a wide range of fuel products
Odyne Systems - a leading manufacturer of hybrid drive systems for medium- and heavy-duty work trucks
EXPLORE FUNDING
Innovation Engine

$1.24 Billion Federal R&D Funding
72 Academic Institutions Research & Development
16,741 Patents Issued (From '02 - '13) Intellectual Property
#10 Stem Grads Talent Pool
Technology Company Assistance
Calculate Costs
YOUR IDEAS GO FURTHER. YOUR FUNDING DOES TOO.
Passion, determination and funding are important. But where you start your business impacts everything. See how Wisconsin stacks up against other high-tech hotspots—in terms of how long your startup money will last—when you answer the questions below.
How much seed money do you have?
Including Wisconsin, choose up to 3 locations you would consider starting your business:
About how many technical employees will it take to make things happen?
*Minimum of 1 total employee required
How much networking will you be doing?
I plan to attend about business development events per month.
See how many days your money will last.
Leverage the support Wisconsin provides:
Sources:
Cresa Corporate Real Estate
Indeed.com
GSA.gov
Disclaimer: This tool is for educational and entertainment purposes only. Rent results are calculated using average estimated costs per square foot and assume 5,000 sq. ft. of office space. Payroll results are calculated using average salary per occupation as of February 1, 2015. Networking results are calculated using per diem rates as of October 1, 2015.
NETWORK
Contact Us
Find funding and resources for your high-tech startup
Connect with a WEDC representative and make your startup happen in Wisconsin.
It's Happening In Wisconsin