WHERE AEROSPACE MANUFACTURING TAKES FLIGHT
Over 500,000 aviation enthusiasts from 60 countries join together every year for the EAA AirVenture event here In Wisconsin®. It's a location that makes sense—Wisconsin is a rapidly developing leader in the aviation and aerospace sector, achieving the highest levels of production and operational excellence.
Wisconsin's leading aerospace production capabilities rose from a foundation in manufacturing and industry research. The state's focus on nanotechnology, engineering, power and control systems and composite materials makes Wisconsin a place where new and growing companies can develop ideas and use our ready-made supply chain to bring products to the world. For companies tackling the challenges of the aviation industry or for companies looking to access research and development in our aerospace sector, Wisconsin has opportunities.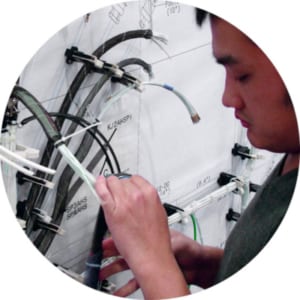 AEROSPACE LEADERSHIP
Wisconsin is drawing attention from aerospace executives for its cutting-edge research and development in Nanotechnology, engineering power and control systems, and composite materials. Wisconsin is home to 17 engineering-related schools, with training that spans from engineering certificates awarded by two-year technical colleges to doctoral degrees at four-year institutions. Companies looking to start, relocate or expand their operations in Wisconsin benefit from the state's central location, reliable infrastructure, talented workforce and business-friendly policies. Over 200 Wisconsin companies have ties to the state's aerospace sector; consider investing in aerospace in Wisconsin for your career or business.
26,000 industry jobs support the aerospace manufacturing sector
Source: Infogroup 2019
600,000+
AVIATION ENTHUSIASTS
EAA AirVenture, the World's Greatest Aviation Celebration, draws 600,000+ aviation enthusiasts from 85 countries to Oshkosh each summer.
Source: Experimental Aircraft Association Website, 2019
$730 MILLION
IN WISCONSIN AEROSPACE EXPORTS
Aircraft, spacecraft and parts are the 7th largest category of Wisconsin exports.
Source: U.S. Census Bureau data as reported by WISERTrade
AEROSPACE SNAPSHOT
Download the industry snapshot, a one-page overview of key data and highlights showcasing Wisconsin's leadership in aerospace.
DOWNLOAD
Aerospace Companies In Wisconsin
Ace Precision
Astronautics
Collins Aerospace
Derco Aerospace
Fives, Giddings & Lewis
Gulfstream
Johnson Controls
Orbitec/Sierra Nevada Corporation
Patriot
Plexus
Pointe Precision
Precision Plus
S3
Zodiak