Greatness Is Made In Wisconsin
There's something to be said about making a product with your own hands. Wisconsin's leadership in manufacturing, from the industrial age to now, stems from our drive to craft products that make life better and the feeling of accomplishment it brings when we succeed.
Technological advancements made by Wisconsin manufacturers in electrical equipment, metal and more have continued to lead industry trends in both productivity and sustainability while improving global and national economies. In fact, 85% of the state's exports are manufactured goods, and these exports support 103,000 jobs1—demonstrating a healthy worldwide demand for the products we're making right in our backyard.
Wisconsin delivers the second-highest concentration of experienced manufacturing workers in the U.S., often three to four times higher in critical industry sectors than competing states. What's more, industry organizations and academic and public sector partners are eager to foster collaboration, meaning industry-leading innovations get adopted faster in Wisconsin. Along with our excellent fiscal responsibility and low cost of living, these factors make Wisconsin the ideal location for all kinds of manufacturing companies.
1. National Association of Manufacturers, 2019; Office of the U.S. Trade Representative, 2018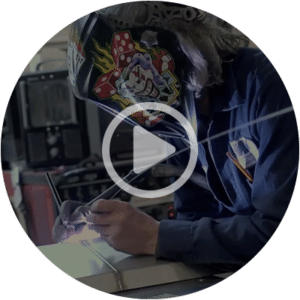 MANUFACTURING LEADERSHIP
Wisconsin is consistently ranked at the top, from health care and cost of living to career opportunities and industry development.
#1
In Manufacturing Employment (Percentage of Workforce Category)
Business Facilities, 2021
9,300+
Manufacturing companies
Bureau of Labor Statistics Quarterly Census of Employment and Wages, 2019 Annual
483,000+
Manufacturing jobs
Bureau of Labor Statistics Quarterly Census of Employment and Wages, 2019 Annual
MANUFACTURING PROFILE
Download the manufacturing industry profile for a complete, in-depth report including employment data, educational programs, world impact, notable companies and industry outlook.
Download
MANUFACTURING COMPANIES IN WISCONSIN
Harley-Davidson
Hitachi Metals
Johnson Controls
Kohler
Mercury Marine
Oshkosh
Bemis
Schreiber
Menasha
Quad
Plexus
Rockwell Automation