WHERE AEROSPACE MANUFACTURING TAKES FLIGHT
Over 500,000 aviation enthusiasts from 60 countries join together every year for the EAA AirVenture event here in Wisconsin. It's a location that makes sense—Wisconsin is a rapidly developing leader in the aviation and aerospace sector thanks to access to the infrastructure and talent necessary to reach the highest levels of production and operational excellence.
Wisconsin's leading aerospace production capabilities rose from our foundation in manufacturing and industry research. The state's focus on nanotechnology, engineering, power and control systems and composite materials has allowed us to become a place where new and growing companies can develop ideas and use our ready-made supply chain to bring them to the world. For companies tackling the challenges of aviation or for companies looking to access the research and development in our aerospace sector, Wisconsin has solutions. For those who want a career in changing the way the world takes off, Wisconsin has opportunities.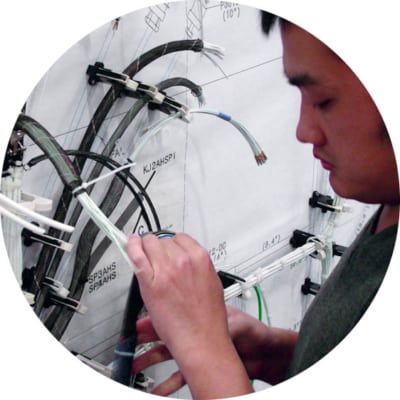 AEROSPACE LEADERSHIP
Wisconsin is consistently ranked at the top, from health care and cost of living to career opportunities and industry development.
200+
Companies Tied to Wisconsin's Aerospace Sector
Companies identified through proprietary and public database sources and OEM qualified supplier lists. 2019
26,000+
Employed in Aerospace Manufacturing Sector
A large number of Wisconsinites work for companies that directly support the aerospace manufacturing industry. Infogroup, 2019
650,000+
Aviation Fans from 90+ Countries Attend EAA AirVenture Every Year
The Experimental Aircraft Association hosts an annual show to nurture the spirit of flight.
Flying Mag, 2022
AEROSPACE INDUSTRY RESOURCES
AEROSPACE COMPANIES IN WISCONSIN
Gulfstream Aerospace Corp.

Orbitec/Sierra Nevada Corporation

Patriot
Pointe Precision

Precision Plus
"Sonex was founded in Oshkosh over 20 years ago because of the huge amount of business that EAA AirVenture Oshkosh brings to our doorstep. We also benefit from a quality workforce in Wisconsin and a world-class facility at Wittman Regional Airport which is primed for future aerospace industry growth."
MY WISCONSIN STORY
Our residents are some of the happiest and most ambitious people in the nation—but don't just take our word for it. Take theirs.
"Astronautics is excited about the possibility of creating and hosting a center of excellence that will leverage Wisconsin's position as a leader in innovative technology, especially within the global aviation and aerospace industry. The unique competitive advantage of this center will be the blending of aerospace and cybersecurity solutions that will benefit both industry and higher education."
View All Stories