Population: 1,185,575
Top Employers
EPIC SYSTEMS
AMERICAN FAMILY INSURANCE
AMERICAN GIRL
SUB-ZERO
TREK BICYCLE
Average Housing Cost
MADISON $248,700
JANESVILLE $147,200
BELOIT $90,900
WHITEWATER $173,900
SOUTH CENTRAL WISCONSIN
Education, culture-rich communities and $1 billion in yearly research
Countless national rankings confirm what many of our residents already know—South Central Wisconsin is among the best places to live, work and raise a family. The Madison region is a place where dynamic, talented, innovative and hardworking people want to be. We know this because the region is growing at a faster rate than the state and the nation.
Talented people stay here thanks to a desirable quality of life.
South Central Wisconsin offers residents and visitors alike a unique blend of urban opportunities and rural, unspoiled natural beauty, distinctive communities, and some of Wisconsin's greatest collections of natural, educational, artistic and historical attractions.
With nearly 34% of adults age 25 and older holding a Bachelor's degree or higher, the Madison region is home to a smart, skilled workforce, thanks in part to an educational system that features two campuses of the University of Wisconsin system, two private colleges and four strong technical colleges. The flagship campus of the University of Wisconsin educates more than 43,000 students from over 130 countries each year and awards the second highest number of doctorate degrees in the nation. UW-Whitewater has one of the largest business schools in the U.S. and the largest graduate business program in the state.
In the Madison region, you'll discover that our people prosper—enjoying world-class healthcare, treasured arts and cultural amenities and an abundance of recreation opportunities. Come join us and experience quality of life assets that make the Madison region a desirable place to live, work and play.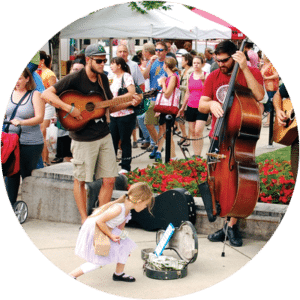 SEARCH FOR A HOME IN SOUTH CENTRAL WISCONSIN
Home SEARCH
PEOPLE & PLACES IN SOUTH CENTRAL WISCONSIN
Lake Mendota • Madison, Wisconsin
Dane County Farmers' Market • Madison, Wisconsin
Chazen Museum of Art • Madison, Wisconsin
DC Estate Winery • South Beloit, Wisconsin
Kayaking • Sauk County, Wisconsin
New Glarus Brewery • Madison, Wisconsin
Cycle-cross race • Sun Prairie, Wisconsin
Bridge statue • Fort Atkinson, Wisconsin
Bascom Hall, University of Wisconsin-Madison • Madison, Wisconsin
State Capitol Building • Madison, Wisconsin
Happy hour overlooking the State Capitol • Madison, Wisconsin
TAKE A CLOSER LOOK AT WISCONSIN
Click a region to learn more
SOUTHEAST HAVE A LOOK IN SOUTHEAST WISCONSIN

COOLEST

MILWAUKEE NAMED THE MIDWEST'S COOLEST CITY

Vogue

TOP 5

CITY FOR RECENT GRADS, MILWAUKEE

ZipRecruiter

TOP 30

CITY TO START A BUSINESS, MILWAUKEE

Inc Magazine
CENTRAL HAVE A LOOK IN CENTRAL WISCONSIN

ABUNDANCE

VARIETY OF OUTDOOR ACTIVITIES (HIKING, HUNTING, KAYAKING, BIKING, CAMPING)

OVER 90%

OF GINSENG GROWN IN THE US COMES FROM WISCONSIN

corn.agronomy.wisc.edu

CONNECTED

MASSIVE LABOR SHED WITH A SKILLED LABOR FORCE OF MORE THAN 315,000
NORTH HAVE A LOOK IN NORTH WISCONSIN

FOREST PRODUCTS

ABUNDANT TIMBER PRODUCTION

CONNECTED

AIRPORTS AND HIGHWAYS CONNECTING COMMERCE AND PEOPLE

OUTDOOR

CAMPING, FISHING, SNOWMOBILING
NORTHEAST HAVE A LOOK IN NORTHEAST WISCONSIN

9TH

BEST CITY FOR WORKING PARENTS, OSHKOSH

SmartAsset, 2018

2ND

BEST PLACE TO RAISE KIDS, APPLETON

SmartAsset, 2018

TOP TEN

THREE OF THE 10 MOST BEAUTIFUL CITIES IN WISCONSIN

Culture Trip
SOUTHWEST HAVE A LOOK IN SOUTHWEST WISCONSIN

SMALL TOWN LIVING

CLOSE TO BIG CITIES

#2 LARGEST

OUTDOOR THEATER IN THE NATION DEVOTED TO CLASSICS- AMERICAN PLAYERS THEATRE

American Players Theatre

47 MILES

CHEESE COUNTRY MULTI VEHICLE-USE RECREATION TRAIL
NORTHWEST HAVE A LOOK IN NORTHWEST WISCONSIN

NATURAL BEAUTY

ABUNDANT AND SPECTACULAR NATURAL RESOURCES

VIBRANT

VIBRANT COMMUNITIES WITH A "SMALL TOWN" FEEL

QUALITY OF LIFE

UNCONGESTED LIFESTYLE, YEAR-ROUND RECREATION
SOUTH CENTRAL HAVE A LOOK IN SOUTH CENTRAL WISCONSIN

#1

TECH TALENT MOMENTUM MARKET

CBRE

BEST

COLLEGE FOOTBALL TOWN

NCAA

#1

COMMUNITY PROGRESS INDEX

AngelouEconomics
WEST CENTRAL HAVE A LOOK IN WEST CENTRAL WISCONSIN

MUSIC HOTSPOT

COUNTRY JAM AND EAUX CLAIRES MUSIC FESTIVALS

TOP FIVE

LA CROSSE AMONG MOST AFFORDABLE PLACES TO LIVE

Livability.com

THIRD

FITTEST CITY IN THE COUNTRY, EAU CLAIRE

Fitbit.com