Population: 2,000,000
Top Employers
AURORA HEALTH CARE
KOHL'S DEPARTMENT STORES
KROGER CO./ROUNDY'S SUPERMARKETS
QUAD/GRAPHICS, INC.
GE HEALTHCARE TECHNOLOGIES
NORTHWESTERN MUTUAL
Average Housing Cost
Kenosha $142,000
Milwaukee $111,500
Waukesha $215,200
Racine $96,700
Southeast Wisconsin
Lake Michigan, old world charm and craft beer
Milwaukee is on the western shores of Lake Michigan, the fifth largest lake in the world, where Summerfest, the world's largest music festival, and many ethnic festivals take place throughout the summer. Milwaukee is a diverse community that has been an ethnic melting pot since its founding. There is truly something for everyone in Milwaukee; you can experience old world charm, diverse cultures and historic neighborhoods—and it's a great place to raise a family.
Ranked among the Midwest's top tech cities, the Milwaukee region boasts a rich history of innovation and is internationally recognized for its precision manufacturing heritage and beer brewing legacy. "Brew City" really is a big, small town. Milwaukee is big enough to offer professional sports and world-class performing arts yet small enough to navigate with ease, reflected in the city having one of the shortest commute times for major U.S. metros. Milwaukeeans cheer on Bucks basketball, Brewers baseball, Packers football, Wave soccer and Admirals hockey, and flock to the city's many culture centers, including the Milwaukee Public Museum, the Marcus Center for the Performing Arts, the Milwaukee County Zoo and the Milwaukee Art Museum, which features the first Santiago Calatrava-designed building in the United States.
Milwaukee is in an unprecedented period of growth, with a skyline that is quickly changing as billions of dollars are being invested in new office buildings, condos, apartments and a new basketball arena and entertainment district. A diverse and vibrant economy keeps Milwaukee on the move; the region is home to eight Fortune 500 headquarters and global industry leaders, including Northwestern Mutual, ManpowerGroup, Kohl's, Harley-Davidson, Rockwell Automation and Fiserv.
Discover all Milwaukee has to offer by visiting DiscoverMilwaukee.com. Explore the site. and you'll understand why Milwaukee was just named one of the Best Places to Live by U.S. News & World Report. Welcome to Milwaukee!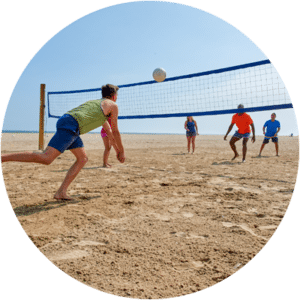 PEOPLE & PLACES IN SOUTHEAST WISCONSIN
Aerial view of the Port of Kenosha • Kenosha, Wisconsin
Sailing at sunset on Lake Michigan • Milwaukee, Wisconsin
Playing volleyball on Bradford Beach • Milwaukee, Wisconsin
Milwaukee Film Festival after party • Milwaukee, Wisconsin
Paddle boarding on the Milwaukee River • Milwaukee, Wisconsin
Playing soccer in the front yard • Pewaukee, Wisconsin
Concert at Summerfest • Milwaukee, Wisconsin
TAKE A CLOSER LOOK AT WISCONSIN
Click a region to learn more
SOUTHEAST HAVE A LOOK IN SOUTHEAST WISCONSIN

COOLEST

MILWAUKEE NAMED THE MIDWEST'S COOLEST CITY

Vogue

TOP 5

CITY FOR RECENT GRADS, MILWAUKEE

ZipRecruiter

TOP 30

CITY TO START A BUSINESS, MILWAUKEE

Inc Magazine
CENTRAL HAVE A LOOK IN CENTRAL WISCONSIN

ABUNDANCE

VARIETY OF OUTDOOR ACTIVITIES (HIKING, HUNTING, KAYAKING, BIKING, CAMPING)

OVER 90%

OF GINSENG GROWN IN THE US COMES FROM WISCONSIN

corn.agronomy.wisc.edu

CONNECTED

MASSIVE LABOR SHED WITH A SKILLED LABOR FORCE OF MORE THAN 315,000
NORTH HAVE A LOOK IN NORTH WISCONSIN

FOREST PRODUCTS

ABUNDANT TIMBER PRODUCTION

CONNECTED

AIRPORTS AND HIGHWAYS CONNECTING COMMERCE AND PEOPLE

OUTDOOR

CAMPING, FISHING, SNOWMOBILING
NORTHEAST HAVE A LOOK IN NORTHEAST WISCONSIN

9TH

BEST CITY FOR WORKING PARENTS, OSHKOSH

SmartAsset, 2018

2ND

BEST PLACE TO RAISE KIDS, APPLETON

SmartAsset, 2018

TOP TEN

THREE OF THE 10 MOST BEAUTIFUL CITIES IN WISCONSIN

Culture Trip
SOUTHWEST HAVE A LOOK IN SOUTHWEST WISCONSIN

SMALL TOWN LIVING

CLOSE TO BIG CITIES

#2 LARGEST

OUTDOOR THEATER IN THE NATION DEVOTED TO CLASSICS- AMERICAN PLAYERS THEATRE

American Players Theatre

47 MILES

CHEESE COUNTRY MULTI VEHICLE-USE RECREATION TRAIL
NORTHWEST HAVE A LOOK IN NORTHWEST WISCONSIN

NATURAL BEAUTY

ABUNDANT AND SPECTACULAR NATURAL RESOURCES

VIBRANT

VIBRANT COMMUNITIES WITH A "SMALL TOWN" FEEL

QUALITY OF LIFE

UNCONGESTED LIFESTYLE, YEAR-ROUND RECREATION
SOUTH CENTRAL HAVE A LOOK IN SOUTH CENTRAL WISCONSIN

#1

TECH TALENT MOMENTUM MARKET

CBRE

BEST

COLLEGE FOOTBALL TOWN

NCAA

#1

COMMUNITY PROGRESS INDEX

AngelouEconomics
WEST CENTRAL HAVE A LOOK IN WEST CENTRAL WISCONSIN

MUSIC HOTSPOT

COUNTRY JAM AND EAUX CLAIRES MUSIC FESTIVALS

TOP FIVE

LA CROSSE AMONG MOST AFFORDABLE PLACES TO LIVE

Livability.com

THIRD

FITTEST CITY IN THE COUNTRY, EAU CLAIRE

Fitbit.com