Population: 732,739
Top Employers
PHILLIPS MEDISIZE
GRASSLAND DAIRY PRODUCTS
TRANE COMPANY
ASHLEY FURNITURE
ORGANIC VALLEY
XCEL ENERGY
MAYO HEALTH SYSTEM
GUNDERSEN MEDICAL CENTER
LOGISTICS HEALTH
Average Housing Cost
Eau Claire $157,000
La Crosse $142,100
River Falls $236,800
West Central Wisconsin
Scenic landscape, high quality of life and an abundance of recreational activities
West Central Wisconsin, located on the Mississippi River and in the Driftless Area of Wisconsin, is an area of tremendous diversity on multiple fronts. With an abundance of recreational activities for individuals, families and groups, it is impossible to not find something to fill your time.
Whether your interest lies in the growing arts and entertainment scene in our urban areas or the many vineyards and craft breweries found across the beautiful terrain of the Great River Road, including the famous Leinenkugel's, you're sure to have a wonderful time. Smaller communities offer numerous festivals year-round, and two major Oktoberfest gatherings are regional favorites. The region hosts an impressive offering of hiking, biking, cross-country skiing and ATV trails, along with rivers, quiet streams perfect for a canoe or kayak, and lakes ideal for fishing and boating. If you relish the music scene, summers are filled with music festivals of all genres. From one of the largest country music festivals in the nation to weekly festivals along the waterfronts, the area has quickly become a hub for music professionals.
The region is a true mix of rural and urban geography. The retail offerings and cultural amenities of larger cities such as Eau Claire and La Crosse complement smaller communities, each of which has its own flavor and cultural offerings. From weekend farm-to-table markets to seasonal events, everywhere you go in the region offers an opportunity to stop and walk the community, no matter what time of the year. This is just a taste of West Central Wisconsin. Entrench yourself in what we have to offer. You may never leave, but if you do, we know you'll be back!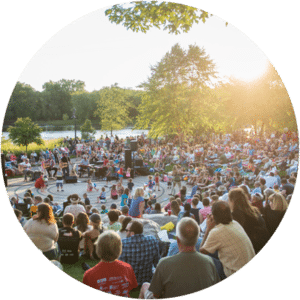 PEOPLE & PLACES IN WEST CENTRAL WISCONSIN
Christmas Celebration • Hudson, Wisconsin
Summer Concert at Phoenix Park • Eau Claire, Wisconsin
La Crosse Farmers' Market • La Crosse, Wisconsin
Birds Eye View of La Crosse Riverfront • La Crosse, Wisconsin
Fishing at River Falls • River Falls, Wisconsin
Canoeing on Bone Lake • Polk County, Wisconsin
Willow River Falls • Hudson, Wisconsin
River Walk • Hudson, Wisconsin
TAKE A CLOSER LOOK AT WISCONSIN
Click a region to learn more
SOUTHEAST HAVE A LOOK IN SOUTHEAST WISCONSIN

COOLEST

MILWAUKEE NAMED THE MIDWEST'S COOLEST CITY

Vogue

TOP 5

CITY FOR RECENT GRADS, MILWAUKEE

ZipRecruiter

TOP 30

CITY TO START A BUSINESS, MILWAUKEE

Inc Magazine
CENTRAL HAVE A LOOK IN CENTRAL WISCONSIN

ABUNDANCE

VARIETY OF OUTDOOR ACTIVITIES (HIKING, HUNTING, KAYAKING, BIKING, CAMPING)

OVER 90%

OF GINSENG GROWN IN THE US COMES FROM WISCONSIN

corn.agronomy.wisc.edu

CONNECTED

MASSIVE LABOR SHED WITH A SKILLED LABOR FORCE OF MORE THAN 315,000
NORTH HAVE A LOOK IN NORTH WISCONSIN

FOREST PRODUCTS

ABUNDANT TIMBER PRODUCTION

CONNECTED

AIRPORTS AND HIGHWAYS CONNECTING COMMERCE AND PEOPLE

OUTDOOR

CAMPING, FISHING, SNOWMOBILING
NORTHEAST HAVE A LOOK IN NORTHEAST WISCONSIN

9TH

BEST CITY FOR WORKING PARENTS, OSHKOSH

SmartAsset, 2018

2ND

BEST PLACE TO RAISE KIDS, APPLETON

SmartAsset, 2018

TOP TEN

THREE OF THE 10 MOST BEAUTIFUL CITIES IN WISCONSIN

Culture Trip
SOUTHWEST HAVE A LOOK IN SOUTHWEST WISCONSIN

SMALL TOWN LIVING

CLOSE TO BIG CITIES

#2 LARGEST

OUTDOOR THEATER IN THE NATION DEVOTED TO CLASSICS- AMERICAN PLAYERS THEATRE

American Players Theatre

47 MILES

CHEESE COUNTRY MULTI VEHICLE-USE RECREATION TRAIL
NORTHWEST HAVE A LOOK IN NORTHWEST WISCONSIN

NATURAL BEAUTY

ABUNDANT AND SPECTACULAR NATURAL RESOURCES

VIBRANT

VIBRANT COMMUNITIES WITH A "SMALL TOWN" FEEL

QUALITY OF LIFE

UNCONGESTED LIFESTYLE, YEAR-ROUND RECREATION
SOUTH CENTRAL HAVE A LOOK IN SOUTH CENTRAL WISCONSIN

#1

TECH TALENT MOMENTUM MARKET

CBRE

BEST

COLLEGE FOOTBALL TOWN

NCAA

#1

COMMUNITY PROGRESS INDEX

AngelouEconomics
WEST CENTRAL HAVE A LOOK IN WEST CENTRAL WISCONSIN

MUSIC HOTSPOT

COUNTRY JAM AND EAUX CLAIRES MUSIC FESTIVALS

TOP FIVE

LA CROSSE AMONG MOST AFFORDABLE PLACES TO LIVE

Livability.com

THIRD

FITTEST CITY IN THE COUNTRY, EAU CLAIRE

Fitbit.com