Maybe it's the taste of juicy, organic fruit straight from a farmer's stand or the live music that beats throughout parks and outdoor venues from June through August, but summer is sweeter here. Home to the world's largest music festival, water capital of the world and many state parks, trails and recreation areas, Wisconsin is a place where summer fun is summer livin'.
Our favorite ways to enjoy Wisconsin summer include zipping around on a speedboat on one of our many freshwater lakes with friends in tow, soaking in the sun on our Great Lakes beaches with a locally brewed beer in hand and toasting marshmallows around a campfire while the stars glimmer brightly and clearly above us. Whether it's splashing a paddle in the Wisconsin River, biking through one of our state parks or simply taking in the serenity of a Northwoods silent forest, there's something here for everyone. Summer entertainment is so endless that you'll find yourself wishing you had more than a few months to take in Wisconsin summer, and with any luck, you will.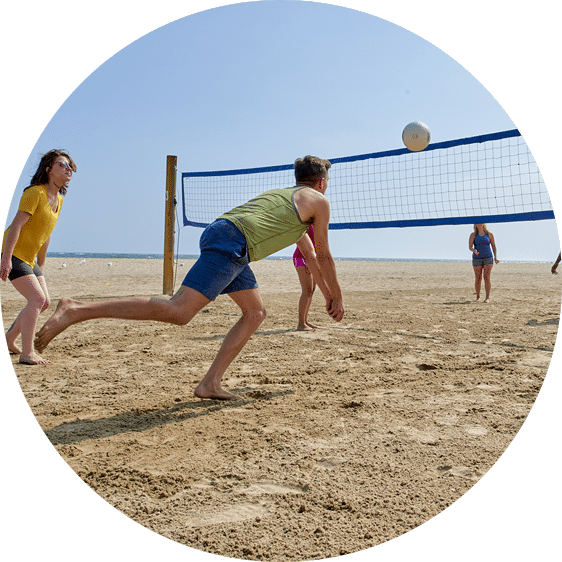 This includes two Great Lakes, Lake Michigan and Lake Superior.
Wisconsin DNR
WATERPARK
Capital of the World
There's over 16 million gallons of water in vacation hotspot Wisconsin Dells spread across countless indoor and outdoor waterparks.
Official Site For Wisconsin Dells
LARGEST
Music Festival in the World
Milwaukee's Summerfest includes 9 days of fun, 800 bands and 800,000+ annual attendees.
Summerfest.com
Jake Mieske@wedc.org
Wisconsin Economic Development Corporation Secretary and CEO Missy Hughes and Deputy Secretary Sam Rikkers will be shopping at De Pere businesses today (December 8th). Read More
WISCONSIN NEWS
From the latest announcements and economic developments to behind-the-scenes insight into the best state in the Midwest, find complete coverage of all things Wisconsin here.
TAKE A CLOSER LOOK AT WISCONSIN
One thing Wisconsin's regions all have in common is how unique they are. Every community in Wisconsin holds its own individual charm and characteristics, making our state one of the best options for fulfilling your personal and career goals.
From the natural playground of our forests and lakes to the vibrant communities hosting world-renowned festivals and farmers markets, Wisconsin balances enriching experiences with the essentials of a superior education and high-quality healthcare. Regardless of what you're looking for, one of our safe, diverse neighborhoods is a good place to start being more you.
MY WISCONSIN STORY
Our residents are some of the happiest and most ambitious people in the nation—but don't just take our word for it. Take theirs.
"It's no surprise we ended up in Wisconsin. The state has everything we were looking for: good schools, four wonderful seasons, a tremendous quality of life, exceptional cost of living, low crime rate and much more."
View All Stories