Cold temperatures are what inspires our fire for winter activity. We're too busy snowshoeing along the state's hiking trails, flying downhill on our skis or snowboard and racing sleds down the biggest hill we can find in our neighborhood to even notice that it's chilly.
Once the lakes freeze over, many of us hit the ice for fishing and a bonfire. Others meet up with friends and ride through the snowmobile capital of the world, Eagle River. We even have trails made exclusively for snow-friendly fat bikes, as well as winter rides and races throughout the state.
Wisconsin winter may be cold, but our love for its gentle snowfall, calm serenity and opportunity for adventure is more than warm.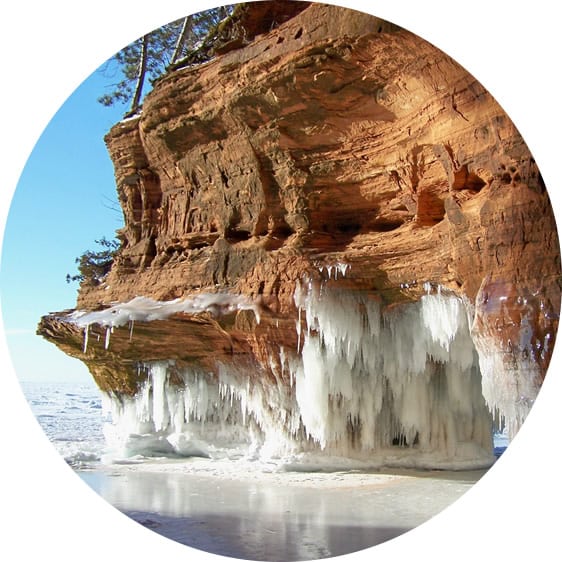 LARGEST
Cross-Country Ski Race in the World
More than 10,000 skiers have the "Birkie Fever" and participate every year in The American Birkebeiner 52k cross-country ski race.
American Birkebeiner, 2022
SNOWMOBILE
Capital of the World
Wisconsin offers hundreds of miles of powdery trails and a robust annual snowfall of powdery fun. VilasWI.com, 2021
Wisconsin snowshoers love the Ice Age Trail along glacial landscapes.
Wisconsin DNR, 2022
Jake Mieske@wedc.org
Wisconsin Economic Development Corporation Secretary and CEO Missy Hughes and Deputy Secretary Sam Rikkers will be shopping at De Pere businesses today (December 8th). Read More
WISCONSIN NEWS
From the latest announcements and economic developments to behind-the-scenes insight into the best state in the Midwest, find complete coverage of all things Wisconsin here.
TAKE A CLOSER LOOK AT WISCONSIN
One thing Wisconsin's regions all have in common is how unique they are. Every community in Wisconsin holds its own individual charm and characteristics, making our state one of the best options for fulfilling your personal and career goals.
From the natural playground of our forests and lakes to the vibrant communities hosting world-renowned festivals and farmers markets, Wisconsin balances enriching experiences with the essentials of a superior education and high-quality healthcare. Regardless of what you're looking for, one of our safe, diverse neighborhoods is a good place to start being more you.
MY WISCONSIN STORY
Our residents are some of the happiest and most ambitious people in the nation—but don't just take our word for it. Take theirs.
"It's no surprise we ended up in Wisconsin. The state has everything we were looking for: good schools, four wonderful seasons, a tremendous quality of life, exceptional cost of living, low crime rate and much more."
View All Stories