TOOLS TO PROTECT AND PROMOTE HEALTH
Founded in 2004 by Dr. James Weber, PreventionGenetics is an international leader in genetic testing, DNA banking and genomics research. Weber began the company to integrate genetics more completely into routine health care, a move driven by a passion for genetics bolstered by his pivotal role in the Human Genome Project, the international collaboration that identified and mapped humans' DNA sequence. The company has experienced exponential growth in recent years thanks to a high-value, competitive cost and a comprehensive menu of genetic testing, as well as its process of utilizing doctorate level employees for specialized gene interpretation. To further Weber's desire for genetics to play a greater role in health care, the company looked to take its successful model into foreign markets.
GROWING TO MEET GLOBAL DEMAND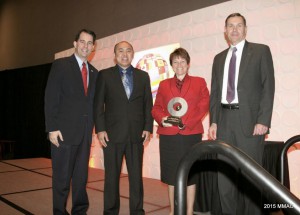 PreventionGenetics designed its processes and facilities for global business; the company can accept test orders or samples from anywhere in the world through its website. Overall, the services provided by PreventionGenetics are in demand around the globe, and the company's tests have been used in 72 countries to date. The company employs a highly international staff, and these employees have helped make connections in foreign markets, utilizing both their cultural familiarity and their knowledge of bioscience. Specifically, PreventionGenetics saw great potential in South America, since it was included among the BRICS emerging markets. In 2014, company leaders began leveraging WEDC assistance to hone an export strategy and attend trade ventures, conferences and trade shows that allowed them the opportunity to raise their profile both in the urban centers and in rural areas with less access to health care. PreventionGenetics' outreach to these countries has led to great success, including growing its international sales by nearly 50 percent from 2013 to 2015, helping the company earn the Governor's Export Achievement Award in 2015. The company is currently looking to expand into more markets, and recent appearances at trade shows in Dubai, UAE and Kyoto, Japan are bolstering these efforts.