REDISCOVER YOUR INSPIRATION
When you set foot inside the walls of one of Wisconsin's great educational institutions, you stepped into a world of possibility. Here you discovered your passions, connected with like-minded communities and were met with a reciprocal enthusiasm for leading a life well lived.
Over the years, our state's values haven't changed. Our devotion to opportunity, growth and personal satisfaction in every regard, from worldly advancements and influential careers to richer experiences and a lower cost of living, hasn't faltered. And our shared spirit—the same one you felt in your student days—is stronger than ever.
Whether you're looking for a better place to raise a family, the next step in your career or a renewed sense of belonging, Wisconsin's here for you, and always has been.
Wisconsin. It's more you.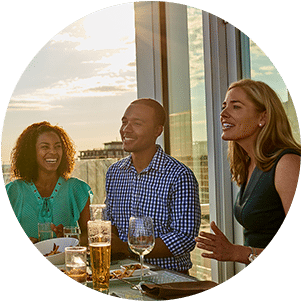 ALUMNI SNAPSHOTS
Discover other alumni like you who have found greatness in Wisconsin.
MY WISCONSIN STORY
Our residents are some of the happiest and most ambitious people in the nation—but don't just take our word for it. Take theirs.
"I came back home to Green Bay (Wisconsin) so I could make a greater impact and provide a service that is not otherwise available for patients in this region. My husband and I decided it was a great place to raise a family because it's a close-knit community that is not too big, not too small."
Launch Video
View All Stories