The beauty of Wisconsin extends further than our changing leaves, crystal clear lakes and gentle snowfall. We embrace our distinct four seasons and an outdoor lifestyle by making the most of what nature has to offer and never taking our surroundings for granted. Here, we can race down a trail on a mountain bike using adrenaline as our fuel or leisurely pedal around Lake Mendota with our family of four in tow. Here, we can whitewater raft one day and wake up the next to spend hours reeling in a lure. Here, you can do it all—because throughout the year, we have it all.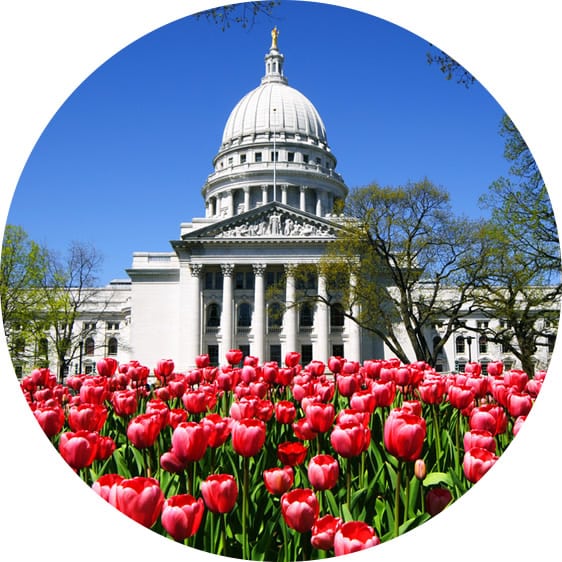 SEASONAL FACTS
SNOWMOBILE
Capital of the World
Wisconsin offers hundreds of miles of powdery trails and a robust annual snowfall of powdery fun. VilasWI.com, 2021
Every year, Wisconsinites look forward to picking their own fresh fruit for pies, canning and more.
Wisconsin Orchards Directory
Largest
Music Festival in the World
Milwaukee's Summerfest includes 9 days of fun, 800 bands and 800,000+ annual attendees.
Summerfest.com
Jake Mieske@wedc.org
WEDC is now accepting applications for the fifth year of its Fabrication Laboratories (Fab Labs) Grant Program, which provides funding to help public schools build or expand fab labs. Read More
WISCONSIN NEWS
From the latest announcements and economic developments to behind-the-scenes insight into the best state in the Midwest, find complete coverage of all things Wisconsin here.
TAKE A CLOSER LOOK AT WISCONSIN
One thing Wisconsin's regions all have in common is how unique they are. Every community in Wisconsin holds its own individual charm and characteristics, making our state one of the best options for fulfilling your personal and career goals.
From the natural playground of our forests and lakes to the vibrant communities hosting world-renowned festivals and farmers markets, Wisconsin balances enriching experiences with the essentials of a superior education and high-quality healthcare. Regardless of what you're looking for, one of our safe, diverse neighborhoods is a good place to start being more you.
MY WISCONSIN STORY
Our residents are some of the happiest and most ambitious people in the nation—but don't just take our word for it. Take theirs.
"People in Wisconsin care about their neighbors and the environment. We recruit a lot of people, and so they go to a place like Madison and they see all the cultural activities, they see the lakes, they see the parks, not just in Madison but throughout the state. They think they're going to be here for a couple of years and they stay here."
View All Stories