​Opportunity, support, community
Looking for the best place to live and work after your military service ends? Wisconsin has it all. You'll find clean air, beautiful natural areas for outdoor recreation, friendly neighbors, great schools from pre-K through technical colleges and research universities, the nation's best healthcare and a thriving job market. Housing is diverse and affordable, and commute times are well below the national average. Living here offers you more—and allows you to be more you.
Right now you're in a unique position to create the future you want. But the choices can be overwhelming without a clear path and plenty of support. Wisconsin offers more state funded programs for vets than any other state. Best of all, we'll be with you every step of the way as you navigate this uncharted territory—from finding a place to continue your education, to looking for family-supporting jobs and choosing a community you're proud to call home.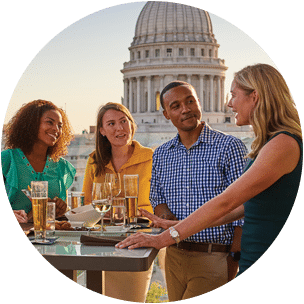 COMPARE HOW WISCONSIN STACKS UP TO OTHER STATES
TAKE A CLOSER LOOK AT WISCONSIN
One thing Wisconsin's regions all have in common is how unique they are. Every community in Wisconsin holds its own individual charm and characteristics, making our state one of the best options for fulfilling your personal and career goals.
From the natural playground of our forests and lakes to the vibrant communities hosting world-renowned festivals and farmers markets, Wisconsin balances enriching experiences with the essentials of a superior education and high-quality healthcare. Regardless of what you're looking for, one of our safe, diverse neighborhoods is a good place to start being more you.
MY WISCONSIN STORY
Our residents are some of the happiest and most ambitious people in the nation—but don't just take our word for it. Take theirs.
"Without a doubt, Wisconsin has a quality of life that is second to none, particularly here in the La Crosse area. And there's a culture of deep appreciation for our veterans here in the Upper Midwest; we know and honor their sacrifice, and we give our service members the respect they've earned. So, the culture and quality of life are big reasons this is a great place to make a home for our service members and veterans."
View All Stories