​Opportunity, support, community
Looking for the best place to live and work after your military service ends? Wisconsin has it all. You'll find clean air, beautiful natural areas for outdoor recreation, friendly neighbors, great schools from pre-K through technical colleges and research universities, the nation's best healthcare and a thriving job market. Housing is diverse and affordable, and commute times are well below the national average. Living here offers you more—and allows you to be more you.
Right now you're in a unique position to create the future you want. But the choices can be overwhelming without a clear path and plenty of support. Wisconsin offers more state funded programs for vets than any other state. Best of all, we'll be with you every step of the way as you navigate this uncharted territory—from finding a place to continue your education, to looking for family-supporting jobs and choosing a community you're proud to call home.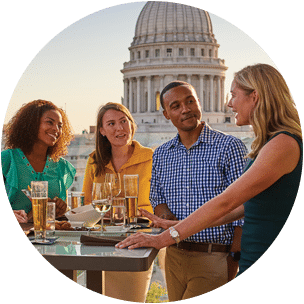 COMPARE HOW WISCONSIN STACKS UP TO OTHER STATES
DEPLOYED TO EMPLOYED
Find your career In Wisconsin
Enter your military job code to find matching jobs.