AN ECOSYSTEM WHERE ENTREPRENEURSHIP AND INNOVATION CAN THRIVE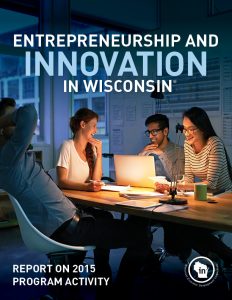 Startups come in many different forms, from a neighborhood bakery to a high-tech startup working to commercialize research discoveries made in a university engineering lab. Because all types of startups play a crucial role in Wisconsin's economic success, the Wisconsin Economic Development Corporation (WEDC) and its network of partners across the state are committed to fostering a vibrant culture for entrepreneurship and innovation.
A new report chronicles the initiatives offered by WEDC and its partners to support entrepreneurship and gives data on those programs' performance in 2015. Among key metrics, the report shows that WEDC's direct assistance programs helped more than 300 businesses attract $188 million in new funding and generate $130 million in revenue, for a total of $318 million in capital, during the 12-month period covered in the report. These companies supported 1,740 full-time jobs and 541 part-time jobs in Wisconsin and paid over $94 million in wages. In addition, WEDC's partners assisted nearly 2,200 companies to create more than 380 new jobs and retain more than 440 more jobs.
Even with very promising business ideas, young companies often face funding gaps when their products are not at a phase where investors feel comfortable supporting them. WEDC's entrepreneurship and innovation programs include a mix of loans, grants, investor tax credits, partnerships and program match funding. Collectively, these initiatives provide technical assistance, fill funding gaps and build an environment where entrepreneurs can thrive.
Based on the results contained in the report, these programs had a leverage ratio exceeding 10:1 for outside investment compared to the investment made by WEDC. This healthy ratio shows that WEDC's investments of public funds are wisely targeted for maximum impact to help startups succeed, which, in turn, boosts the state's economy as a whole.
The presence of a thriving startup ecosystem offers benefits even beyond the direct payoff in terms of jobs, wages and taxes collected.
"When you have a critical mass of innovators, their ideas multiply as they network and collaborate with one another," says Aaron Hagar, WEDC vice president of entrepreneurship and innovation. "These connections among entrepreneurs also attract support from investors and others to accelerate the pace of new discoveries with the power to change the world."
"Wisconsin has a uniquely productive relationship between our universities—among the best in the world in terms of research funding attracted and new patents awarded—and the private sector," adds WEDC Secretary and CEO Mark Hogan. "WEDC is committed to providing key services and resources to further enhance this mutually beneficial partnership and support the economic and social impact it generates."
In addition to performance data, the Entrepreneurship and Innovation In Wisconsin® 2015 report includes company profiles featuring a selection of the state's most promising startups across a broad range of sectors. Read the full report here.