A state committed to ongoing research and development in support of business
In Wisconsin, we share a passion for asking questions, testing limits, measuring results and influencing change. It's the driving force behind our world-class research and development capabilities, and it's how we support and empower the companies that operate here.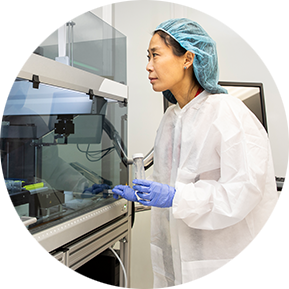 COMMITMENT AND COLLABORATION
Fueling our culture of discovery is more than $1 billion per year in academic research and development. Committed to developing tomorrow's technology and innovations, we support businesses with the talent, programs and connections they need to make great things happen. In fact, it's the partnerships among our researchers, companies and policy makers that underlie our greatest successes. With the support of an extensive network of academic institutions, public-private partnerships, state-of-the-art facilities and innovation clusters, companies have what they need to thrive.
WiSys®
Technology Foundation
WiSys® links University of Wisconsin innovators with industry leaders and global investors.
Life Sciences
Co-Working Labs
Within Forward BIO Labs' innovation ecosystem and shared labs, early-stage companies initiate critical proof-of-concept work and meet project milestones efficiently and fast.
ForwardBiolabs.org
$1.3 Billion
Spent on Research and Development
As one of the largest research enterprises in the nation, UW-Madison research not only leads to scientific and medical advances, it stimulates economic activity, provides jobs and fuels commerce statewide.
UW-Madison, 2022