POLICIES THAT DRIVE BUSINESS GROWTH
In Wisconsin®, we've created policies that advance emerging industries and allow businesses to compete nationally and globally. From a business-friendly tax approach and minority business funding to training grants and tort reform, we're creating an environment that spurs investment and instills confidence in the future. With a balanced budget and a fully funded pension system, we understand the importance of fiscal responsibility in helping business owners expand their operations in Wisconsin.
We're preparing our workforce for the jobs of today and tomorrow by creating experts in the fields where Wisconsin has an existing or emerging competitive advantage. Our significant investment in workforce development ensures that workers in Wisconsin are ready to do the jobs that drive your business.
With this "can-do" spirit, Wisconsin is poised to lead new industry advancements in such pivotal industries as biohealth, water technology, energy, food production and manufacturing, among others. Our unique blend of public-private partnerships across industry, government and academia come together to MAKE remarkable HAPPEN in Wisconsin.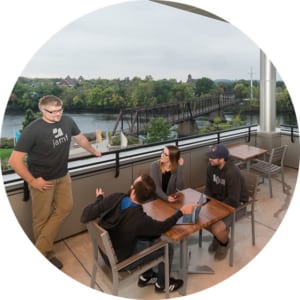 HOW WE RANK
Wisconsin is consistently ranked at the top, from tax policies and industry development to business growth and funding.
Our business-friendly environment makes us one of the best states for business.
Chief Executive Magazine, 2017
TAX CREDIT
MANUFACTURING AND AGRICULTURE
This credit virtually eliminates the income tax liability.
Wisconsin Department of Revenue, 2016
1 of 3
STATES WITH FULLY FUNDED PENSION SYSTEM
Wisconsin's fund serves 604,000 workers and retirees for the state and more than 1,400 local governments.
Pew Charitable Trust, 2017
Governor Scott Walker and WEDC have announced that 22 school districts throughout the state have been awarded a total of more than $500,000 in grants to establish or expand local fabrication laboratory (Fab Lab) facilities. Read More
WISCONSIN NEWS
From the latest announcements and economic developments to behind-the-scenes insight into the best state in the Midwest, find complete coverage of all things Wisconsin here.
The City of Beloit is receiving a $250,000 state grant to help finance the redevelopment of a vacant office building into a luxury boutique hotel. Read More
MADISON, WI. May 15, 2018 — Three Wisconsin Economic Development Corporation (WEDC) staff members have
Foxconn's historic investment in Racine County and Kwik Trip's major expansion in La Crosse have received national recognition for economic development success in Trade & Industry Development magazine's 13th annual CiCi Awards. Read More
TESTIMONIALS
Wisconsin's strong economic engine is helping businesses across the state maximize their success. Learn how companies are thriving by exploring our testimonials.
"Wisconsin is known for its printing and paper-making industries, as well as the technical expertise of those who work in these fields, which makes the state an ideal location for Colbert."
"Being located in Wisconsin allows us to leverage the state's strengths as a premier global hub for energy and water. These strengths include strong state support for water technology and a leading electric-drive and generator industry, all supported by a framework of higher education institutions that lead the world in these fields."