Developing in parallel with our ag industry, Wisconsin's lumber and paper industry has shifted its focus from logging and railroads to conservation and sustainable practices. Today, Wisconsin's forest product companies are leading in environmental stewardship through reforestation, research and other practices to protect and maintain the health of the state's 17.1 million acres of forest, for the sake of both the economy and the environment.
Through the Good Neighbor Authority program, U.S. Forest Service stewardship agreements and institutions like Forest Products Laboratory, agencies and local stakeholders are working together to ensure a robust supply of timber to the forest products and paper industries while supporting forest health. These efforts have resulted in our state leading the way in both papermaking and paper manufacturing employment concentration, offering many career options for those who love the land as much as we do.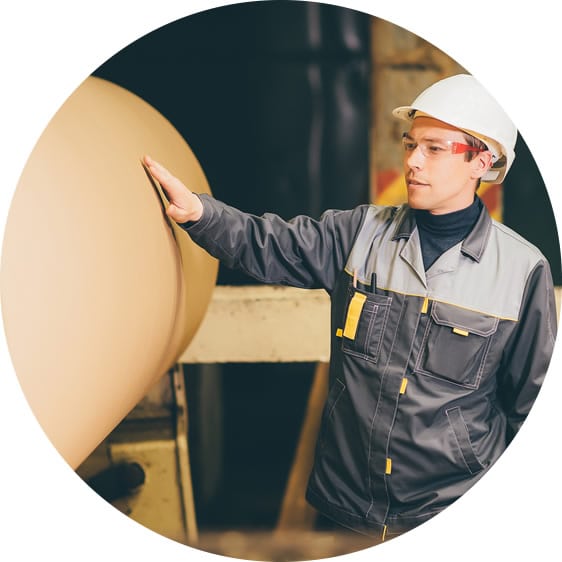 FOREST PRODUCTS LEADERSHIP
Wisconsin is consistently ranked at the top, from health care and cost of living to career opportunities and industry development.
#1
Papermaking State in the U.S.
In Wisconsin, we're maintaining the health of our forests and the economy.
American Forest & Paper Association, 2018
$1.5 BILLION
in International Forest Product Exports
Our forest products industry is focused on using our economical resource responsibly.
U.S. Census trade dataset via WISERTrade, 2018
#1
in Paper Manufacturing Employment Concentration
Careers in conservation, sustainable practices and research are waiting to be filled with talented individuals.
Bureau of Labor Statistics, 2018
FOREST PRODUCTS INDUSTRY RESOURCES
FOREST PRODUCT COMPANIES IN WISCONSIN
Expera Specialty Solutions
Wisconsin Veneer and Plywood
"Wisconsin is known for its printing and papermaking industries, as well as the technical expertise of those who work in these fields, which makes the state an ideal location for Colbert."
MY WISCONSIN STORY
Our residents are some of the happiest and most ambitious people in the nation—but don't just take our word for it. Take theirs.
"We're seeing paper industry innovation that increases sustainability, and significant advancements in environmental stewardship across the industry. Through innovation, older and less efficient facilities have really been transformed into world-class operations. Papermakers are reducing energy consumption, carbon emissions and water intake. As a result, our industry is better positioned to compete in emerging markets."
View All Stories