Wisconsin's ideal business climate is the result of many forces: a prime location, a balanced budget, investments in education and training, a strong work ethic and a focus on research and development. And, as a right-to-work state with a fully-funded pension program, ambitious companies who open shop in our state are primed to prosper.
The Wisconsin Economic Development Corporation (WEDC) and other state partners offer access to programs and resources to help start, relocate or expand business in Wisconsin. Through collaboration with local and regional economic development organizations, academia and industry associations, businesses are connected to growth-oriented solutions to help maximize their potential. This commitment to collaboration creates an environment for success and provides the support for your business to reach new heights in Wisconsin.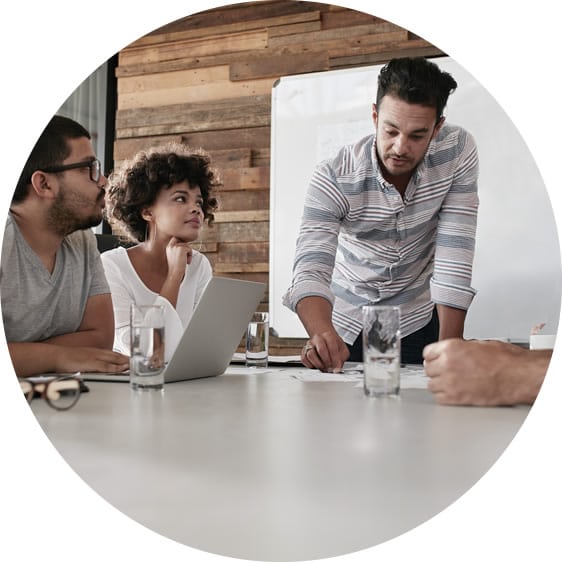 HOW WE RANK
Wisconsin is consistently ranked at the top, from entrepreneurial support to workforce development.
8
Fortune 500 Companies Call Wisconsin Home
Northwestern Mutual, ManpowerGroup, Kohl's, Fiserv, American Family Insurance, WEC Energy Group, OshKosh B'gosh, Rockwell Automation. Chief Executive, 2022
Top 10
Best State for Business Regulatory Environments
Our regulatory environment supports business development in Wisconsin. Forbes, 2019
#4
Best State for Long-Term Fiscal Stability
Wisconsin's strong fiscal stability is important for ensuring the success of government-sponsored programs and projects and the quality of life for residents. U.S. News, 2022
TAKE A CLOSER LOOK AT WISCONSIN
TAKE A CLOSER LOOK AT WISCONSIN
DISCOVER WISCONSIN'S REGIONS Each region offers a slightly different mix of all that's great in Wisconsin.
Click a region to learn more
SOUTHEAST HAVE A LOOK IN SOUTHEAST WISCONSIN

COOLEST

MILWAUKEE NAMED THE MIDWEST'S COOLEST CITY

Vogue

TOP 5

CITY FOR RECENT GRADS, MILWAUKEE

ZipRecruiter

TOP 30

CITY TO START A BUSINESS, MILWAUKEE

Inc Magazine
CENTRAL HAVE A LOOK IN CENTRAL WISCONSIN

ABUNDANCE

VARIETY OF OUTDOOR ACTIVITIES (HIKING, HUNTING, KAYAKING, BIKING, CAMPING)

OVER 90%

OF GINSENG GROWN IN THE US COMES FROM WISCONSIN

corn.agronomy.wisc.edu

CONNECTED

MASSIVE LABOR SHED WITH A SKILLED LABOR FORCE OF MORE THAN 315,000
NORTH HAVE A LOOK IN NORTH WISCONSIN

FOREST PRODUCTS

ABUNDANT TIMBER PRODUCTION

CONNECTED

AIRPORTS AND HIGHWAYS CONNECTING COMMERCE AND PEOPLE

OUTDOOR

CAMPING, FISHING, SNOWMOBILING
NORTHEAST HAVE A LOOK IN NORTHEAST WISCONSIN

9TH

BEST CITY FOR WORKING PARENTS, OSHKOSH

SmartAsset, 2018

2ND

BEST PLACE TO RAISE KIDS, APPLETON

SmartAsset, 2018

TOP TEN

THREE OF THE 10 MOST BEAUTIFUL CITIES IN WISCONSIN

Culture Trip
SOUTHWEST HAVE A LOOK IN SOUTHWEST WISCONSIN

SMALL TOWN LIVING

CLOSE TO BIG CITIES

#2 LARGEST

OUTDOOR THEATER IN THE NATION DEVOTED TO CLASSICS- AMERICAN PLAYERS THEATRE

American Players Theatre

47 MILES

CHEESE COUNTRY MULTI VEHICLE-USE RECREATION TRAIL
NORTHWEST HAVE A LOOK IN NORTHWEST WISCONSIN

NATURAL BEAUTY

ABUNDANT AND SPECTACULAR NATURAL RESOURCES

VIBRANT

VIBRANT COMMUNITIES WITH A "SMALL TOWN" FEEL

QUALITY OF LIFE

UNCONGESTED LIFESTYLE, YEAR-ROUND RECREATION
SOUTH CENTRAL HAVE A LOOK IN SOUTH CENTRAL WISCONSIN

#1

TECH TALENT MOMENTUM MARKET

CBRE

BEST

COLLEGE FOOTBALL TOWN

NCAA

#1

COMMUNITY PROGRESS INDEX

AngelouEconomics
WEST CENTRAL HAVE A LOOK IN WEST CENTRAL WISCONSIN

MUSIC HOTSPOT

COUNTRY JAM AND EAUX CLAIRES MUSIC FESTIVALS

TOP FIVE

LA CROSSE AMONG MOST AFFORDABLE PLACES TO LIVE

Livability.com

THIRD

FITTEST CITY IN THE COUNTRY, EAU CLAIRE

Fitbit.com
UPCOMING WISCONSIN EVENTS
Wisconsinites know how to have fun, all year through—from sports to the outdoors to arts and culture. Here are just a few of the things we're looking forward to.
MY WISCONSIN STORY
Our residents are some of the happiest and most ambitious people in the nation—but don't just take our word for it. Take theirs.
"Our company's founders had tremendous foresight in deciding to locate in Wisconsin. The quality of life and increasingly business-friendly environment in Wisconsin is unmatched in other parts of the country... Our partnership with the people of Wisconsin and state and local officials is a major reason for our ongoing success."
View All Stories