ALL ROADS LEAD TO WISCONSIN
One of Wisconsin's strongest advantages is our central location, uniquely positioned for delivering products to U.S. markets within a single business day. To see how our state's location and robust infrastructure positions companies to do business on a global scale, explore the interactive map below.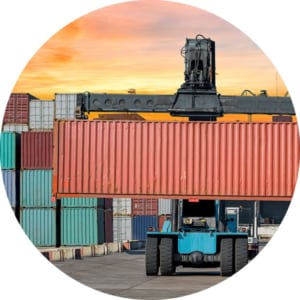 Start by selecting one of five key assets—highways, railroads, ports, airports or foreign trade zones.
Click on icons for more detailed information.
Select toggles to learn more about how each part of our transportation system moves business forward in Wisconsin.
Use the dropdown menu to navigate between key assets.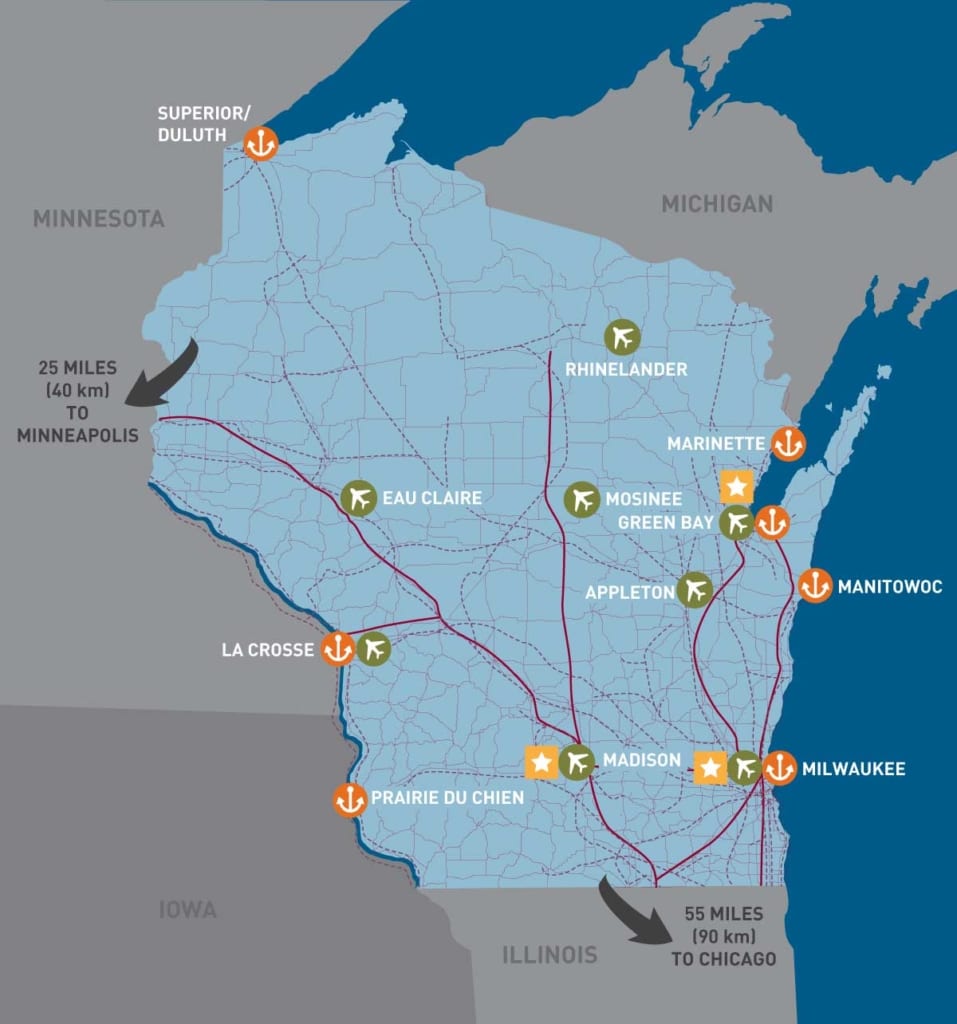 Highway Systems
Wisconsin's extensive transportation network relies on nine major highways covering more than 11,800 miles (18,990 km) to move our goods to market and connect us to major industrial cities throughout the Midwest.
Railroad Lines
Rail traffic throughout Wisconsin continues to grow, moving more than $122 billion in freight each year and creating a seamless link to the nationwide intermodal system.
Commercial Ports
Uniquely situated on some of the nation's greatest waterways, Wisconsin ships 40 million tons of freight each year. Commodities travel to and from our commercial cargo ports along the Mississippi River, Lake Michigan and Lake Superior.
Commercial Airports
Throughout Wisconsin, air traffic takes off from eight commercial airport locations, linking us to every point in the nation within one business day.
Foreign Trade Zones (FTZ)
An FTZ is created when goods are imported into a U.S. location, but are ultimately destined for a foreign market; either as-is or after some value has been added. Manufacturers operating in or near one of Wisconsin's three FTZs can benefit from the deferral, reduction or elimination of taxes on their imported goods.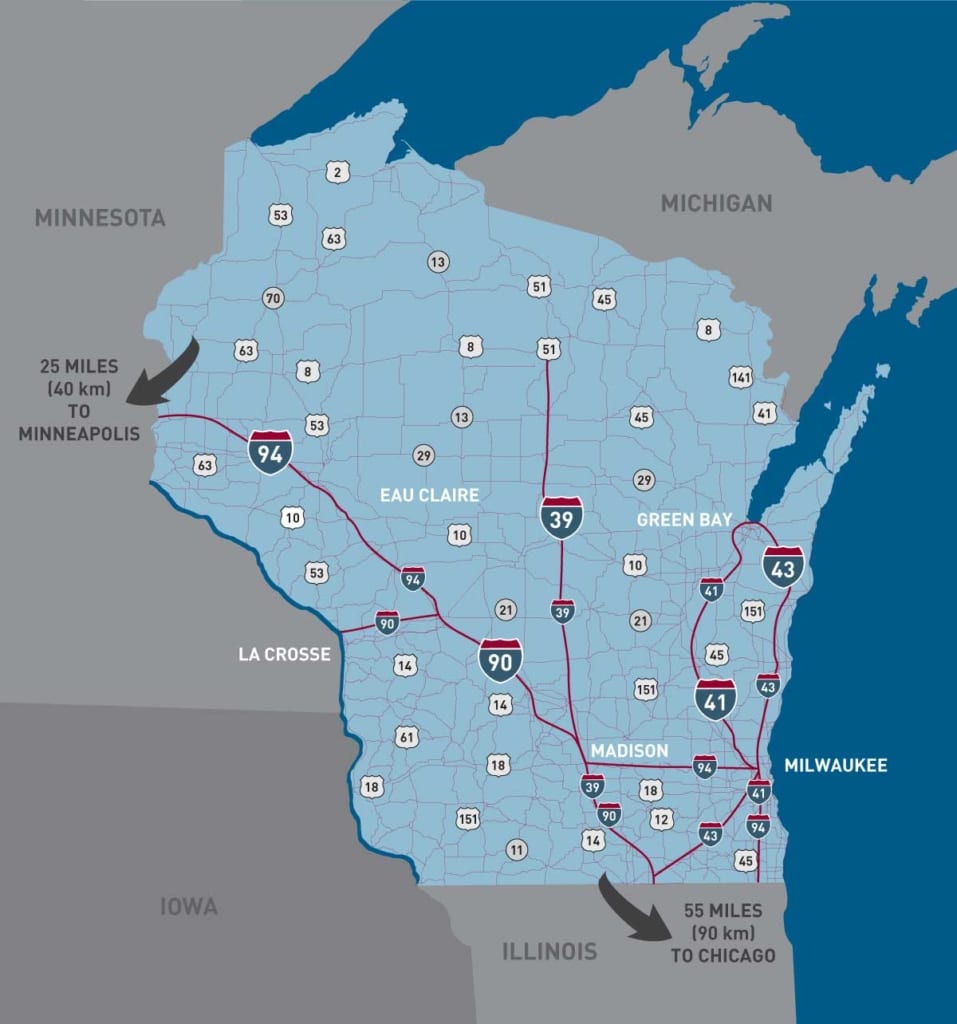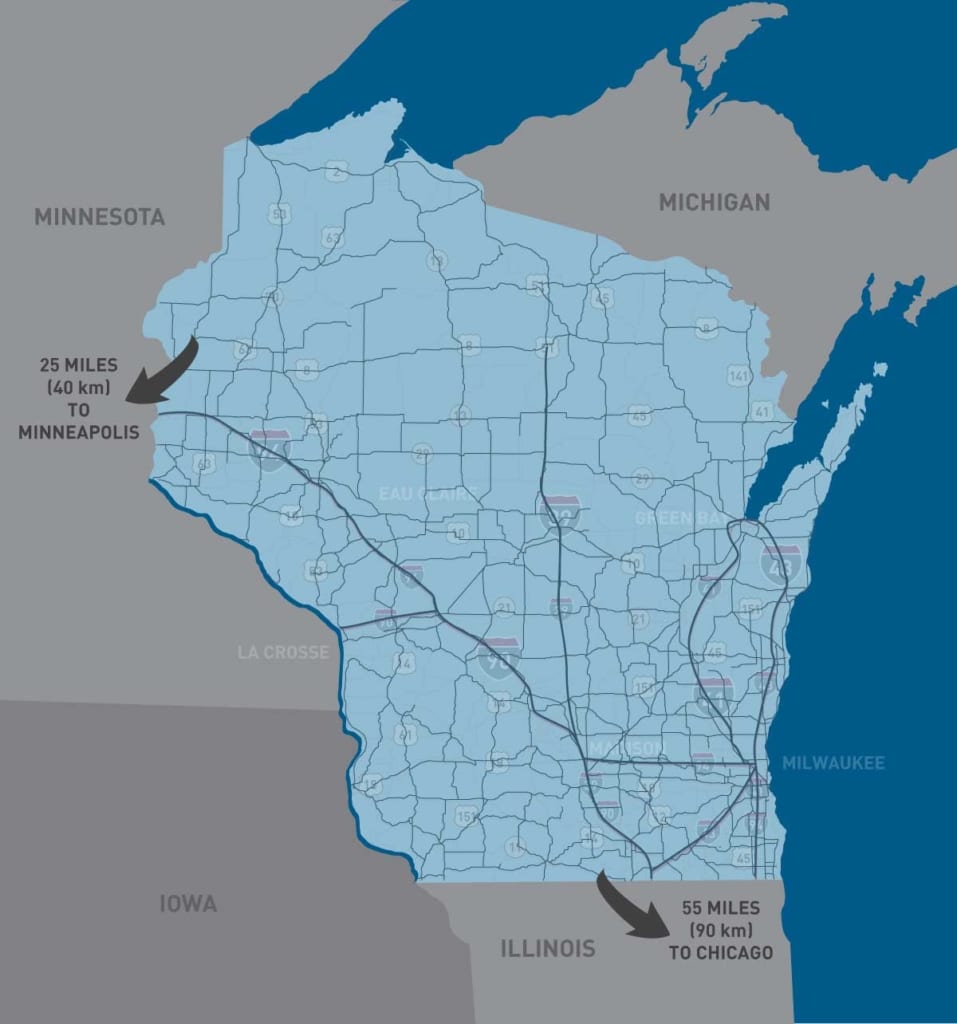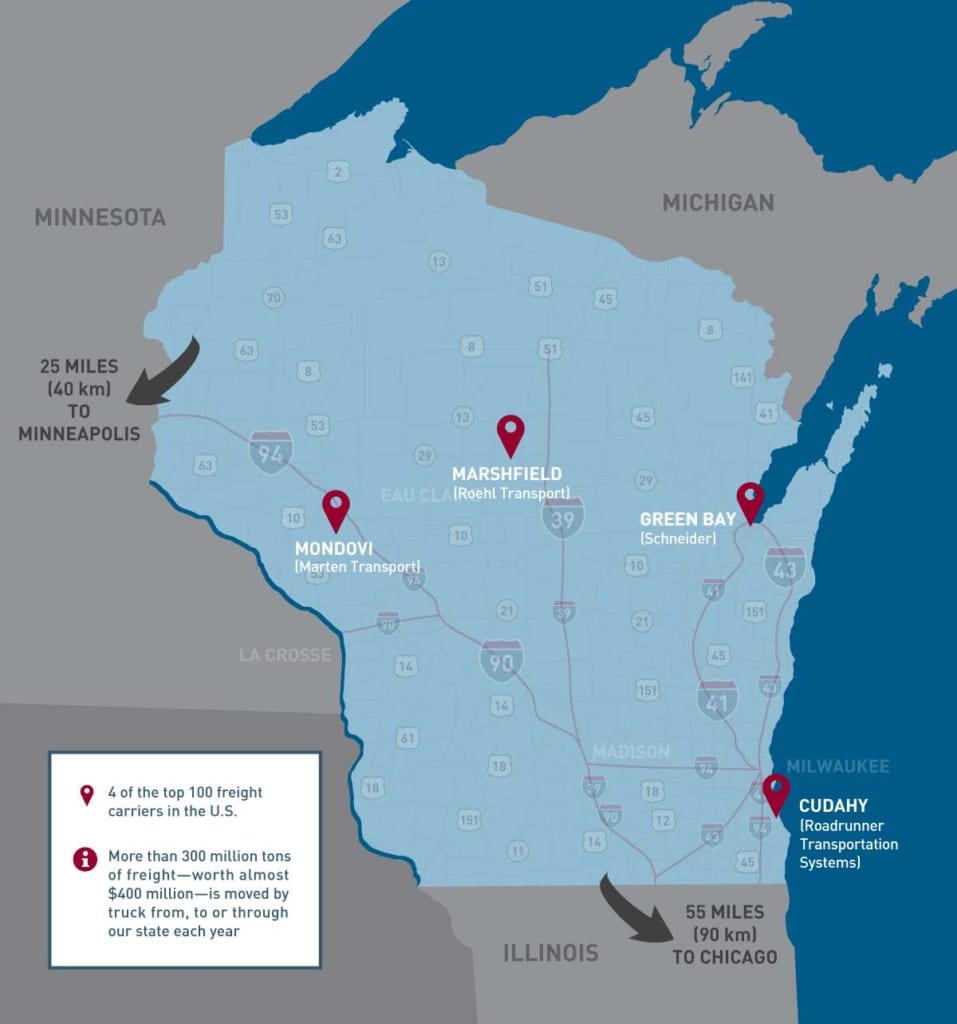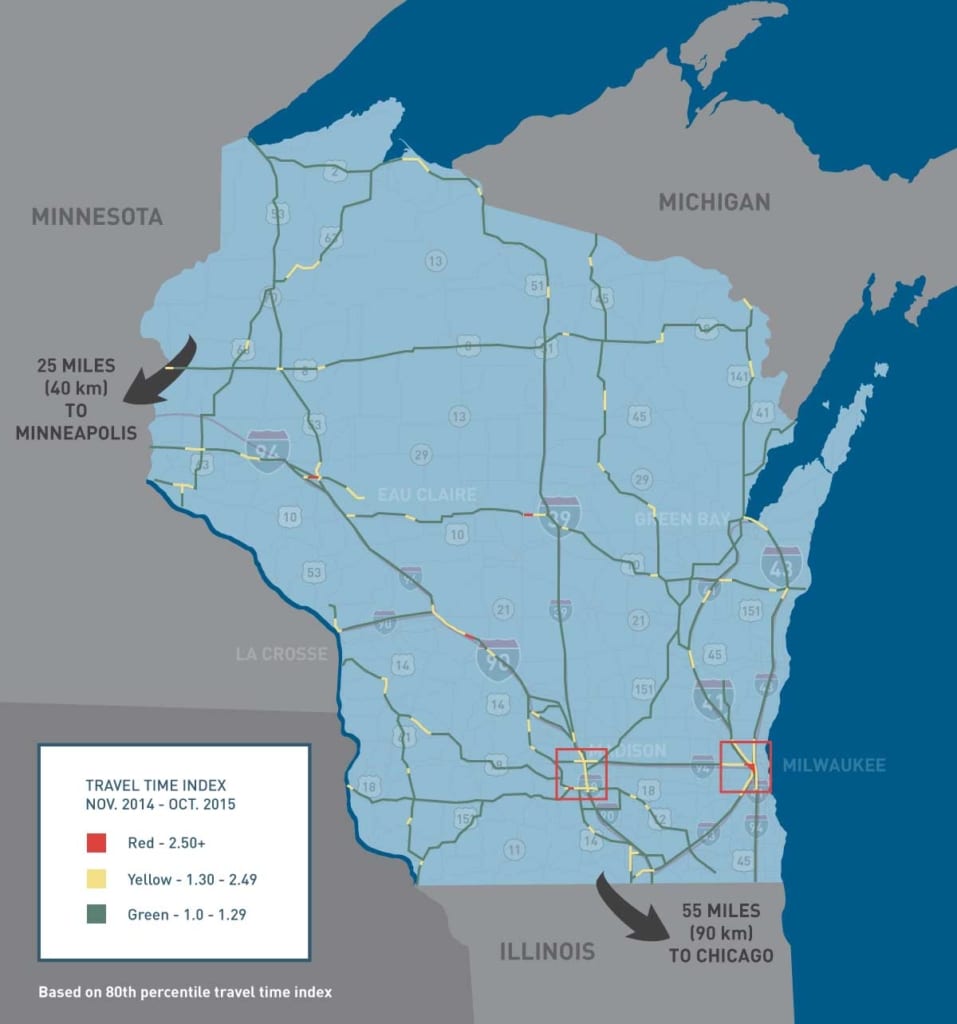 Highways
In Wisconsin, we're committed to maintaining a reliable, efficient and connected highway infrastructure. From inclement weather and hazardous freight to oversize and overweight loads, we are well equipped to keep freight moving on our high-performing roadways.
Whether traveling for business or moving product by ground, you'll appreciate Wisconsin's proximity to major markets—and the money you'll save on freight costs and travel times.
INVESTMENT
From 2011 to 2015, Wisconsin spent nearly $7 billion to maintain and improve the infrastructure of our roadways.
Connections to National Highways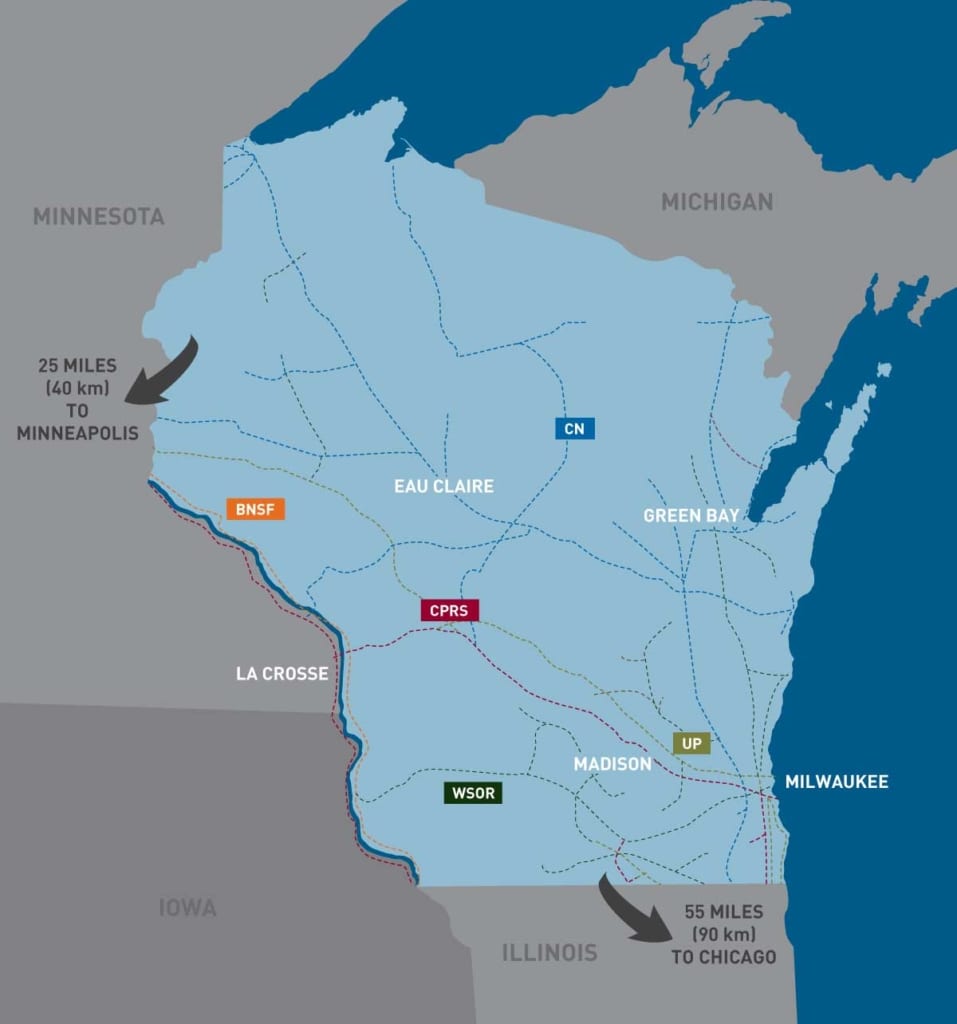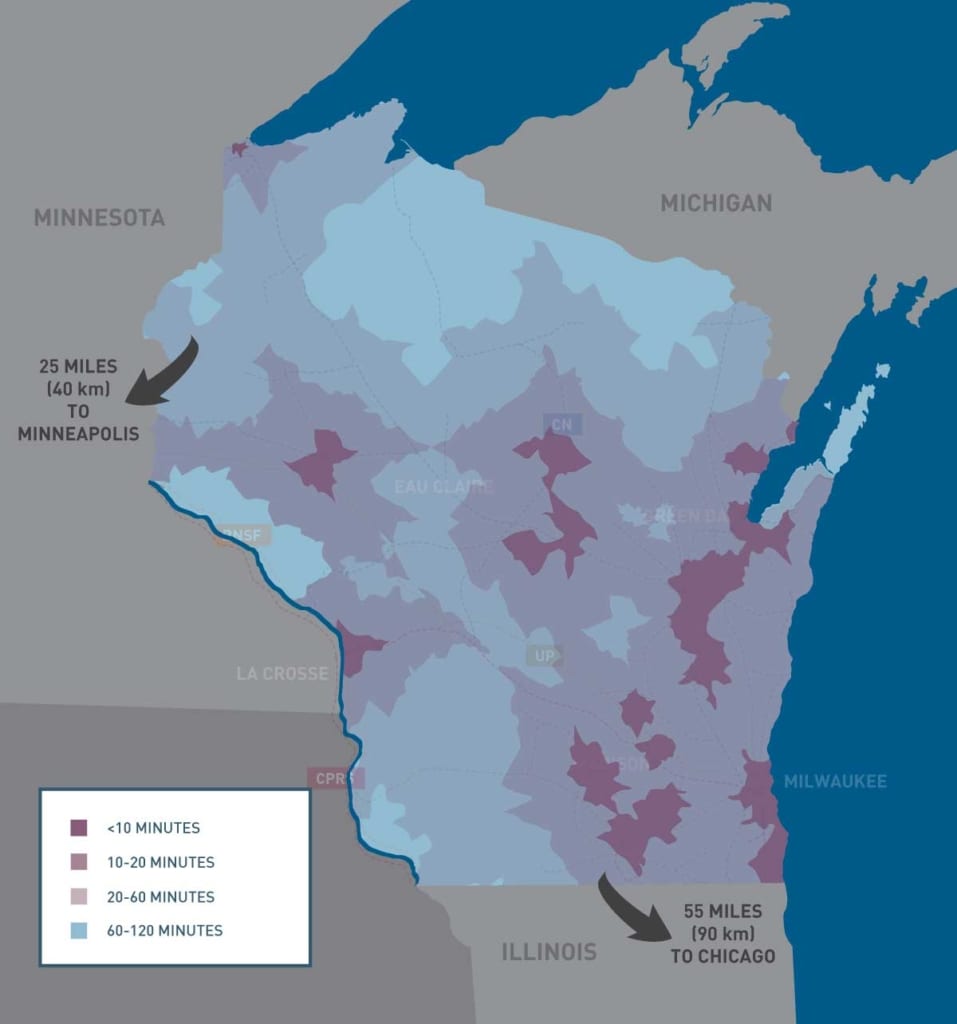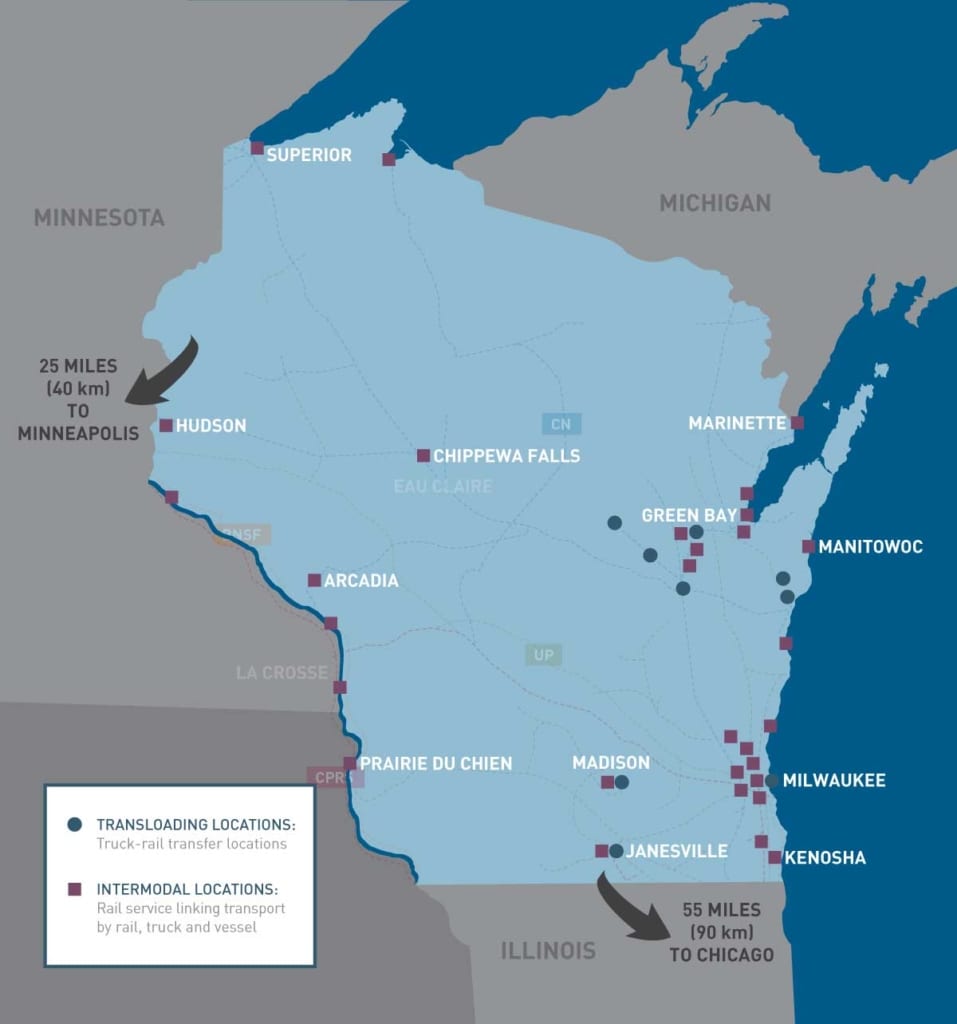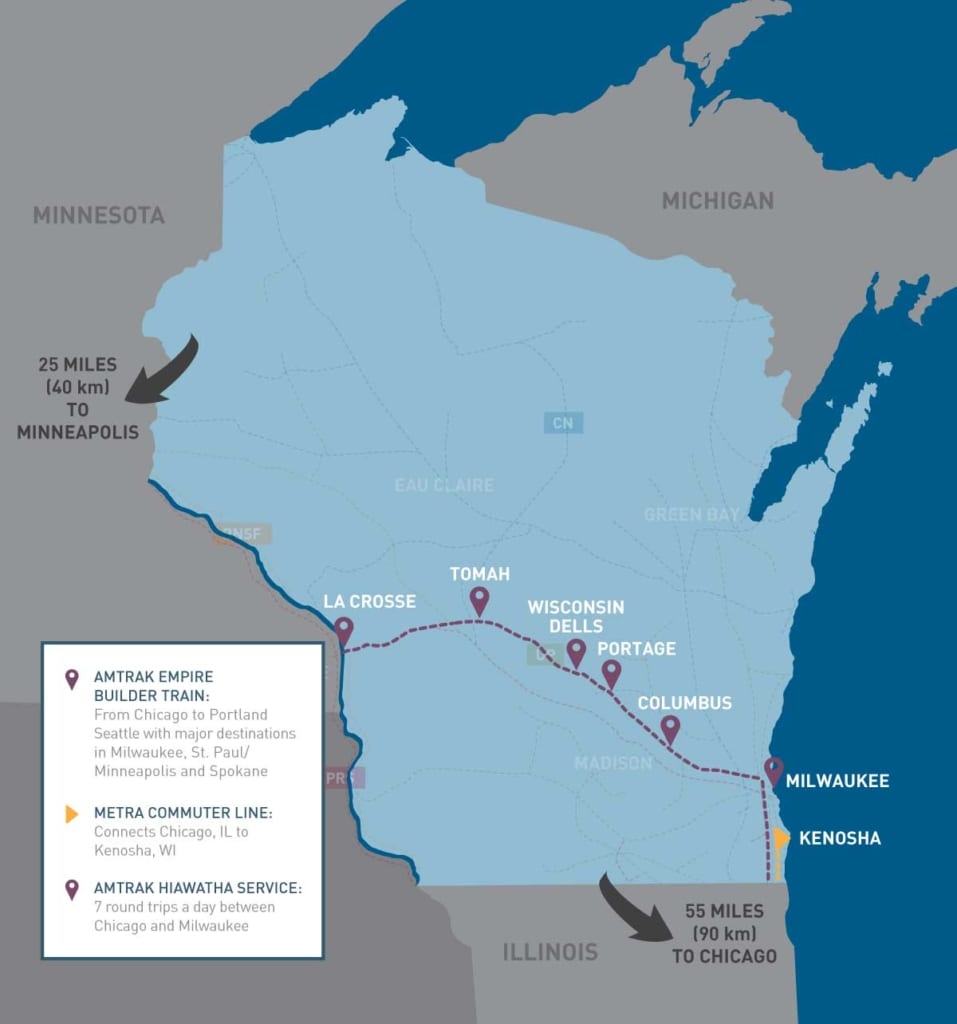 Railroad Lines
​Wisconsin railroads give companies fast and flexible access to and from any location. Our rail lines provide trucking and marine shipping services that carry freight—from raw materials to component parts to finished goods—throughout North America and the world. In 2013, 3.2 million carloads transported 207 million tons of freight on Wisconsin's railroads.
​Freight isn't the only commodity that moves on Wisconsin railroads. Amtrak ridership had nearly 800,000 passengers in 2015.
INVESTMENT
From 2010-2014, the state and its local counterparts invested more than $132 million in our railroad infrastructure.
Cross Country Railway Connections
International Railway Connections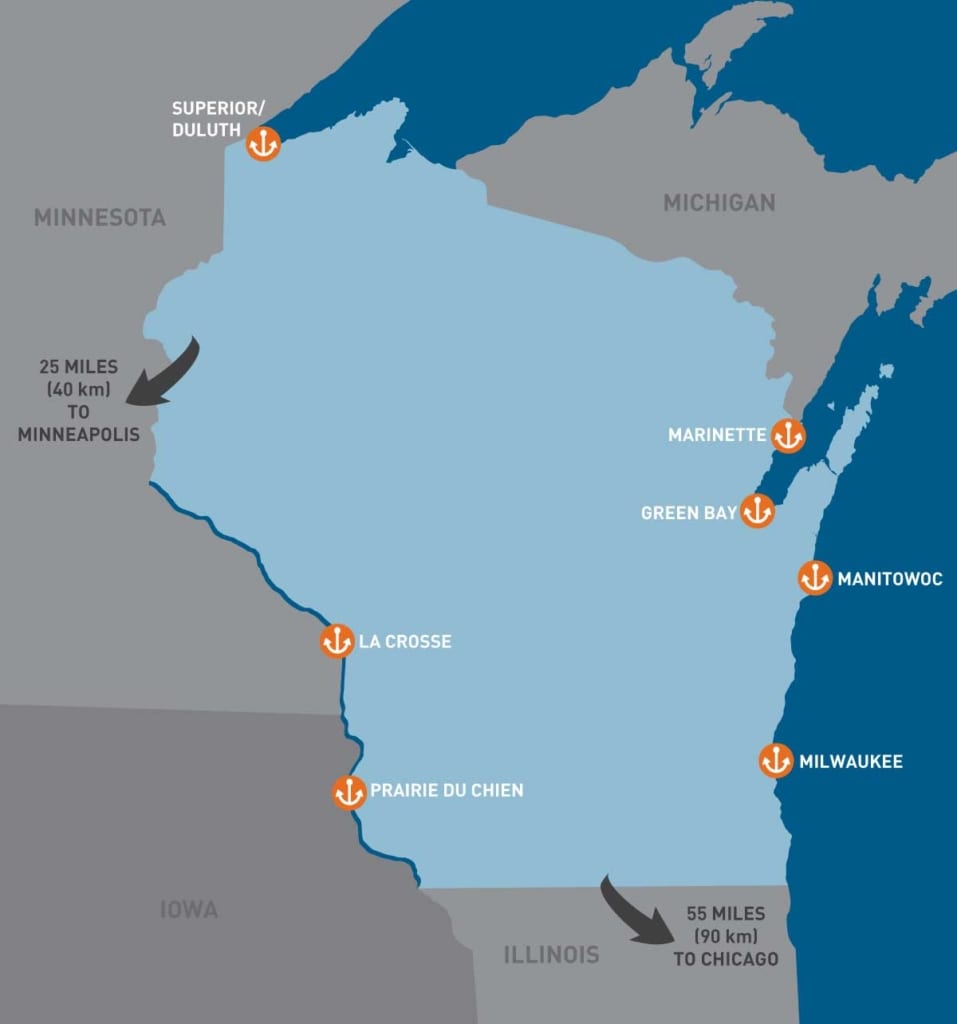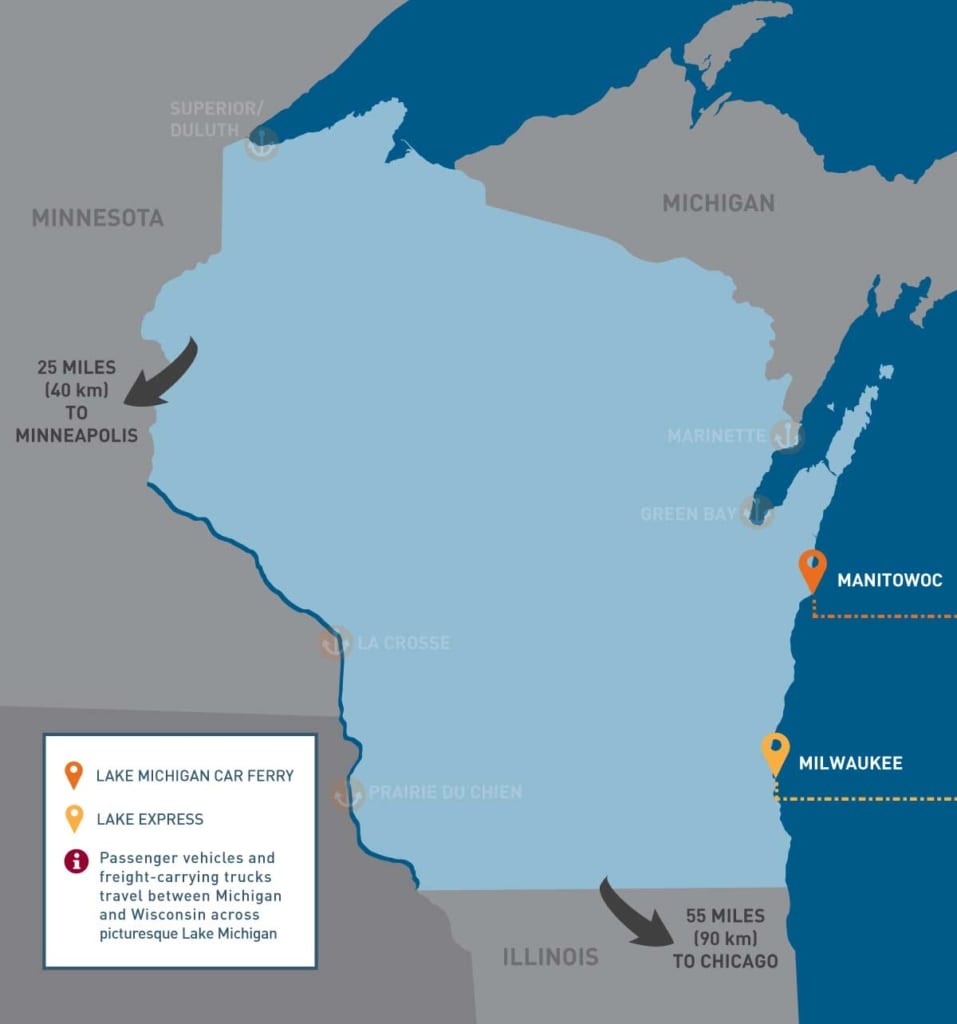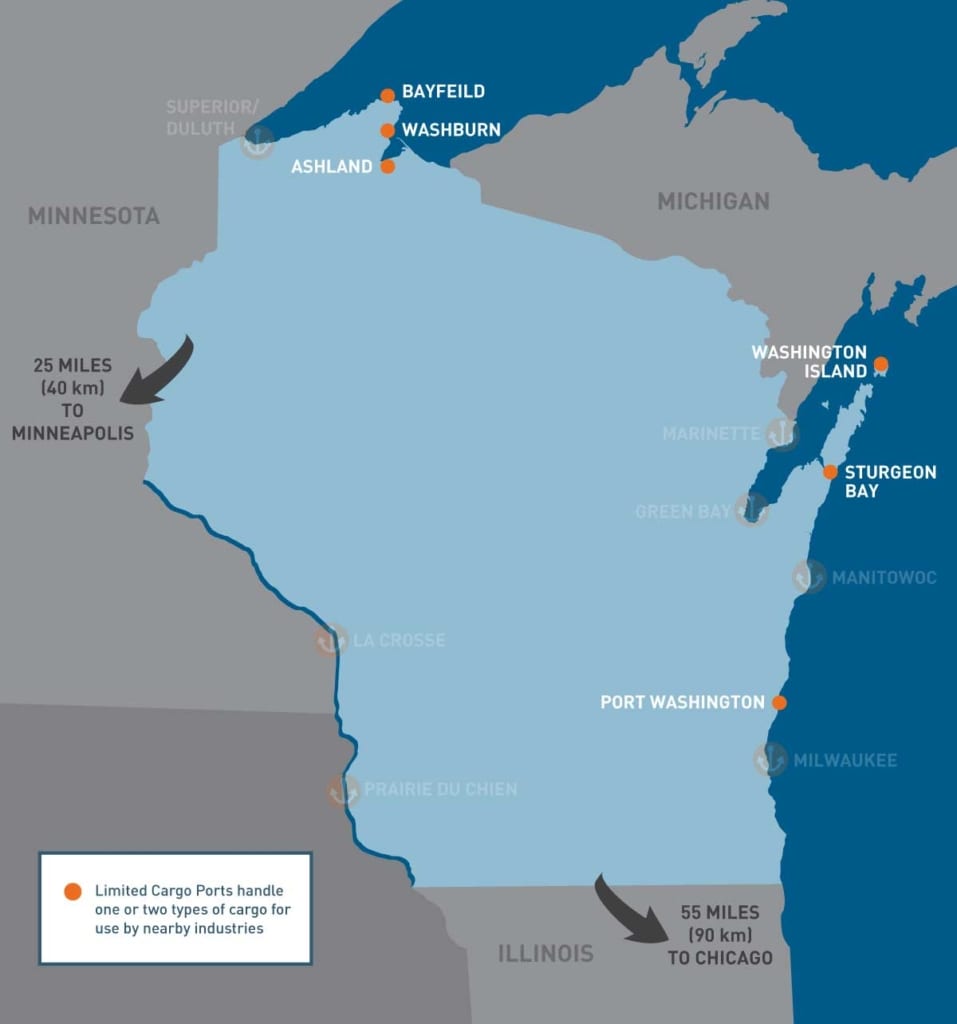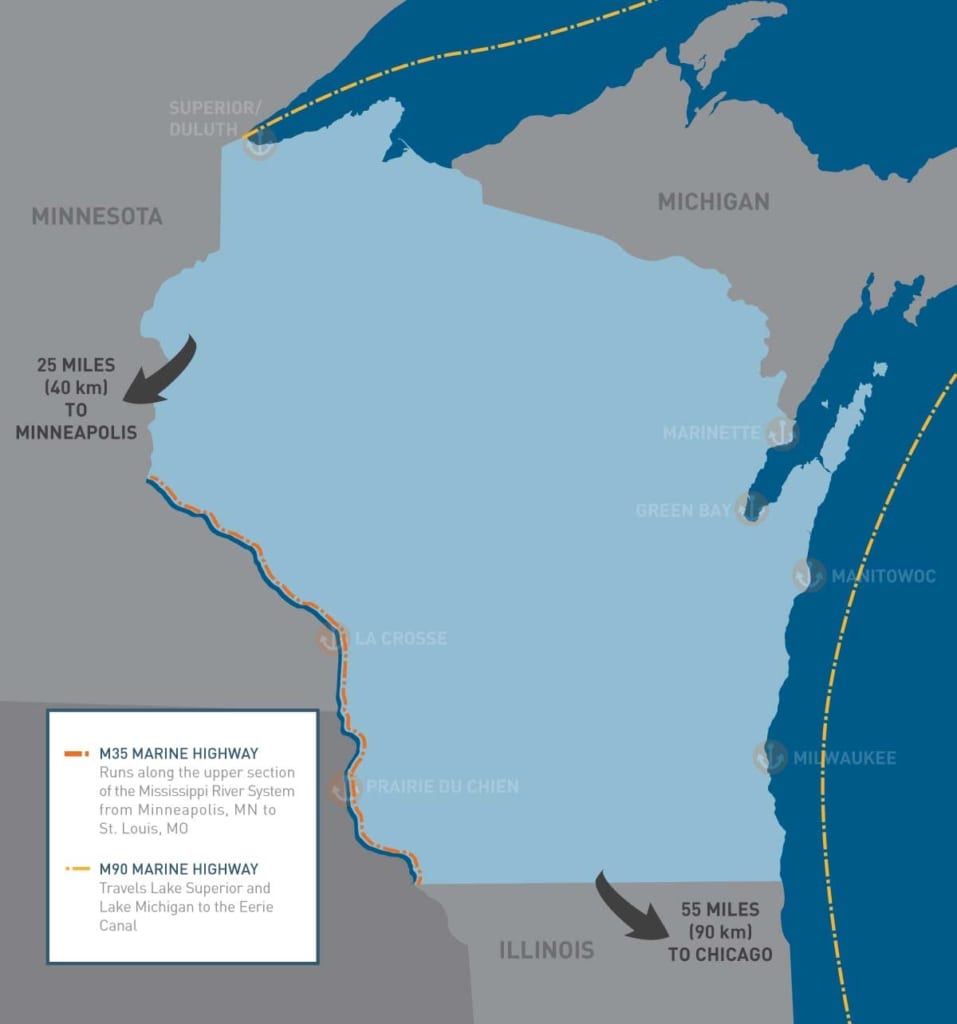 Commercial Ports
Wisconsin's port history is as rich as the state itself. Early settlers realized the potential of the state's commercially navigable waterways—two of the Great Lakes and the Mississippi River—and we have not since forgotten it. With seven commercial cargo ports and six limited cargo ports, Wisconsin has access to international waterways along three of its borders.
Water transportation is still the most efficient method for moving bulk commodities. Each year, Wisconsin ports handle over 40 million tons and $8 billion of cargo—much of it traveling to and from international markets.
INVESTMENT
The Wisconsin Department of Transportation invested $52 million in our waterway infrastructure from 2010 to 2015 through the state's Harbor Assistance Program.
International Water Gateways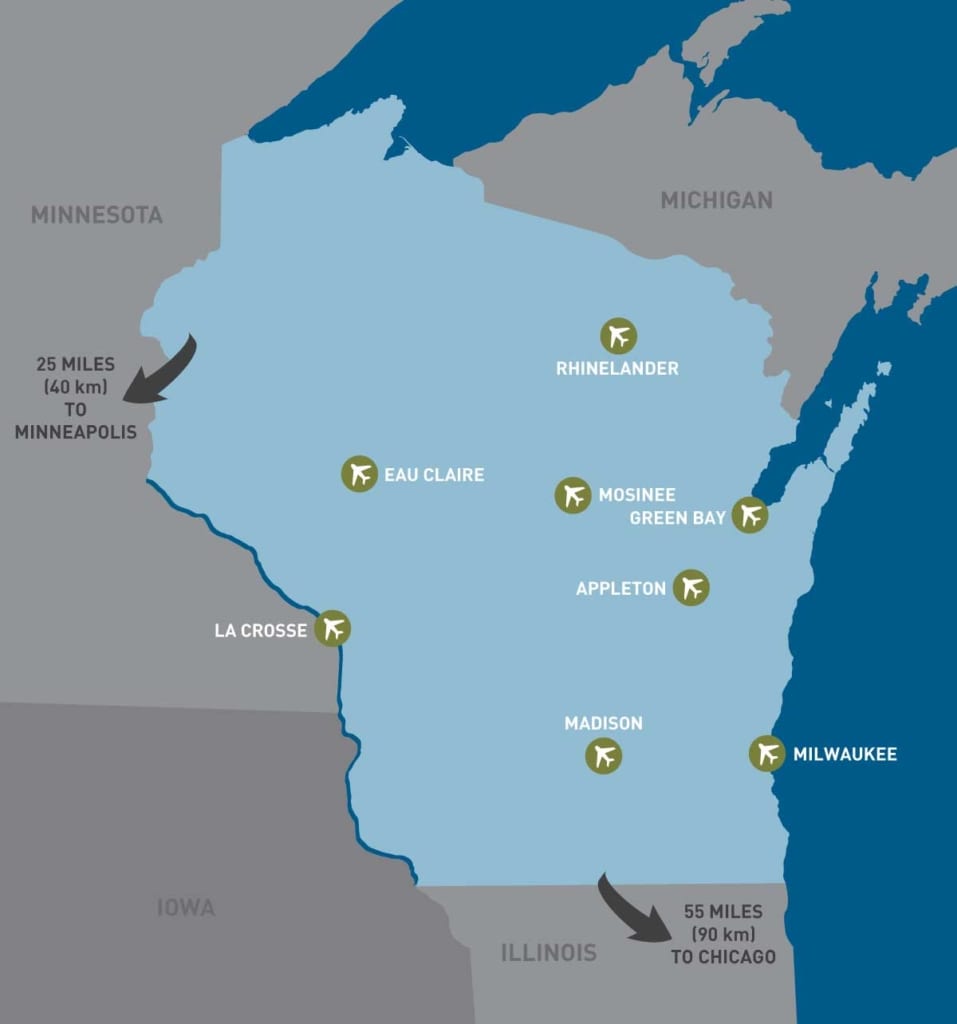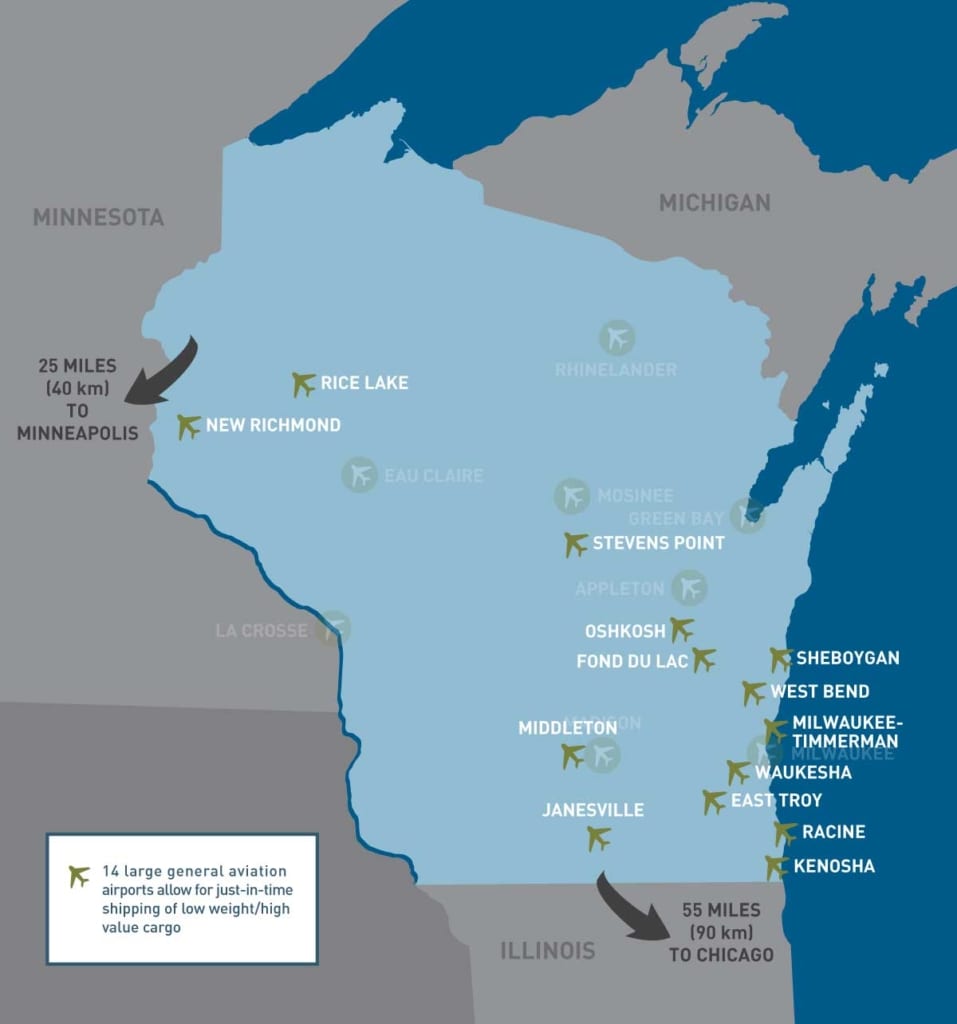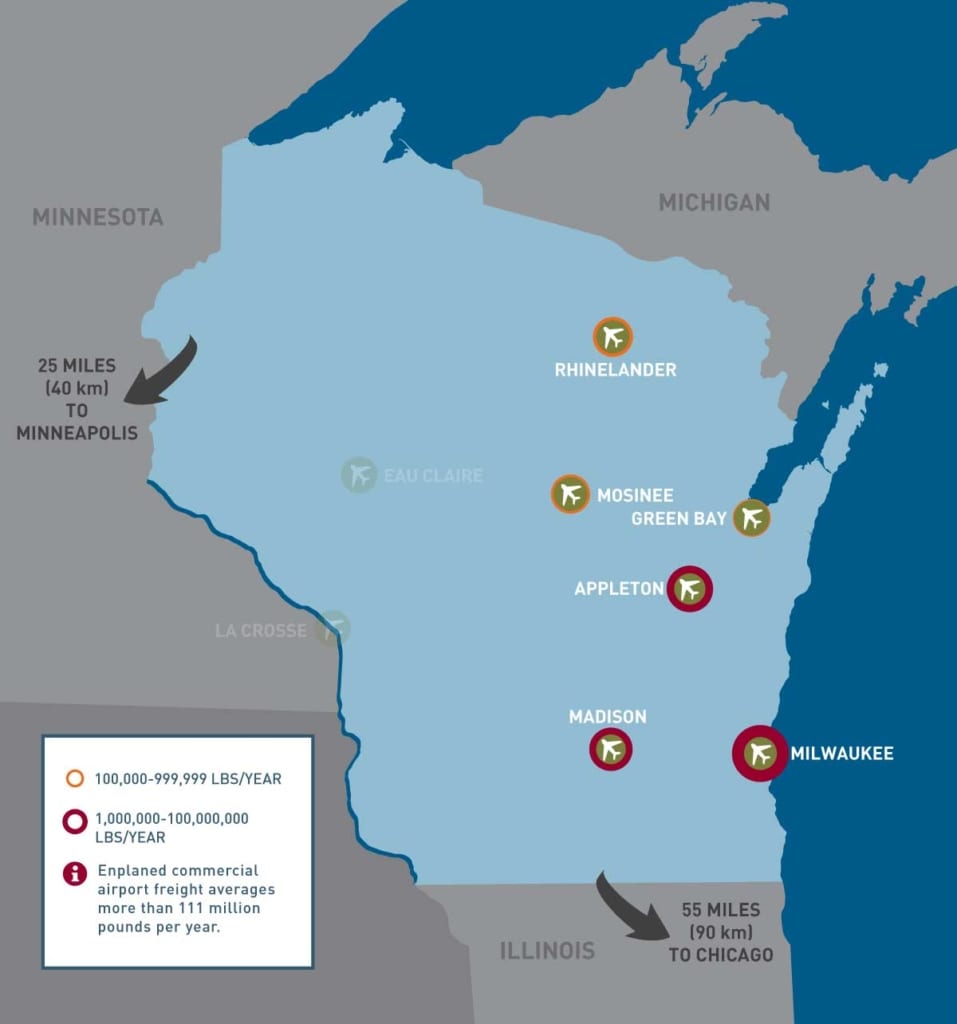 Commercial Airports
Wisconsin's airport system is a rapid access network for personal travel, business, freight and recreation. Our eight commercial airports support regularly scheduled year-round commercial airline service and the full range of general aviation activity to domestic and international destinations.
The state's hub for domestic and international transport is Milwaukee Mitchell International Airport. Additional flight options are available at Chicago's O'Hare International Airport just 70 miles south of Milwaukee.
INVESTMENT
114 million in state and federal dollars was spent on airport improvement projects around the state in 2014.
People and Freight Air Transport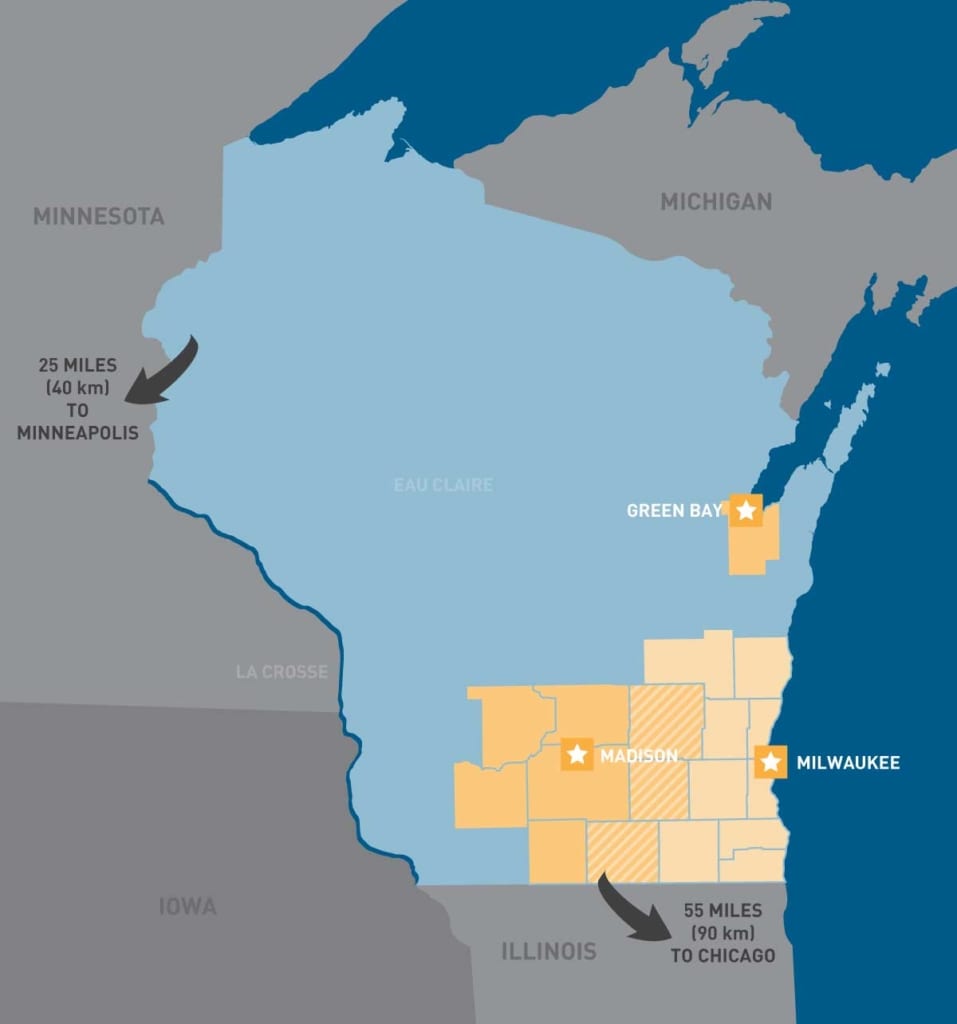 Foreign Trade Zones
Companies located in one of our three Foreign Trade Zones (FTZs) can import merchandise (by truck, rail, air or boat) without going through formal customs entry procedures or paying import duties. These companies have the option to pay tariffs after their product inventory is sold, improving cash flow and saving substantial dollars.
Other benefits include, but are not limited to: global market competitiveness, minimized bureaucratic regulations, and improved supply chain efficiencies. Companies located outside of a designated FTZ can apply for subzone status to receive the same benefits from anywhere in Wisconsin.