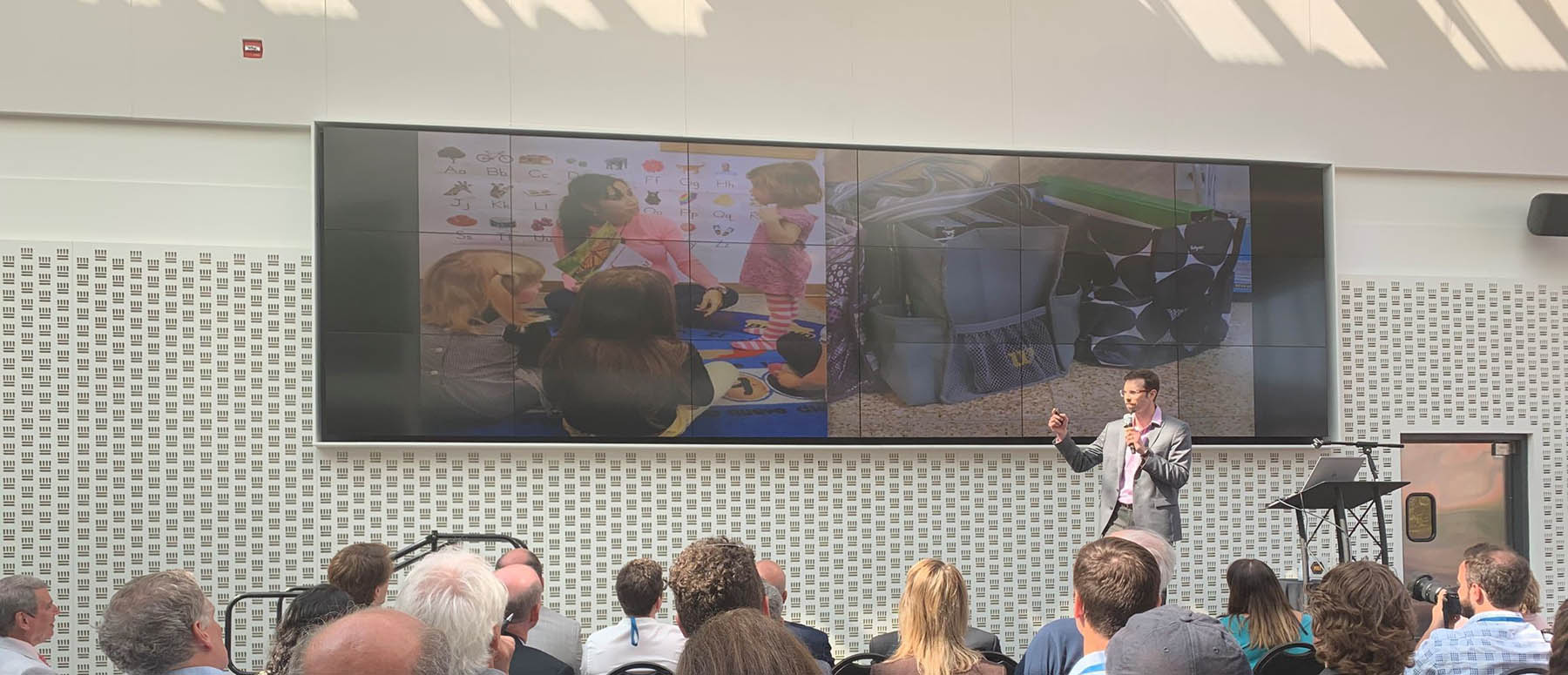 GrowthChart's Brent Brenner, shown on June 4 in Milwaukee at Venue 42 delivering what would be the winning presentation of the Governor's Business Plan Contest
From disintegrating hypodermic needles to aircraft you can build in a garage to liquid-composite armor technology, the innovations spotlighted at the 17th annual Wisconsin Entrepreneurs' Conference were novel and plentiful.
But only one entrant could take home the grand prize in the Governor's Business Plan Contest. The winner of this honor was Stoughton-based GrowthChart, the creator of hands-free documentation that saves caregivers nearly 30 minutes a day on average.
"GrowthChart has created an innovative platform to save time for certified childcare centers that are often recording data by hand on paper, which ties up professionals who could be caring directly for kids," said Tom Still, president of the Wisconsin Technology Council, said in a press release. "It's a subscription model that helps childcare centers and parents alike."
As the winner, GrowthChart gets the first opportunity at more than $150,000 in cash and in-kind services, which is shared with the other finalists. Sponsors, including WEDC, contribute cash, office space, legal assistance, accounting, marketing, IT consulting, web design and more. More than 200 hopefuls entered this year's contest, bringing the total up to approximately 3,900 entries since the contest began in 2004.
The conference also featured 12 panel discussions and nearly 60 investors, entrepreneurs, and economic development and service sector professionals in Wisconsin. The discussions centered around three distinct tracks—Launch, Grow and Succeed—with topics ranging from effective marketing communications to common challenges and assets to corporate investing trends.
Category winners
Life Sciences: Otologic Technologies, Madison. The company aims to pair artificial intelligence with a digital otoscope to help diagnose middle ear infections. Presented by Aaron Moberly.
Information Technology: GrowthChart, Stoughton. Creators of hands-free documentation for childcare centers. Presented by Brent Brenner.
Business Services: Blexx Technology LLC, Madison. Created a device that quickly sanitizes and disintegrates hypodermic needles. Presented by Erin Tenderholdt.
Advanced Manufacturing: Templar Industries, Janesville. Developing a liquid-composite armor technology that absorbs projectile energy. Presented by Mark Schweiger.
Other finalists:
Life Sciences
SpayVac for Wildlife, Fitchburg. Contraceptive vaccines for humane wildlife population control. Presented by Thomas D'Orazio.
Voximetry LLC, Middleton. A cloud-based dose engine aimed at improvements in nuclear medicine dosimetry. Presented by Joe Grudzinski.
Information Technology
ERbin, Kronenwetter. A digital recycling education platform to help consumers recycle right. Presented by Michelle Goetsch.
Seedlinked, Viroqua. A data and analytics platform that connects growers and plant breeders. Presented by Nicolas Enjalbert.
Business Services
Impact Sports LLC, River Falls. Creators of a safer, more flexible football helmet based on an infant's head. Presented by Joshua Cleveland.
Skip and Co. Maritime, Fond du Lac. A maritime training and captain's licensing course provider. Presented by Robert Carsey.
Advanced Manufacturing
DarkAero Inc., Monona. A two-seat, carbon-fiber aircraft kit manufacturer focused on speed, range and efficiency. Presented by River Karls.
SafeLi LLC, Shorewood. Looking to disrupt the lithium-ion battery market with graphene-based materials. Presented by Carol Hirschmugl.
Zero Barrier LLC, Madison. A metal 3D printing factory to eliminate barriers to mass production for small manufacturers. Presented by Evan Wolfenden.