From nearly 230 nominations, 10 companies went home winners following the fourth annual 2017 Wisconsin Innovation Awards in early October.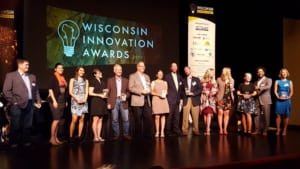 Wisconsin is an innovative state, and its innovation spans many industries, including manufacturing, agriculture, life sciences, education, nonprofits and more. The Wisconsin Innovation Awards honor the state's diversity of innovation by highlighting and celebrating novel and groundbreaking ideas across industries and communities throughout state.
"Innovation takes many forms," event co-founder Matt Younkle said in his opening remarks before the ceremony. "Through this event, we are uniquely positioned to photograph that in the wild, so to speak, and we have a responsibility to the next generation of innovators in Wisconsin to demystify that process…. We see these awards as a unique opportunity to knock down silos and connect unique innovators from around the state."
This year's event took a slightly different approach in how finalists were presented; each company was presented by video, and the winners' videos are available to the public, so aspiring innovators can review each company's story to find inspiration and insight of their own.
The winners of the 2017 Wisconsin Innovation Awards are:
Agriculture
Midwestern BioAg, Madison
Biotech
VibeTech Inc., Sheboygan
Business to Consumer
Fix Development LLC, Milwaukee
Education
UW Law & Entrepreneurship Clinic, Madison
Healthcare
DotCom Therapy, Madison
Manufacturing
WholeTrees LLC, Madison
Nonprofit
Tri 4 Schools, Verona
Retail
DynaTrap, Milwaukee
Software
Zendesk, Madison
People's Choice
Pathogenomica, Madison