Where can you find a booming startup scene, a strong legacy of innovation and a great quality of life combined with short commutes to work? Milwaukee, Wisconsin. The state's largest city has been turning heads in recent months for its inviting atmosphere and support for young companies.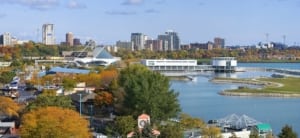 Milwaukee is no stranger to high-tech businesses and research. In fact, the city was recently recognized by Inc. Magazine as one of three "unexpected places that are amazing for startups." The magazine praised the city for its low cost of living and availability of respected incubators in the area, which includes gener8tor, The BREW and WERCBench Labs. Milwaukee also recorded a 145 percent increase in venture capital funding for startups in 2016 alone—adding to its allure as the "place to be" for new businesses.
In addition to all the benefits the city offers to startups, Milwaukee was lauded among the Top 15 Cities for Women in Tech by SmartAsset. The city ranked highly in percentage of women in the tech workforce and was applauded for cultivating equality when it comes to wages, coming in at #14 on the list.
However, the city's benefits don't stop at its positive business atmosphere. U.S News & World Report also classified Milwaukee among its Top Three Up-and-Coming Place to Live, a ranking that took into account career potential and job availability, as well as cost of living and positive quality of life benefits.
"Milwaukee has a strong combination of quality of life amenities, including a respected symphony orchestra, a ballet company, a renowned art museum, Major League Baseball along with NBA basketball, an annual music festival that is among the world's largest, big ethnic and cultural festivals, a top-notch zoo, a beautiful park system, miles of river walks through the downtown area, and natural resources including a long, publicly accessible Lake Michigan shoreline," Milwaukee Mayor Tom Barrett told U.S. News.
And if those varied recognitions haven't swayed you, Milwaukee has also been named among the nation's top walkable cities, most generous cities, and the third-most romantic city in the U.S.