More Gigabit Office Parks Added to WEDC Interactive Map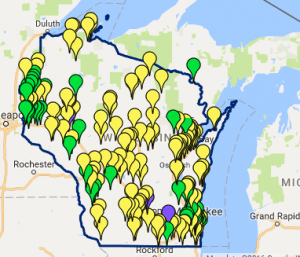 When it comes to deciding where to locate a business, having a high-speed internet connection is a top priority.
The Wisconsin Economic Development Corporation's interactive map at LocateInWisconsin.com makes it easy for businesses and site selectors looking at location options to identify office and industrial parks providing broadband service with a rate of at least 1 gigabit per second (Gbps).
The map, developed in cooperation with the Wisconsin State Telecommunications Association, identifies more than 250 state business and industrial parks with gigabit broadband availability, and indicates whether a park has broadband options of up to 1 Gbps, 10 Gbps or 100 Gbps. The map was recently updated to show the more than 100 business parks AT&T serves with high-speed service.
Access to high-speed internet service has become a major factor among site selectors or corporations in deciding where to relocate or expand. A study of site selectors conducted by Site Selection magazine found that 55 percent of site selectors request information about broadband as part of a standard site survey, while 40 percent of location decisions involve specific broadband speed requirements.
In addition to identifying business parks with gigabit broadband availability, the interactive map includes real estate data, demographic breakdowns, community details, lists of buildings available for sale or lease, and information on the local workforce—all key factors for making business expansion decisions in Wisconsin.