New Mapping Tool Showcases State's Location, Infrastructure Strengths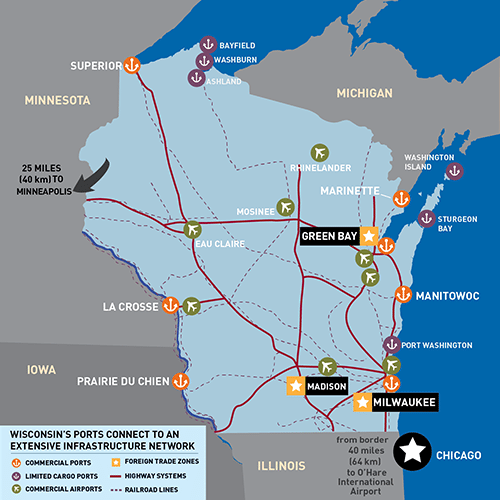 In addition to a skilled workforce, collaborative spirit, positive business climate and favorable tax policy, being centrally located is one of Wisconsin's most valuable assets to businesses. Coupled with a robust infrastructure network, this location uniquely positions Wisconsin to help businesses succeed both domestically and internationally by providing access to global markets. The launch of the Wisconsin Economic Development Corporation's new interactive infrastructure map tool will help businesses seamlessly deliver products to U.S. markets in a single business day and open the door to do business on a global scale.
The data for the new mapping tool was compiled with the help of the Wisconsin Department of Transportation, CFIRE at UW-Madison, Wisconsin Manufacturers & Commerce, the Transportation Development Association of Wisconsin and the Wisconsin Traffic Operations and Safety (TOPS) Laboratory. The collaboration successfully gathered and organized valuable data, previously dispersed in multiple places, into one convenient and interactive location.
The tool allows users to select one of five key Wisconsin assets: highways, railroads, airports, ports or foreign trade zones. After selecting an asset, users can determine how being located in Wisconsin can connect their business to the entire U.S. and to international markets throughout the world.
See the new interactive map tool here: inwisconsin.com/select-wisconsin/state-strengths/location/.
(May 2016)