New Website Supports FDI Strategy In Wisconsin®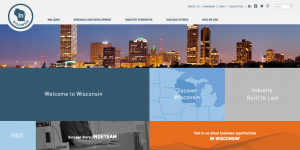 Over the past decade, foreign direct investment (FDI) has been responsible for more than $7.8 billion in capital expenditures and the creation of more than 13,000 jobs in Wisconsin—a good start, but more can certainly be done to attract business activity to Wisconsin from abroad. In an effort to draw additional investment to Wisconsin, the Wisconsin Economic Development Corporation (WEDC) has launched a new website and bimonthly newsletter to make the case for global companies seeking to expand or relocate to come to Wisconsin.
Invest.InWisconsin.com is a robust resource for international businesses considering Wisconsin for investment and job creation. The site will be translated into five languages besides English: German, Spanish, French, Chinese and Japanese.
Until last year, the primary role of the international business development team at WEDC was to assist Wisconsin companies with exporting. The new strategy recognizes the role FDI plays—and the expanded role it could play—in the state's economy. Since 2003, there have been 51 FDI deals in Wisconsin, representing an influx of $5.7 billion in the state's economy.
"We understand the importance of FDI to the state's economy, which is why we've expanded our FDI program," says Katy Sinnott, WEDC vice president of international business development. "A coordinated FDI strategy serves as a catalyst for expanded global engagement, sector growth and new investment and jobs throughout the state."
In addition to information about Wisconsin's positive business climate and key industries, the website includes details about its workforce, statewide incentives and the benefits of its central location within the U.S. The website also highlights foreign companies that have found success in Wisconsin, such as Kikkoman, Kerry Ingredients and Royal Enfield.
WEDC began promoting FDI in Wisconsin through various trade missions beginning in February of this year. Trade missions to London, Germany, Spain, France, China, Japan and Korea have allowed the agency to focus on attracting the companies that best fit into Wisconsin's growth sectors and can benefit from the state's highly developed research and development (R&D) culture. Sinnott believes emphasizing Wisconsin's strengths and highlighting its strong R&D culture as a key differentiator will tip the scales in the state's favor as foreign companies look to further develop their products for the North American market.
In addition to the new website, WEDC is also launching its newest e-newsletter, INbound. The bimonthly communication to foreign companies interested in locating in or expanding to Wisconsin will include industry and company news along with video case studies and upcoming opportunities to explore Wisconsin.
(October 2015)