The number of graduates from Wisconsin higher education institutions who are completing degrees in science, technology, engineering and math (STEM) fields has been rising in recent years—a trend that bodes well for the state's startup scene, according to Aaron Hagar, vice president of entrepreneurship and innovation with the Wisconsin Economic Development Corporation.
"STEM talent is crucial to many startups, particularly those developing new technologies and products," said Hagar. "Even companies that would not traditionally be considered tech-based can have significant underlying technology needs."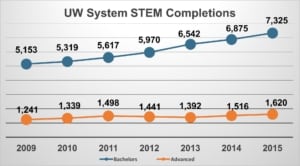 According to data from the National Center for Education Statistics' IPEDS database, the number of graduates in STEM fields has been steadily growing since 2009. A total of 7,325 undergraduate and 1,620 graduate degrees in engineering-related fields were conferred by the University of Wisconsin System in 2015, compared to 5,153 undergraduate and 1,241 graduate degrees in 2009. These increases took place not just in Madison and Milwaukee, but at University of Wisconsin campuses across the state.
The majority of the growth can be attributed to the University of Wisconsin System (UW System), where the number of bachelor's degrees in STEM fields grew by 38 percent from 2010 to 2015, compared to a national average of 29 percent.
For the purposes of WEDC's analysis, a number of STEM-related fields were included, in addition to engineering degrees: natural resources and conservation, communications technologies/technicians and support services, computer and information sciences and support services, biological and biomedical sciences, mathematics and statistics, physical sciences, agriculture, architecture and science technologies/technicians.
A vibrant startup scene creates a need for workers in these fields, even if they are not directly hired by the startups, Hagar noted: "We are seeing that many companies need to develop customized software products to enable their business. While many of these companies will contract out the development of custom software packages instead of bringing on staff, the need for these solutions creates demand for programmers and engineers."
The universities themselves factor into startups' decisions to locate here, said Hagar: "We see a lot of high-potential startups and ideas coming out of UW campuses, many of which have been able to build teams locally. Just this week, I had a conversation with an out-of-state startup considering locating in the Madison region because of the ability to attract technical expertise and talent."
Because of the role these highly skilled graduates provide in the state's ability to attract companies, Wisconsin is making a concerted effort to keep the workers themselves. WEDC's new Think-Make-Happen marketing strategy, a collaborative marketing effort with partners including young professionals' groups, aims to increase Wisconsin students' awareness of opportunities within the state.
"The skills we are developing in Wisconsin are in demand globally, so we need to compete to keep people here or find ways to bring them back if they leave the state," said Hagar. "Fortunately, Wisconsin is a place that people grow attached to and find a lot of potential in. This works in our favor as we try to address both sides of the equation—developing the core skills and talents that are needed, but also supporting the companies and industries that provide opportunities for talented people to utilize their skills and prosper."
Read more about the data showing the rise in STEM degrees from Wisconsin institutions.