STATE'S FOOD AND BEVERAGE SECTOR SPOTLIGHTED
AT TRADE SHOW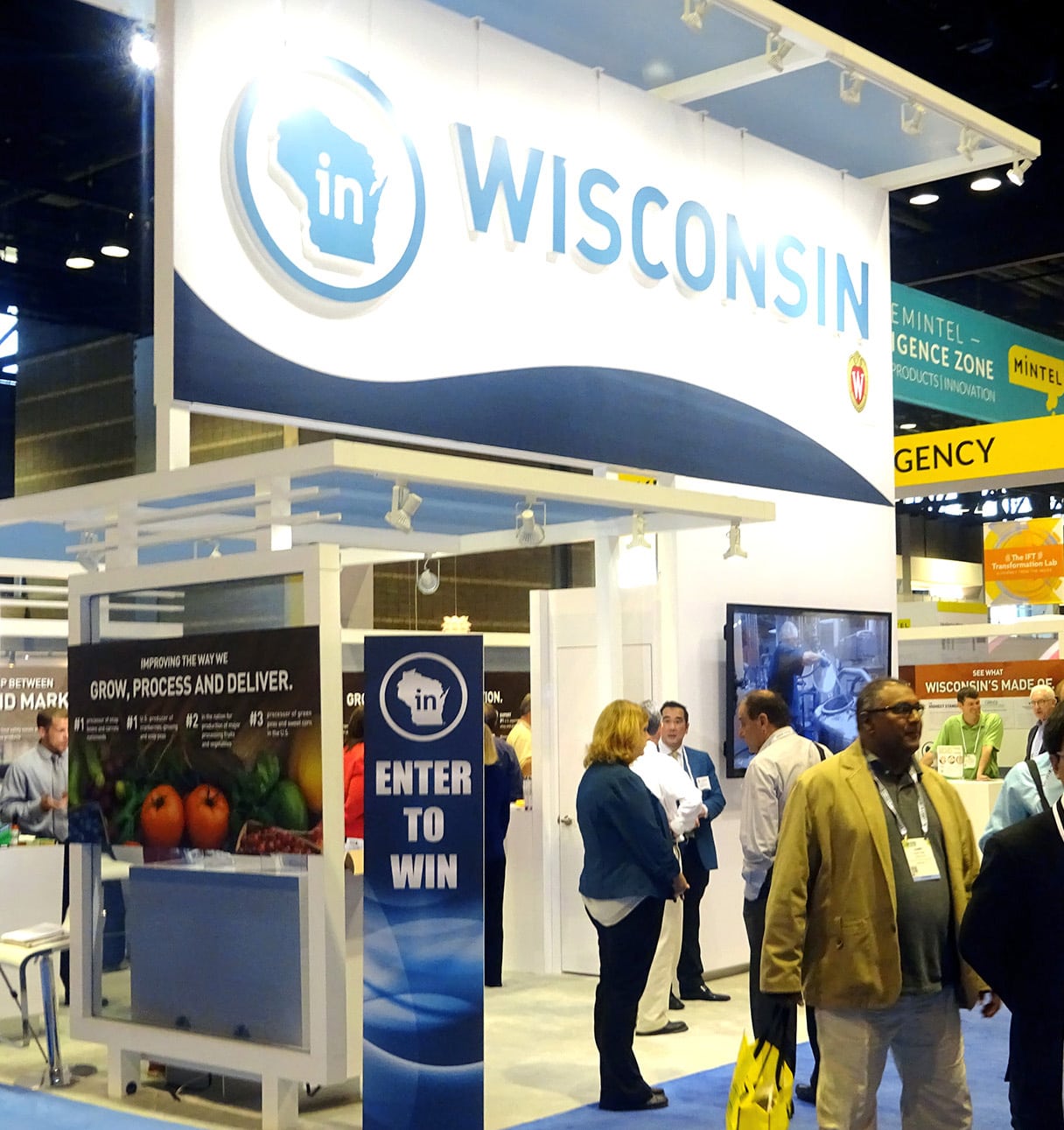 Wisconsin's strength in the food and beverage sector was highlighted earlier this month in the In Wisconsin® exhibit at IFT15, the international trade show of the Institute of Food Technologists in Chicago.
The state's strength in agriculture—and especially in the dairy sector—is well known, and rightly so: the state ranks first in the nation for cheese production and also ranks first in organic dairy farms. Wisconsin is the number-one U.S. producer of cranberries, ginseng and snap peas; number two for production of carrots, milk, dairy cows and hay acreage; number three for potatoes, peas, oats, sweet corn and cucumbers; and number four for maple syrup and tart cherries.
But these facts and figures only scratch the surface of Wisconsin's strength in the food and beverage sector. All in all, the sector is responsible for $88.3 billion in economic activity and more than 89,000 jobs in Wisconsin—a 58 percent greater employment concentration in this sector than the national average.
The In Wisconsin exhibit was coordinated by the Wisconsin Economic Development Corporation (WEDC) and presented in partnership with organizations including the state Department of Agriculture, Trade and Consumer Protection; FaB Wisconsin; Centergy; MadREP; Marshfield Area Chamber of Commerce and Industry; New North; the University of Wisconsin-Madison Food Research Institute; UW-Madison Meat Science Extension; the UW-River Falls Department of Animal and Food Science; the UW-Stout Discovery Center; the UW-Madison Center for Dairy Research; and the Wisconsin Cheese Makers Association, as well as multiple private sector partners.
WEDC's objectives for the show included:
creating awareness of Wisconsin's presence in the market and communicating state strengths;
facilitating connections between booth partners and companies attending the show;
facilitating connections between Wisconsin companies and potential suppliers and buyers;
networking to identify and connect with prospects for attraction to Wisconsin or expansion in Wisconsin;
networking with Wisconsin companies for the purpose of retention, partnering and export growth assistance as appropriate; and
building connections with national and international influencers in the sector
"The food and beverage sector in Wisconsin is a key component of our state economy," says WEDC Secretary and CEO Reed E. Hall. "Wisconsin is well known across the globe for its excellence in production of milk, cheese, grains and cranberries. At IFT15, we tried to showcase not only these products but also other parts of the sector where the state also excels."
For example, as part of the In Wisconsin exhibit, a "meat showcase" showed how a Johnsonville beef sausage product is made entirely with Wisconsin products and services. Johnsonville is a Wisconsin company, based in Sheboygan Falls, but its product's Wisconsin provenance goes much deeper. From start to finish, every step of production takes place in Wisconsin: research and product development at UW-Madison, raw materials (beef) from American Foods Group in Green Bay, flavoring from Red Arrow in Manitowoc, equipment from MEPACO in Beaver Dam, processing by Salm Partners in Denmark, and packaging by Bemis in Oshkosh.
Wisconsin's robust supply chain is a key strength in the food and beverage sector—a major consideration when food companies are choosing where to expand or locate—and the state ranks first in the nation for food product machinery manufacturing and first among U.S. states for flexible packaging supplied to the food industry. Wisconsin is second in the nation for meat processing plants, with 2.3 billion pounds of beef processed each year, and fourth in the nation in terms of employment in the seasonings and dressing subsector, with twice the national growth rate in employment in ingredients and additives.
Another main consideration for companies in this sector is the availability of water. Food and beverage production and processing are water-intensive industries, and Wisconsin has the resources to support this: the state is bordered on three sides by the Great Lakes and the Mississippi River, and Milwaukee is a hub for water technology, home to 160 companies in the sector, with another 150 spread across the state. These companies work every day on innovative techniques to maximize efficiency of water usage, and Wisconsin companies in the food and beverage sector are well located to benefit from this innovation.
The state is also a leader in the organic, gluten-free and non-GMO food products whose popularity with consumers is steadily increasing. Wisconsin ranks first in the nation for organic beef farms, and fully one-quarter of the nation's organic dairy cows live in Wisconsin. The state is also first in the nation for whey production and processing, exporting $158 million worth of whey to foreign markets in 2014.
"When choosing where to site a new facility, food and beverage sector companies want to know they will be part of a thriving industry, with access to infrastructure, resources and connections that make doing business easier," says Cate Rahmlow, food and beverage sector manager for WEDC. "Wisconsin fits the bill. We emphasized this message at IFT15, and we believe our attendance at the show will yield rewards for the state's economy in the form of further growth of the sector."
See the Events Blog at InWisconsin.com for more detailed coverage of Wisconsin's presence at IFT15.
(July 2015)