Katy Sinnott joins three other economic development leaders on panel as part of the Global Cities Summit in Washington, D.C.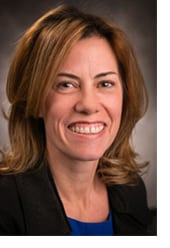 MADISON, Oct. 3, 2016 – Wisconsin Economic Development Corporation (WEDC) Vice President of International Business Development Katy Sinnott shared her views on foreign trade and economic development this week at an international summit in Washington, D.C.
Sinnott was one of four economic development leaders featured on a panel discussion at the Global Cities Summit, part of the Global Cities Initiative sponsored by the Brookings Institution and JPMorgan Chase.
Sinnott and the other panelists spoke to more than 100 city and regional leaders from 35 metro areas from the U.S. and around the world on the importance of integrating foreign trade as part of an overall economic development strategy.
She highlighted Wisconsin's strengths in key cluster industries, including manufacturing, water technology and aviation/aerospace, and how WEDC stresses those areas in its international business development efforts. She also discussed the development of Wisconsin's Extended Export Partnership Program, a new initiative that gathers an array of federal, state and local resources together to help accelerate exports for Wisconsin companies.
In addition, Sinnott encouraged economic development officials to work collaboratively with their state export partners to help businesses of all sizes and industries to develop export strategies that will lead to sustained business growth.
One way in which Wisconsin is accomplishing that goal is through WEDC's ExporTech™ Program, which provides companies access to experts, individualized coaching and consulting, customized support and guided development of an international growth plan. Since the program's start, 120 companies have completed ExporTech and currently report an average sales increase of $900,000 within one year. This program is the gateway to strategic exporting.
"In the panel discussion and in conversations with economic development leaders from around the world, it's clear to me that Wisconsin is leading the way on many fronts when it comes to ensuring that exporting is a part of the state's economic development efforts," Sinnott said. "This summit provided us with the opportunity to share some of our successes with the rest of the world."
Joining Sinnott on the panel, which took place Thursday, were Greg Fischer, the mayor of Louisville, Ky.; Janet De Silva, president and CEO of the Toronto Board of Trade; and Bob Harvey, president and CEO of the Greater Houston Partnership.
###
About the Wisconsin Economic Development Corporation
The Wisconsin Economic Development Corporation (WEDC) leads economic development efforts for the state by advancing and maximizing opportunities in Wisconsin for businesses, communities and people to thrive in a globally competitive economy. Working with more than 600 regional and local partners, WEDC develops and delivers solutions representative of a highly responsive and coordinated economic development network. Visit www.inwisconsin.com or follow WEDC on Twitter @_InWisconsin to learn more.