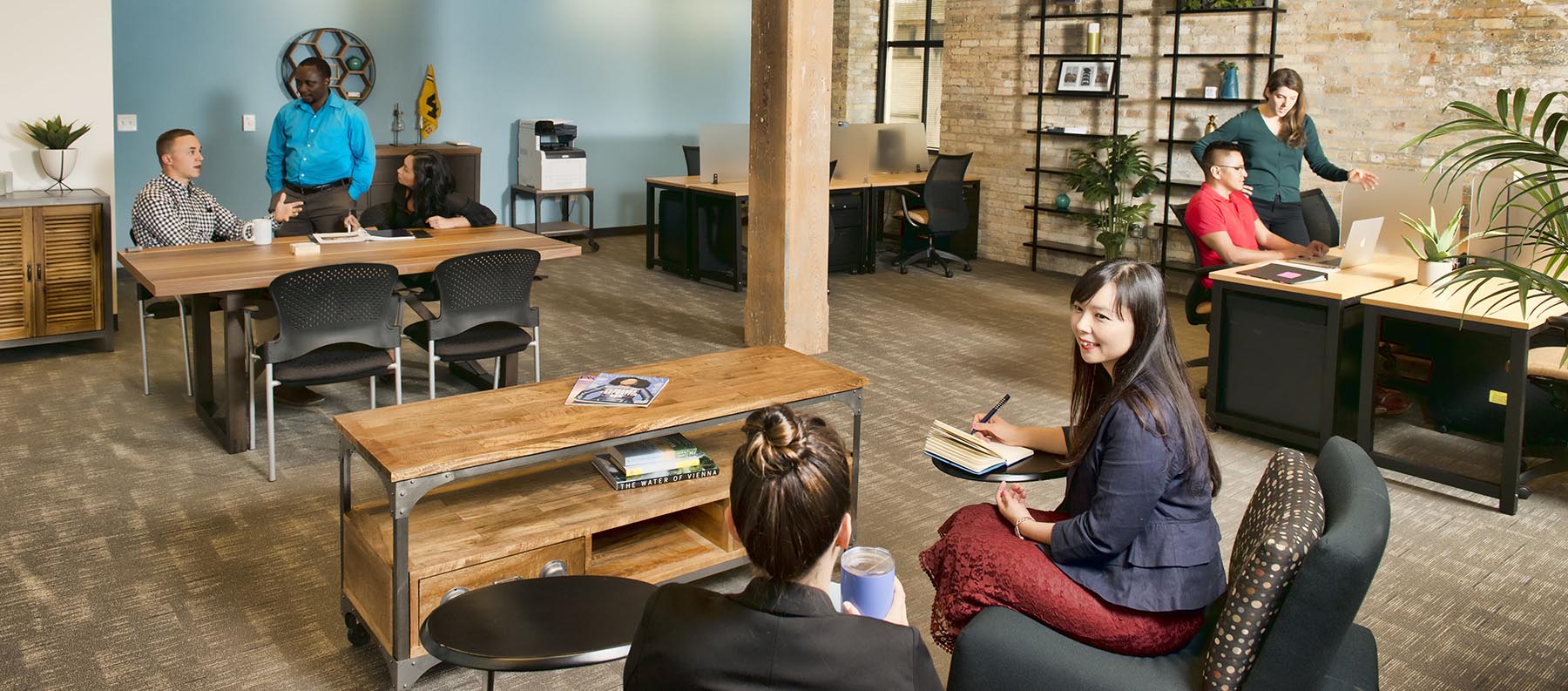 Milwaukee's water technology-focused Oasis Coworking Community is one of many coworking spaces available throughout Wisconsin.
While coworking spaces are available nationwide, Wisconsin is a leader in offering spaces that serve specific needs. Some, like the Oasis Coworking Community, are designed for companies within a particular industry—in this case, water technology. Others, like Milwaukee's Ward4 and Madison's 100state, are open to all entrepreneurs and separate themselves from other spaces by touting their tech connectivity alongside the problem-solving boost creators can find in a collaborative, open environment.
"Wisconsin's coworking spaces have grown in tandem with our rapidly growing startup community," says Aaron Hagar, vice president of entrepreneurship and innovation for WEDC. "For many new companies, the ability to have a collaborative hub during their formative period helps them operate effectively without having to incur the expense of renting or purchasing their own physical space before their growth supports taking that major step."
In less than a decade, these collaborative environments have gone from a novelty to an in-demand workspace option for many entrepreneurs. There are more than 14,000 spaces worldwide and an estimated 2,500 per year coming online—some locally owned, others as part of corporate chains. While they vary in size, most coworking spaces offer members a choice between a private office and open seating, and they almost always include space for networking and collaboration, as well as private meeting rooms to meet with team members or clients.
Entrepreneurs outside Wisconsin's largest cities can also find coworking spaces.
"These spaces are still new to the La Crosse area," says Aaron Reimler, business and income manager at Couleecap Inc., a community development organization that covers La Crosse, Vernon, Monroe and Crawford counties. Couleecap created The Gig coworking space in downtown La Crosse. "Currently, we are the only one in the city, but we're hoping to expand and acquire a second space soon. Coworking spaces provide immense value to the entrepreneurial ecosystem by providing affordable, flexible options with shared resources without the intimidation of a long-term commitment."
Showcasing the diversity of coworking spaces' appeal, Reimler notes that The Gig has drawn interest from and been accessed by entrepreneurs as well as by small nonprofits, remote employees and as satellite offices for larger companies.
"We believe this model is essential for incubation of small businesses, attracting and retaining young professionals, and bringing new business to our area," he says. "We want this space to be a place that entrepreneurs can come to find support and find ways to tap into the resources throughout the community that exists to support the entrepreneurial ecosystem."
The Fox Valley also echoes the sentiment that startups and more established businesses alike find value in a centralized location to do business on their terms.
"Coworking space is growing in the Fox Valley," says Jenilee Ehlenbeck, co-owner of Stateview in downtown Appleton, which is offering private office space and a conference room, as well as drop-in space that can be rented on a month-to-month basis. "Having a coworking space take on all the overhead can help businesses and startups gain access to the community and have a space to work without a huge cost to them. There are many networking benefits as well. You can connect with many industries and professionals and have access to events."
Entrepreneurs seeking the benefits of a coworking space in tight-knit communities can also find what they're looking for in Wisconsin.
"We offer a rustic, calm feeling," says Elizabeth Piela, office manager at Backyard Dream Studios, which operates The O at Backyard Dream, a coworking space within the renovated Kenosha Orpheum office space. "We have a quiet work space set aside for those days that you really need to concentrate. We offer free coffee and printing, so there are no hidden fees at the end of the month. And since we are a small coworking space, we are able to grow personal relationships with each of our members and listen to the individual needs and suggestions everyone has."
More than anything, Wisconsin's coworking spaces put a premium on personal connection, which can be lost when a new business consists of only the founder or a couple of staff members working in isolation. Coworking allows them to be seen, heard and part of a broader community even as they are forging their company's unique path, according to Piela.
"We offer a place to refocus and network with other entrepreneurs and take pride in getting to know everyone," she says. "The relationships that have grown here are between members who would have never met if they were working from home or in a coffee shop. And they have added fresh ideas and unique outlooks to each other's businesses."
Of the many decisions involved in starting a new business, where to locate is an important one. Wisconsin's array of coworking spaces is a strong and growing option for those who may not need a permanent space right away. It's important to evaluate the pros, cons and available options before choosing a space for your business.
Is coworking right for you?
Coworking is more than finding an open-air room and plunking down your laptop. This list of pros and cons can help entrepreneurs and other workers decide if coworking is right for them.
Pros:
Reduced operating expenses: Coworking provides an instant office address at a fraction of the cost of a multi-year commercial lease, especially if the local market for office space is tight.
Exposure to fellow entrepreneurs: Entrepreneurship, whether starting a company or working on your own, can get lonely. Working alongside others and building relationships means having a sounding board for new ideas and problem-solving.
Networking opportunities: Coworking offers a low-key, regular opportunity to meet people who can be beneficial to your business, especially for people who don't like going to mixers or professional events.
Structure: Coworking provides a work destination and office hours to feel plugged-in and productive.
Cons:
Word travels fast: Space tends to be more open-air than walled-off cubicle and office space, so if there are multiple meetings happening at once, the noise can be distracting.
Limited hours: Not all spaces offer 24/7 open hours, so if a great idea hits at odd hours or you're working on a proposal that's due the next day and you need to burn the midnight oil, it's inconvenient if the office is closed.
Expense: Coworking may be cheaper than a full-scale commercial office space lease, but there is still money involved. If you've got a great home office setup, it may make more sense to stay there. Also consider the commute and how much time is lost getting to and from the space.
Privacy: Do you see your competitors across the room? They see you, too. Sometimes it can happen that the competition you are trying to beat is sharing the space with you, making it difficult to keep innovative ideas and discoveries under wraps.