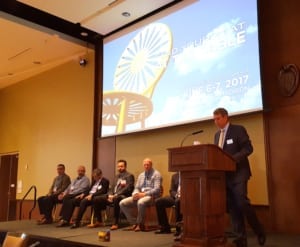 As entrepreneurs and innovators get squeezed out of the coasts, Wisconsin is increasingly seen as an attractive place for startups. From a better quality of life to access to top-notch talent, cost-effective resources and more, Wisconsin is becoming a destination for entrepreneurs seeking personal and professional fulfillment.
At the recent Wisconsin Entrepreneurs' Conference, panelists from seven venture capital firms ended the opening session, "Flyover Land No More," with a robust discussion on "Why Wisconsin?" and the positive attributes Wisconsin offers entrepreneurs and innovators. Here are some of the themes that threaded through their comments.
Talent
"There is a lot of talent here," said George Arida, managing director of 30 Ventures. This includes lifelong Wisconsin natives and, increasingly, individuals who left and have chosen to come home.
"Folks are done with the coasts. They had great experiences in Silicon Valley or Boston, and they bring a great history back," said Arida. He added that a culture shift in academia and research has also helped foster innovation and keep talent in the state; there is no longer a sense of "academia vs. industry."
The talent in Wisconsin is further supported by the fact that the number of graduates from Wisconsin higher education institutions who are completing degrees in science, technology, engineering and math (STEM) fields has been rising in recent years—a trend that bodes well for the state's startup scene.
"It was historically thought that you can't build large engineering teams here," said Greg Baker, fund director at Bascom Ventures, "but that is less and less true."
Culture
"I'm trying to do everything I can to promote what's going on in Wisconsin and the Midwest,' said Brian Klaas, managing director of CUNA Mutual Group's CMFG Ventures. "There is an amazing entrepreneur culture here."
That includes a variety of support programs around the state for would-be entrepreneurs, such as educational programs and resources, conferences, pitch events, incubators and more. It also references the growing number of venture capital funding options becoming available in the state.
Kaas mentioned a recent interview he did with Financial Times in London on venture capital in the U.S.; while the conversation leaned toward the coasts, Kaas used it as an opportunity to talk up Wisconsin and the Midwest.
"I'm trying to promote what's happening and starting to emerge here in the state and the progress being made."
Return on investment
Locating and starting up in the Midwest offers a greater return on investment, as firms can be more efficient with their capital and resources thanks to Wisconsin's lower cost of living and of doing business, paired with a high level of qualified talent.
"As I look at the ability to be capital-efficient at an early stage—our companies' rent and engineering talent—there are definite benefits to being in the Midwest," said Baker. "The level of talent, enthusiasm and support for early-stage companies is here."
Quality
Having worked around the nation, Andy Walker, co-manager of Rock River Capital Partners, says that the quality of Wisconsin's entrepreneurs and the state's entrepreneurial scene is "fantastic."
"The quality of companies here is fantastic, and the stats are a total mismatch from results and the quality on the ground."
The challenge, he noted, is to continue building up the state and regional investment landscape.
"We have some work to do from an investor's standpoint," said Walker, "but ultimately it's a huge opportunity to fill the gaps we see to help entrepreneurs in the state."