Hundreds of entrepreneurs and investors from across the state and beyond will gather in Madison for the annual Wisconsin Early-Stage Symposium, Nov. 16 and 17, at the Monona Terrace Community and Convention Center.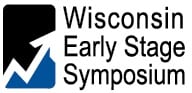 The event brings together some of the best and brightest entrepreneurs to network, learn from, and interact with angel and venture investors in order to reach their full business potential. Since the creation of the symposium in 2004, more than 500 companies have pitched their big ideas to investors during the event.
Attendees can participate in a variety of sessions, including 10 panel discussions, the "elevator pitch Olympics," and investor intros – a new speed-dating segment that allows entrepreneurs to introduce themselves and their ideas to investors. Featured speakers include Jack Salzwedel, CEO at American Family Insurance, Dr. Lynn Allen-Hoffmann, founder of Stratatech Corporation, and Dr. Eve Hall, president of the African-American Chamber of Commerce of Wisconsin.
The symposium is sponsored by the Wisconsin Technology Council and the Wisconsin Economic Development Corporation, among others.
More information and registration details can be found on the event's website.