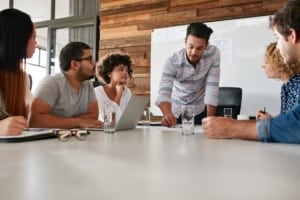 Wisconsin has a long history of innovation, thanks to countless entrepreneurs and innovators who've chosen to make their big ideas come to life here. However, it takes more than a bright idea to launch a successful company. That's where the Wisconsin Economic Development Corporation's (WEDC's) Capital Catalyst grants come in.
The program provides matching grants to seed funds operated by communities and organizations to spur local entrepreneurship through grants, loans or investments in startups and early-stage businesses. In the latest round of the Capital Catalyst Program, three Wisconsin communities were awarded $700,000 to support their local startups: Milwaukee, Oshkosh and Whitewater.
WEDC awarded the Milwaukee Development Corporation $500,000 to use toward creating a $1 million seed fund to support the area's strong advanced manufacturing and technology sectors. The fund will specifically target participants of local accelerators like The BREW (Business. Research. Entrepreneurship. In Wisconsin.), WERCBench Labs, FaBcap and gener8tor.
The Greater Oshkosh Economic Development Corporation received a $125,000 grant to fund local technology-based startups that were likely to scale up and benefit the area workforce and local economy. Industries including aerospace, information technology and medical devices will be priorities for the new fund.
Lastly, the Whitewater Community Development Authority received a $75,000 grant to launch a seed fund that will offer micro-investments to increase the number of startups in the city. This marks the fourth year in a row that Whitewater received funding to jump-start its startup scene. Since the first funding round, the program has provided capital to 21 companies, which have since raised $4.9 million in additional capital.
The three communities join others around the state that have benefited from the Capital Catalyst Program. In fact, the program has provided $3.5 million in seed funding to more than 100 companies since its inception in 2012. Those companies, in turn, have grown to employ more than 500 full-time workers and generate $127 million in additional investment and revenue.