The impulse to solve a problem lies at the heart of invention and innovation, and Snotco's story is a prime example of that. Founders Dave Gruenwald and Tim Bartley started the Oshkosh-based company after noticing a problem that no product on the market was addressing, and they persisted to find a solution despite their lack of prior experience in developing this type of product. We recently spoke with Gruenwald to learn more about the company.
Q: Tell us a bit about your background and how the company was formed.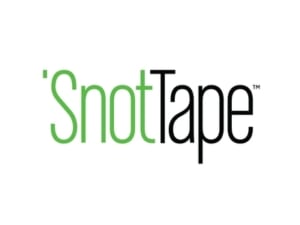 A: I'm born and raised in Wisconsin, a mechanical engineer by training. My business partner and I have a product design firm where we invent products for other companies, and I personally hold more than 20 patents. However, I'm not a chemist nor did I know anything about paper coating science or adhesives before I started down this path.
The insight that led to SnotTape actually came from the experience of painting my condo. Like 40 percent of the homes in the U.S., we have texture on our walls. Everywhere I taped, the paint would bleed under the edge of the tape and leave an ugly irregular edge. I had two choices—leave it alone and live with it, or go back and touch up the bleed-through. Anyone who has ever painted with masking tape has experienced this problem—so I thought, "Well, surely someone has fixed this." So I went to the store and bought the best masking tape money can buy. Frog, 3M Edgelock, Henkel Precision—I tried them all and they didn't work.
Because I'm an inventor and I solve problems, I was sure there was a better solution and I was determined to find it. I spent several weeks thinking about this problem; the moment of insight came when I received a credit card in the mail and noticed the texture and consistency of the adhesive that stuck the card to the paper. I later learned this was called "fugitive adhesive." My thought at the time was, "Wow, that feels like it would create a seal on a textured surface. What if I put a little bead of that down the edge of masking tape and it sealed the gaps that existing tape products on the market won't seal?"
Given my familiarity with the product invention process, I figured that within 60 days I'd have a machine in my basement spitting this stuff out. Fast forward seven years, and we've been through something like 400 different formulations and combinations of paper, primer, coatings, adhesives, catalysts, etc. It took us that many tries to get a product that would work on all surfaces with all paints and stains. The walls of my condo and both bathrooms at work were covered with failed experiences, but we finally figured it out. Four patents later, we have a product. We called it SnotTape because, well, it's not tape. (Get it?) Tapes go onto a surface; this is a barrier that goes into a surface, filling in the gaps so the paint won't fill those gaps instead.
Q: What does Snotco do?
A: We are a "bricks and clicks" company that manufactures, markets, distributes and sells SnotTape. We sell on the internet and through retail locations, mostly paint stores and hardware stores. ACE Hardware is our first large customer.
Q: How was the company formed and what resources did you use to get started?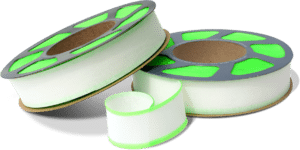 A: We were fortunate enough to have a few friends who were willing to invest in us. So far, we've raised $4 million and we have spent it all. Now that sales have begun, we are hoping to recover and be able to pay back some of the significant amount of capital we invested in research and development. We couldn't find anyone who could make the product for us, so we had to build two coating lines and make it ourselves. We couldn't find anyone to take the product to retail for us, so we are doing it ourselves.
We have been helped by so many people along the way, including many who helped us for free at the beginning when we couldn't afford to pay anybody. We've been helped by so many local companies that it would be hard to list them all, but among them are SGS Testing in Appleton, Pro-Ex in Oshkosh, Prolamina in Neenah, Expera Specialty Solutions and Neenah Paper.
Recently we received a cash infusion from the Chippewa Valley Angel Investors Network. First Business  Bank assisted our company in obtaining a loan from the U.S. Small Business Administration for the construction of our coating line. We also recently obtained Qualified New Business Venture status through the Wisconsin Economic Development Corporation, which will allow investors in our company to receive tax credits for the amount they invest, and thus will hopefully help us attract additional investment.
Q: What sets you apart from your competitors?
A: We are small, yet we compete with giants such as 3M. By being small, we can take risks they cannot take. We can try things they would not try. We do not have a cash cow to protect, so we can attack other products without worry. Our product is completely different—just look at it. Touch it. Have you ever seen a product like it? Nope. That is what sets us apart from our competitors.
Q: What stage is the company at today and what have been some milestones along the way?
A: We are still a startup, but unlike many startups, we have sales. We are in about 2,000 retail outlets, but we are not yet bringing in enough revenue to break even. Our next milestone will be to prove our business model and gain control over sales, and then to surpass the "break even" point and become profitable.
Q: How does your business benefit from being located in Wisconsin?
A: It was a huge stroke of luck for us to be in Wisconsin, and even more specifically in the Fox Valley—because guess where the papermaking industry was born? Right here in Neenah. We had tremendous technical resources to call on, for both paper and coatings, in Neenah and the surrounding area. When we needed paper analysis, we went to IPS/SGS. When we needed paper experts we went to Neenah Paper. Even our proprietary gel is made in the Midwest. I don't think there is any better place to be located if you're creating a new type of tape.
A: Who are your key customers and where do you see growth opportunities?
Q: ACE Hardware has put us in about 2,000 of their best stores. The next opportunities are Lowe's and Home Depot. We think Menard's could be a great fit too, but so far we just don't seem to be able to get their attention. We've also made a recent partnership with Brainchild Consulting LLC that will focus on expanding our internet sales.
Q: What has been the biggest challenge for you and your team? What advice do you have for other entrepreneurs facing similar challenges?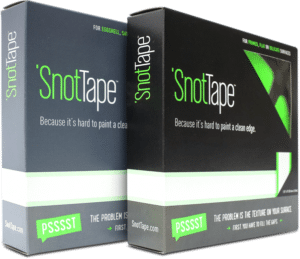 A: It seems like we have had a setback almost every week for seven years. You just have to accept that this process of doing something you've never done before means you're going to make mistakes, because you don't know what you don't know. You're going to hire people who say they can help but they fail you. You're going to make projections for your investors and then let them down. When these things happen, assess what went wrong, change your behavior based on that new knowledge, and try again.
This has been the most difficult thing I've ever done, and I'm not done yet. But I believe that you only fail when you quit. Of course, you still have to be smart, and if in the journey you learn that the need you thought existed for your product isn't there, then you quit—but as long as the fundamental need is there and you have a product to fill it, you keep marching forward and solving the problems you run into along the way.