Company Success Story: Amerequip Corporation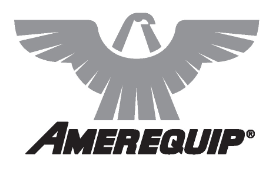 Products: Amerequip Corporation designs, engineers and manufactures equipment for original equipment manufacturers (OEMs) in the commercial lawn and turf, landscape, agricultural and light construction markets. The company's production capabilities include technical design and engineering services, validation testing, laser cutting, forming, welding, final paint and assembly.
Amerequip's customers benefit from the company's high quality standards, which yield a performance success rate of greater than 99 percent, as well as an inventory accuracy rate of 97 percent and a total warranty rate of less than .05 percent. Amerequip is ISO9000:2008-certified and employs Lean Manufacturing principles and Six Sigma methodologies to achieve its productivity and quality objectives.
Amerequip was recently recognized with a Wisconsin Manufacturer of the Year Special Award for its strong company culture, reflected in a 95 percent retention rate and 160 percent employee growth from 2011 to 2015. Continuous learning opportunities, a wellness program and family events add value and confidence to the company's employees, helping Amerequip achieve its mission of never compromising its customers' reputation.
Location: Kiel and New Holstein
Employees: 270
Leadership: Michael J. VanderZanden, president and CEO
Market: Amerequip consciously targets a small number of major OEM clients with the aim of solidifying mutually beneficial relationships. This focus was a shift in the company's growth strategy coming out of the recession in 2011. "We had been involved in a single market driven by discretionary income," says Amerequip President and CEO Mike VanderZanden. "Today our growth is driven by a combination of the markets and industries we serve." The company's major OEM customers include John Deere, CAT, McNeilus and Mahindra.
Business Success: Since 2011, Amerequip has invested more than $20 million in facility improvements, most recently expanding its Kiel facility, which doubled its manual and robotic welding capacity. The expansion also doubled the company's machining and fabrication space, enhancing Amerequip's final assembly capabilities and allowing the company greater flexibility in reaching new markets.
"Welding is a core competency of many of the clients we serve," says VanderZanden. "We wanted to demonstrate that we could perform this competency as well as, or better than, they can." The new facilities and the capabilities they house have enhanced Amerequip's value proposition.
Amerequip's growth plans include increasing revenue to $150 million by 2025. With its recent expansion, VanderZanden thinks the company will reach $100 million by 2018.
The company's new, state-of-the-art facilities also enhance its ability to attract and retain the very best talent, notes VanderZanden.
Wisconsin Business Environment Benefits: "The work ethic and the quality of the workforce we can hire in this region is exceptional," says VanderZanden, who also cites the strong manufacturing base and reliable supply chain partners as benefits of Amerequip's location in eastern Wisconsin. The company also leverages the area's infrastructure, particularly its easy access Interstate Highway 43, to achieve maximum operational efficiency. "We like it here, too, because this location allows us to be an employer of choice to highly qualified workers," VanderZanden added.
The Wisconsin Economic Development Corporation supported Amerequip's Kiel expansion with nearly $800,000 in performance-based tax credits. The City of Kiel also created a tax incentive district to support the project.