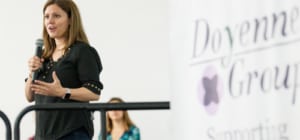 The Doyenne Group is seeking applications for its fourth annual Doyenne 5x5x5 pitch event, in which five women-led businesses give five-minute pitches for a chance to win a $5,000 seed grant.
The event will take place Wednesday, Aug. 23, during the Forward Festival in Madison.
Each year Doyenne Group opens this submission for women-led businesses based in Wisconsin, in any industry, to apply to pitch their business during Madison's Forward Festival, for a chance to be granted a $5,000 seed grant. Businesses can be at any level of the startup phase.
The five applicants that are selected will participate in two group coaching sessions to help them prepare their pitches. "We find that the coaching sessions are extremely valuable. It creates a little space to really think about what the business is and how to clearly articulate it," said Amy Gannon, co-founder and director of entrepreneur development for Doyenne. "The participants actually end up giving each other suggestions even though they are all competing for the $5,000 grant."
This event is a development and growth opportunity as well as a marketing opportunity. This year Doyenne is expecting between 150-200 people to attend. The businesses chosen will receive social media and press attention along with the chance to speak to a broad audience, which could include future customers, employees, investors, etc.
Businesses that are scalable to a regional or national level and are doing something innovative in their fields are encouraged to apply. "Just completing the application and putting your hat in the ring is a step forward. It is a way of recognizing your own growth as an entrepreneur," said Gannon. "If you are not chosen, we encourage you to attend the breakfast. You will be inspired. You will have fun. You will meet some awesome new women entrepreneurs."
Applications will be accepted through Sunday, June 4 on the Doyenne Group's website. Finalists will be publicly announced on Monday, June 19. Pitches are open to the public during the Forward Festival.