Entrepreneurs and early-stage companies looking for resources to help with the successful launch of their businesses can look to the assistance available at the University of Wisconsin-Madison Law & Entrepreneurship Clinic. The clinic's law students and supervising faculty and private sector attorneys provide free legal services aimed at cultivating new business startups.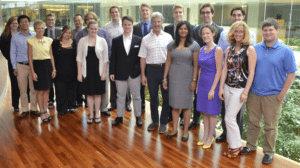 The clinic is run almost entirely by the students who are in their second or third year of law school. It has three main goals, according to Anne Smith, director of the clinic: to provide a challenging academic experience for law students, to provide a quality legal product to clients and to impact the economy by helping Wisconsin businesses launch and grow.
"It's energizing," Smith said. "Between the enthusiasm of the students getting to work with clients for the first time and the enthusiasm entrepreneurs have about their business idea, it's a very inspiring environment."
To participate, companies or entrepreneurs can submit an application for legal services, and must present their ideas during a monthly intake session. Applicants are given 15 minutes to share their ideas; then, the students and attorneys discuss feasibility and readiness. If a company is deemed a good fit, it is placed onto a list of prospective clients that the 15 student legal advisors are allowed to pick from, to ensure that each student is able to practice the type of law he or she finds most interesting.
"I think all of us have benefited from that atmosphere that the clinic has helped to ensure exists on campus and in the law school where it was absent before," said Student Legal Advisor Olivia Mote. "It's really a great balance of getting good feedback and having opportunities to collaborate, while at the same time inspiring you to learn on your own and become a little more self-reliant."
The clinic has served more than 1,000 clients since its inception in 2009, helping close to 300 clients in 2014 alone. The clinic assisted companies from 26 of Wisconsin's 72 counties last year.
Arbuda LLC, one of Mote's clients, is one of the business ideas currently receiving assistance from the clinic. The business aims to connect doctors in the U.S. to doctors in India to provide second opinions on cancer diagnoses for Indian patients. Working with Arbuda has given Mote hands-on experience that she says may not have been possible without the clinic.
"We've just systematically worked through the legal issues from July until now," she said. "It has presented so many unique issues for me that I have never encountered – issues I don't think law students get to work on very much."
Both Smith and Mote say they hope the clinic continues to grow and attract more students and clients so that the important legal services being offered can continue in the future.
Recognizing the growing need for these entrepreneurial legal services statewide, Marquette University opened its own Law and Entrepreneurship Clinic in January. The clinic initially has limited capacity, but will be fully operational by fall 2015. Learn more about the UW-Madison Law & Entrepreneurship Clinic.