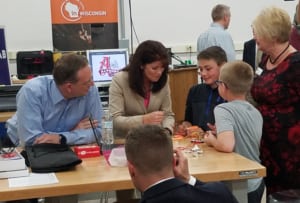 Students, future innovators and entrepreneurs, and community members in 21 Wisconsin school districts will soon have access to fabrication equipment allowing them to gain valuable training as part of Wisconsin's Fabrication Laboratories (Fab Labs) Grant Program.
A fab lab is a high-tech workshop equipped with computer-controlled manufacturing components such as 3D printers, laser engravers, computer numerical control routers and plasma cutters. Through its Fab Labs Grant Program, the Wisconsin Economic Development Corporation (WEDC) is supporting the purchase of fab lab equipment for instructional and educational purposes by elementary, middle, junior high, or high school students.
Hands-on programs such as those offered in fab labs make collaboration and cross-curricular learning possible for students in an array of fields such as art, business education and engineering.
This year, WEDC required award recipients to make the fab labs accessible to the public, and many schools will offer training and workshops to community members outside of school hours. For instance, Stoughton High School's fab lab, which received a Fab Labs Grant in 2016, offers family nights and adults-only workshops for community members. That facet of the program is expected to drive innovation and foster economic development throughout the community.
The 21 school districts received a total of $494,809 in Fab Lab Grants from WEDC. Individual school districts were eligible for up to $25,000 each, and consortia of two or more districts were eligible for up to $50,000. The program requires matching funds from each district.
This is the second round of funding for the Fab Labs Grants, and brings the total number of districts receiving grants to 34.
"Fab labs play a vital role in ensuring that today's students have the skills they need to compete for the jobs of the 21st century by providing hands-on experience in areas such as design, engineering and complex problem-solving," said Governor Walker.
For more information on Wisconsin's fab labs, click here.