Madison-based startup BluDiagnostics could revolutionize the process of helping women who struggle with infertility with its new device, which won top honors at the 2015 Wisconsin Governor's Business Plan Contest.
Fertility Finder, created by the team at UW-Madison, intends to replace the often inaccurate and difficult-to-use over-the-counter tests that assess a women's fertility. The device, which looks like a thermometer, is placed into the mouth and takes a saliva sample to measure the presence of hormones. It then sends the results to the woman's cell phone, and to her physician if desired.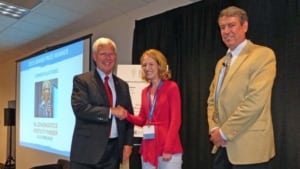 BluDiagnostics, along with 12 other finalists in the contest, presented their final proposals at the Wisconsin Entrepreneurs' Conference on June 2 and 3 in Madison. Fertility Finder took home the top prize in the life sciences category. The other category winners included:
Advanced manufacturing: Intelligent Composites is a materials and manufacturing company based in Okauchee that created a new metal matrix from aluminum graphite silicon carbide, to be used as a composite cylinder liner for internal combustion engines.
Business services: Hunt Butler, based in Rio, created a platform for hunters to find temporary leasable land from owners throughout Wisconsin to hunt on.
Information technology: 65 Incorporated, based in Mequon, created an easier way for people 65 and older to gain access to the health information they need via software that offers consulting over the phone, online or in person.
More than 240 ideas were entered into the competition, with 13 finalists chosen after three rounds of judging. Finalists submitted their final business plans to a panel of 80 judges established by the Wisconsin Technology Council, and included information about product specifications, target audiences, possible competition, management team breakdowns and key financial data.
Learn more about the Wisconsin Governor's Business Plan Contest.