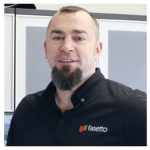 Coy Christmas, CEO of Fasetto, recently shared how his Superior-based file sharing company is making headway with an industry-leading cloud storage solution. With Fasetto, users can send a 1 GB file in an average of 10 seconds, compared to an estimated six minutes for other major file sharing services—and Fasetto enables sharing over wifi or a cellular data connection, or even between devices with no Internet connection at all.
The company was born out of a Kickstarter campaign that raised $150,000 from 200 backers. And when it came time to attract additional funding, Christmas says it was Fasetto's technology solution and QNBV certification that helped bring investors to the table. Below, Christmas provides more insight into Fasetto's background and how it has attracted users on all the major app platforms, becoming a featured app.
Q: What is your background? 
My original background is in sales. I got my start selling copiers. When they started making products that were all-in-one copiers, fax machines and printers, my interest in building multifunction products really took off. It was the idea of being able to have a total solution that triggered my interest in technology and how a streamlined design could solve everyday problems. Being able to use design to make life easier is very compelling for me.
Q: When did you form Fasetto and what resources did you use to get it going?  
My business partner, Luke Malpass, and I founded Fasetto in 2013 after working together on other projects. We used our own money to get it up and running, and then launched a Kickstarter campaign that raised $150,000 from about 200 backers.
Q: Where did the idea for Fasetto come from?  
Fasetto was created out of our own practical needs as programmers, designing education software – we needed a place to store our files, so we built what we needed. The more we focused on this solution, the more we realized the importance of giving consumers a new way to share files – with or without an Internet connection. The cloud storage communication aspect was thought up when we were building it into our education program, and it just made sense to have communication built into cloud storage because it's where you're putting everything.
Q: How were you able to initially get support through your Kickstarter campaign?
The Kickstarter campaign was actually for just a piece of Fasetto. At the time, we were calling it the PDQ, which we now refer to as the ARCH transportation layer. ARCH is a proprietary transport layer that gives our users the ability to share between devices offline using a QR code. The campaign really took off because, at the technology's core, we were building something that no one else had built. It was the offline capability that got people interested.
Q: What would you tell other entrepreneurs about the challenges of starting a business?  
Keep your nose to the grindstone and don't lose track of why you started it. There will be a lot of push and pull – some of it good, some of it bad. The most important thing for you to do is stay rooted in your motivation and passion.
Q: What would you tell other entrepreneurs about the joys of starting a business?  
You're going to work one hundred hours a week, but you get to choose how you spend those hours.
Q: Why do you think your business model will be successful in the marketplace?
It's an exclusive offering on a unique, intrinsic API framework – with the end goal of making lives simpler, which is a universal imperative.
Q: Who are your key customers and where do you see growth opportunities?
Our key customers are the average, everyday consumer with file sharing and communication needs. We see growth opportunities within the enterprise market, too, as more devices are created and more data is created. There will be a subsequent need for it to be stored, shared and accessed from more platforms than ever before. The need for our technology is just going to grow and expand across the board.