Last Friday WEDC had the great pleasure of joining the Eau Claire Area Economic Development Corporation (EDC) at The Idea Challenge 2013 awards. This year a record number of applications were submitted, but the field was narrowed to five outstanding product ideas. After much deliberation from the judges, John Gustafson was named the grand-prize-winner. The EDC presented John with a check for $5,000 on behalf of the EDC and Northwestern Bank, the 2013 program sponsor. The money is reimbursable towards expenses to advance Gustafson's idea – The THOR Mini Quick-TachTM.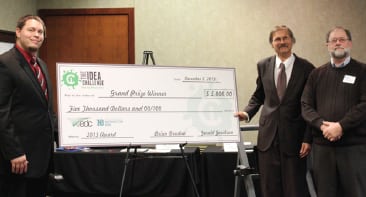 The Idea Challenge is an ongoing contest open to entrepreneurs or existing companies with ideas for new products or services. To qualify, ideas must be pursued within the EDC's service area. A group of business professionals, called The Idea Challenge Partners, evaluate each idea to determine if it's a feasible business concept. Any idea that has potential is given individual attention to help take the idea to the marketplace.
The top five ideas are awarded money and additional business support, including the following:
Five Cash Awards: $500
Three Business Services Awards: $1,000
Grand Prize Winner: $5,000
The goal of The Idea Challenge is to encourage idea generation and innovation to foster new businesses in the Eau Claire area. Read more about John Gustafson's THOR Mini Quick-Tach here.
If you're interested in submitting an idea to the Idea Challenge, click here for details.