The 2016 Wisconsin Entrepreneurs' Conference will welcome more than 500 attendees June 7-8 at the Alliant Energy Center in Madison. Each year, the conference helps entrepreneurs make connections and learn from peers about how to grow their emerging companies to achieve success.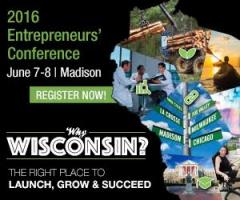 This year's conference, organized by the Wisconsin Technology Council, will be split into three concurrent tracks: Launch, Grow and Succeed. Over the course of the two days, 15 panel discussions will explore the three themes, with instruction from industry experts as well as the founders of successful Wisconsin startups.
Presenters include Erik Iverson from the Wisconsin Alumni Research Foundation, representatives from the Ewing Marion Kauffman Foundation, and Wisconsin companies including Comply365, Bright Cellars, Understory, PerBlue and NeuWave Medical.
The conference will also include presentations from the "Diligent Dozen" finalists of the Governor's Business Plan Competition, as well as the winner of the 2016 Wisconsin YES contest.