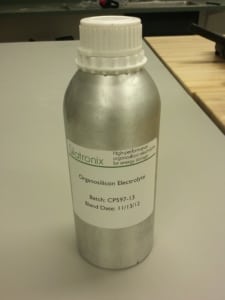 From cell phones and electric vehicles to military equipment and citywide power grids, the world's reliance on battery power is widespread. As total global battery capacity has more than doubled since 2010, companies like Silatronix are working to make batteries safer and more efficient.
Silatronix was founded in 2007 by Robert Hamers and Robert West, two chemistry professors at the University of Wisconsin-Madison (UW-Madison). The duo used their chemistry research as the basis for Silatronix's technology: patented organosilicon compounds that can be used in lithium-ion and other battery creation to drastically improve stability and efficiency. This technology has the potential for major impact on future battery applications, including stronger telecommunications power; thinner rechargeable batteries, like those in cell phones; and higher-powered motors in wheelchairs.
Now, after nearly a decade of research and development, the company is beginning to commercialize its technology. Silatronix's innovative approach is getting noticed, with the company receiving federal grants from the Department of Energy, the Office of Naval Research, the U.S. Navy Naval Air Systems Command and the National Science Foundation.
In addition to national sources, the company tapped Wisconsin's assets to accelerate this growth. The company leveraged the Wisconsin Economic Development Corporation's Qualified New Business Venture (QNBV) certification to help attract potential investors, and has drawn $17 million in venture capital investment. Additionally, the company was awarded a Technology Development Loan (TDL) to advance its organosilicon research even further.

Silatronix benefits from the atmosphere of innovation and abundance of talent located in Madison, according to Carl Thoemmes, the company's vice president of sales. A large number of the company's staff are alumni, and the company has received investment from local entities including the Wisconsin Alumni Research Foundation and the Pyle Group. The nearby presence of industry giants like Rayovac and Johnson Controls mean Silatronix can tap expertise as it continues to grow.
To learn more about Silatronix, visit the company's website.