As gaming platforms have expanded from traditional consoles to smartphones, web browsers and wearables, so has the industry shifted from big international studios to smaller local shops and independent developers, creating a prime environment for Wisconsin's own game development industry to rise in the ranks. In fact, thanks to a myriad of studios, excellent schools and top-notch talent, various groups in the state have set their sights on establishing Wisconsin as a premier game development hub on par with gaming hotbeds like Austin, Portland and North Carolina.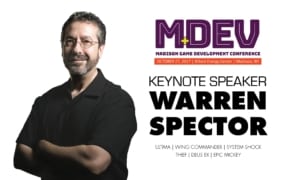 In support of this goal, Wisconsin Games Alliance (WGA) has launched a new professional development conference for video game developers, M+DEV, which will bring together some of the brightest minds in game development.
"If you are professional video game developer in the Midwest—or if you aspire to be one—this is your opportunity to learn from some of the most exciting video game industry talent both locally and nationally right in your own backyard," said Jennifer Javornik, who co-directs WGA with Tim Gerritsen, head of studio at Fantasy Flight Interactive. "There is no substitute for meeting, networking and learning from industry colleagues face-to-face, and we're excited to be able to make that happen."
Headlining M+DEV is Warren Spector, the renowned designer behind the games "Deus Ex" and "Epic Mickey." The conference will be held Friday, Oct. 27, at Madison's Alliant Energy Center.
Javornik added that thanks to the diversity of Wisconsin's gaming ecosystem, attendees will gain exposure to the market's many facets, insight to help improve their craft and better sell games, and opportunities to meet potential partners that can mentor or even finance a games business.
The event is also intended to elevate Wisconsin's profile, both within the industry and among game development talent.
"M+DEV will help shine a light on our dynamic and growing video game industry, as well as establishing Wisconsin as a central meeting place for video game industry professionals in the Midwest," said Javornik. "It will provide the region's talent the opportunity to grow and learn from each other by sharing the latest information on the science, art, mechanics and business of making games."