#WIMainSt Day tour featuring Lt. Gov. Kleefisch and other leaders comes as state announces newest members of downtown revitalization program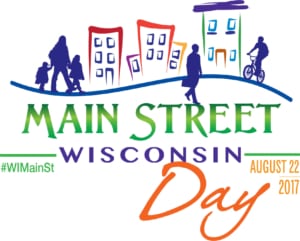 MADISON, WI. Aug. 18, 2017 – State officials will join local leaders in 12 communities to highlight the important role that downtown business districts play in Wisconsin's economy as part of Wisconsin Main Street Day on Tuesday, Aug. 22.
Lt. Governor Rebecca Kleefisch, Wisconsin Economic Development Corporation (WEDC) Secretary and CEO Mark Hogan, Deputy Secretary and COO Tricia Braun and other officials will visit the communities to celebrate the success of the Wisconsin Main Street and Connect Communities Programs, which provide technical support and guidance to downtown groups. Many of the events also will include announcements about local businesses openings and other new downtown initiatives.
"There's no doubt that a vibrant downtown is critical to the overall economic health of any community," said Governor Scott Walker, who has officially proclaimed Aug. 22 as Wisconsin Main Street Day. "A great downtown is a quality-of-life amenity that is important to workers and their families – and that's good news for local companies looking to attract and retain top talent to keep their businesses growing. Wisconsin Main Street Day is a great way to recognize the accomplishments of local downtown organizations and the many volunteers and staff members who are committed to making their community a better place to live."
The Wisconsin Main Street Day tour will visit the following communities: Ashland, De Pere, Fond du Lac, La Crosse, Milwaukee, Port Washington, Princeton, Ripon, Shullsburg, Tomah, Viroqua and Wausau. Additional details on the times and locations of the visits will be released Monday, Aug 21.
WEDC also will announce the state's newest Wisconsin Main Street community at the Milwaukee event.
The Wisconsin Main Street Program, which was launched in 1987 and is overseen by WEDC, provides support and training for organizations dedicated to downtown revitalization efforts. Since the program's inception, Wisconsin Main Street communities have created more than 2,600 net new businesses and nearly 14,000 net new jobs. They also have generated more than $1.7 billion in public and private investment since then, and are renovating more than 250 buildings per year.
In conjunction with the Wisconsin Main Street Day, WEDC today announced that six new organizations have been accepted into the Connect Communities Program, an initiative that works with communities to advance downtown and urban corridor revitalization efforts. The new participants are: Arcadia, Kenosha Uptown, Kiel, Manitowish Waters, Orfordville and South Milwaukee.
With the latest additions, there are now 61 participants in the Connect Communities Program, which provides access to resources and training to help downtown organizations. Since the Connect Communities Program was launched in 2013, participating communities have reported adding 274 net new businesses and more than 1,600 jobs, as well as $115 million in private investment.
"The Connect Communities Program helps local leaders leverage the unique assets of their downtowns and commercial districts by providing them with access to training, resources and networking opportunities with other downtown organizations," WEDC Secretary Hogan said. "This program and the Wisconsin Main Street Program have a proven track record of helping to spur thousands of new businesses, and we are looking forward to the same success with our newest Connect Communities."
###
About the Wisconsin Economic Development Corporation
The Wisconsin Economic Development Corporation (WEDC) leads economic development efforts for the state by advancing and maximizing opportunities in Wisconsin for businesses, communities and people to thrive in a globally competitive environment. Working with more than 600 regional and local partners, WEDC develops and delivers solutions representative of a highly responsive and coordinated economic development network. Visit www.inwisconsin.com or follow WEDC on Twitter @InWisconsin to learn more.