New video demonstrates the meaning of Think-Make-Happen In Wisconsin
When trying to influence an audience, showing works far better than telling. And Wisconsin has a lot to show—from the inspiring stories of companies and industries born from groundbreaking discoveries in our state to the incredible beauty of our natural resources and the can-do spirit of our people.
To capture the unmatched opportunities Wisconsin offers for business, career and personal success, the Wisconsin Economic Development Corporation (WEDC) and our many economic development partners across the state have adopted a shared messaging strategy: Think-Make-Happen In Wisconsin. And we're excited to share with you a new video that powerfully demonstrates the meaning of those words.
We will share this video through our social and owned media channels, with a particular emphasis on promoting Wisconsin's differentiating quality of life to people outside the state looking for the best place to pursue their passions. It will also feature prominently on a new website we're building to promote Wisconsin's many business, community, recreation and quality-of-life assets.
I encourage you to share this video within your networks and to use it your regional and local marketing efforts. Also, as a reminder, we are more than happy to work with you to adapt the marketing messages and materials WEDC creates to help you tell your unique Wisconsin story. Check out the links to our many social media channels in this newsletter to receive a steady flow of information, tools and resources aimed at helping people, communities and businesses thrive in Wisconsin.
Thank you for your attention and for your continued dedication to Wisconsin's prosperity.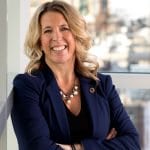 Sincerely,
Tricia Braun
Deputy Secretary and COO
Wisconsin Economic Development Corporation