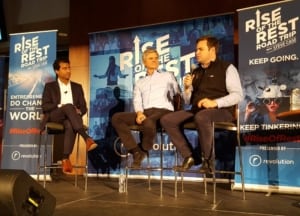 To champion and elevate innovation and entrepreneurship in northeast Wisconsin, the Rise of the Rest recently made a stop in Green Bay, the last of a six-city tour with Steve Case, the founder of AOL, and J.D. Vance, a partner in Case's venture capital firm, Revolution LLC.
"This is a movement to shine a spotlight on cities where startup communities are rising," said Case, chairman and CEO of Revolution LLC. "What unites the communities we're visiting is a sense of momentum and possibility across them."
As part of Launch Wisconsin, an annual two-day entrepreneur conference at Lambeau Field, Case and Vance took the stage for a fireside chat to share how Green Bay and northeast Wisconsin can better capitalize on that momentum and possibility, by riding the "third wave" of online innovation, better telling its story and building the regional ecosystem.
"If you bring optimism, a sense of possibility, hope and cheerleading to bear, you'd be surprised how quickly this community can rise," said Case.
Ride the third wave
As Case and Vance explained, the internet has advanced in waves; the first was simply getting people online. The second and longest phase involved building apps and software on top of the internet. The third wave, which Case called "the most exciting yet," is about providing a more seamless and fundamental way of engaging with the internet.
But what further sets apart the third wave is its reliance on partnerships.
"The roadmap for the third wave is very different," said Vance. "It's more about partnerships and ecosystems, which are better for regional entrepreneurs. The community you have in northeast Wisconsin is poised to benefit from the third wave exponentially."
Tell the Wisconsin story
According to Vance, Wisconsin receives less than one percent of all venture capital in the U.S.. In fact, what California receives in one week is about equal to what Wisconsin receives in a year. As such, a key theme of the fireside chat was what it will take for a community like Green Bay to attract the capital needed to fund its rise. To be successful, said Case, it's OK to brag.
"This is a case where in some ways, humility gets in the way. You need to have the same enthusiasm for startups that you bring for the Packers. Do the same for entrepreneurs: Fight, shout, cheer and evangelize."
Vance added that venture capitalists are just like anyone else: They want to work with people they know, in a setting where they're comfortable.
"The only way to help people find out about you is to tell your story," he advised. "You have good reasons to brag."
Build the ecosystem
A strong entrepreneurial community is not built on individuals and companies alone. Instead, strength and success come from a dense, extensive network that includes civic leadership, educational institutions at all levels, the business community and more—all working together.
"A common theme in ecosystems is everyone rowing together," said Vance. "You have to see the connective tissue develop across the ecosystem."
Building a strong ecosystem is also imperative to attract and retain talent, said Case. "If you grow up in rural Wisconsin, you might feel like you have to leave and go to California to be innovative. But by building up a regional hub, they have the option of staying close to home. It's another way to become powerful–by convincing talent that they're not making a bet on one company, but a whole ecosystem. That ups the returns for everyone."