"Tease, please and seize." These are the three steps to a perfect pitch, according to Kevin Harrington, former panelist on ABC's Shark Tank. This is also the advice two groups of Oshkosh high school entrepreneurs will have to heed as they vie to impress Shark Tank judge Daymond John at the Oshkosh Women's Fund "Power of the Purse" Luncheon May 19.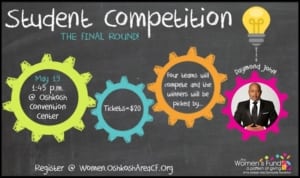 The two presenters at the luncheon were selected in a preliminary competition held at University of Wisconsin-Oshkosh last month. Stephany Beck, Meghan Schneider and Mara Resop, juniors from Lourdes High School, will present their innovation, Klick-A-Kane, which provides a way for anyone who uses a cane to secure the cane inside his or her car while driving, to keep it from hurting anyone in case of a traffic accident.
The girls and their competitors will try to follow Harrington's formula of "teasing" with a problem that grabs the John's attention, "pleasing" by offering a solution and "seizing" by closing the deal in an effort to get noticed by the audience.
The luncheon will take place May 19 at noon, with doors opening at 10 a.m., with a goal of inspiring and empowering girls and women in the community.
Similar high school pitching events have been held elsewhere in the state as a way to boost Wisconsin's entrepreneurial spirit, including one in Fond du Lac where students pitched business plans ranging from a traffic intersection project to a solar-powered concept car.